Despite Beef With Former V.P., Trump Endorses Campaign of Pence's Brother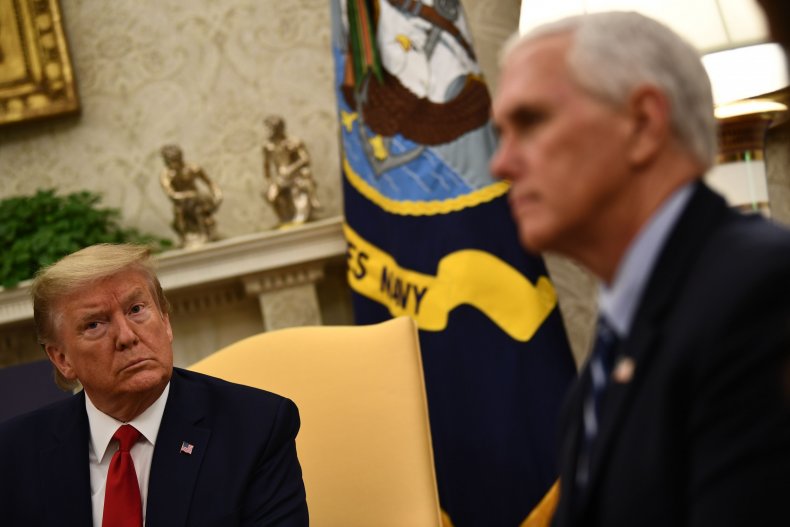 Former President Donald Trump has endorsed Republican U.S. Representative Greg Pence of Indiana despite Trump's ongoing feud with Pence's brother, former Vice President Mike Pence.
Trump announced his support for the former vice president's brother on Friday. The endorsement of Greg Pence did not mention his more famous brother, who Trump called "foolish and weak" for failing to overturn his 2020 election loss to President Joe Biden during his recent controversial interview with Piers Morgan.
"Congressman Greg Pence is doing a great job representing the people of Indiana's 6th Congressional District," Trump said in a statement. "Greg is working hard to reverse Joe Biden's disastrous record of out-of-control inflation and restore the respect our Country deserves abroad."
"He is strong on the Border, Protects Life, Defends the Second Amendment, and supports our brave Military and Vets," added Trump. "Greg Pence has my complete and total endorsement!"
During an interview with The Washington Examiner last month, Trump said that he had ruled out choosing Mike Pence as his running mate if he decides to pursue a second presidential term in 2024, adding that Republican voters would not "accept" Pence and that he had not "spoken to him in a long time."
Tensions between the former running mates have been high since shortly before Pence refused to reject Biden's Electoral College votes during the January 6, 2021, joint session of Congress, which spilled into the early morning hours of January 7 due to the attack on the Capitol, to certify the presidential election winner.
Trump's supporters attempted to disrupt the session by storming the Capitol, with some rioters chanting "hang Mike Pence" as they entered the building. Trump was impeached by the House for an unprecedented second time following the riot.
After Trump admitted in January of this year that he had wanted Pence to "overturn" the election, the former vice president suggested that Trump was "un-American" and said that he was "wrong" to suggest that such an action would have been legal.
"Our former president said I had the right to 'overturn the election,'" Pence said during a meeting of the Federalist Society in early February. "President Trump is wrong. I had no right to overturn the election. The presidency belongs to the American people, and the American people alone."
"Frankly there is almost no idea more un-American than the notion that any one person could choose the American president," he added.
Greg Pence voted to object to Pennsylvania's certified Electoral College votes for Biden hours after the Capitol riot. He also voted against the establishment of the House Select Committee to Investigate the January 6th Attack on the U.S. Capitol, calling it an attempt to facilitate the "political execution" of Trump.
Mike Pence's recent increase in political activity and Trump's repeated hints of a third presidential campaign have resulted in many speculating that the former running mates could face off against each other during the 2024 GOP primary election, although neither has officially announced that they are running.
Newsweek reached out to the offices of Greg Pence and Mike Pence for comment.