Despite Trump Meeting Hopes, North Korea's Kim Praises Putin for Opposing U.S.
As plans for a summit with President Donald Trump have hit a snag, North Korea's leader has welcomed Russia's top diplomat and thanked the Kremlin for its resistance to the U.S.
Russian Foreign Minister Sergey Lavrov arrived in Pyongyang on Thursday to become his country's first official to shake hands with North Korean leader Kim Jong Un, after the two countries confirmed the trip only the day prior. Moscow uploaded footage of the interaction between the two, including Kim's prepared remarks, which he gave through his translator.
"You are visiting our country at a time when the situation on the Korean peninsula changes rapidly in the direction of negotiations and meetings in accordance with the interests of both countries' people," Kim said in the video.
Read More: Russia's top diplomat lists terrorism, child abuse and "same-sex values" as online threats
"I highly appreciate the fact that [Vladimir] Putin's leadership resists the 'dominism' [sic] of the U.S.," Kim said, according to his translator. "You act very firmly and we are always ready to negotiate with Russia on this matter."
Russian state news agencies Itar-Tass and RIA Novosti have interpreted the translator as saying "domination," while independent news channel RBC believe the translator meant "hegemony."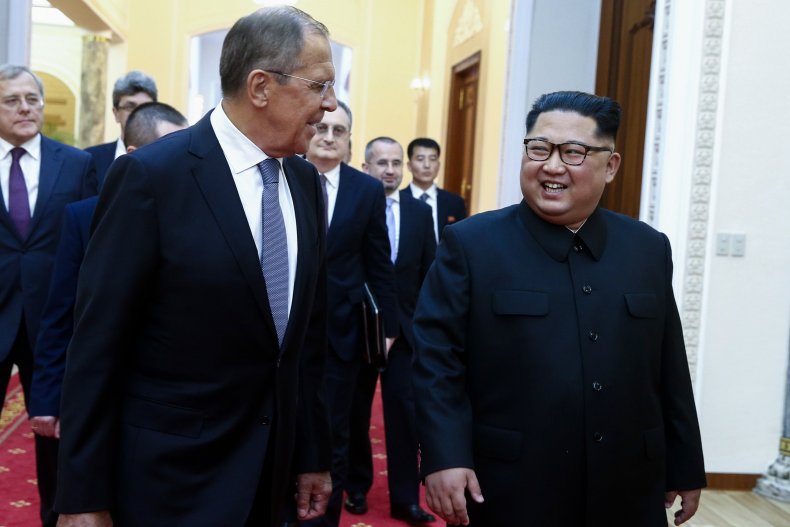 This was not the only time Kim mentioned the Russian president, crediting Putin's "attention" to the Korean conflict and desire to improve ties with North Korea as the reason for Lavrov's visit.
"How is comrade Putin's health?" Kim asked, after concluding his statement to Lavrov. "His health is wonderful," the Russian diplomat answered.
While Russia has objected to North Korea's aspirations to become a nuclear power, Putin and other officials have blamed new missile tests on Washington, not Pyongyang. Echoing the view of North Korea's state propaganda, Lavrov's deputy Sergey Ryabkov has said U.S. military deployments to South Korea and drills in the Pacific are to blame for North Korea's behavior.
Trump accepted an invitation to eventually meet Kim in March, but with the summit scheduled for June, before cancelling the meeting last week on account of Pyongyang's alleged reluctance to offer genuine concessions. Officials from both sides have continued to meet since the announcement, suggesting work to put the potential meeting back on track is still ongoing.
As Lavrov met Kim, one of North Korea's most high-ranking officials, General Kim Yong-Chol, arrived in New York to meet Secretary of State Mike Pompeo to discuss the summit. The pair will hold more talks on Thursday.