Despite Trump's Aggressive Arizona Campaign, Biden Still Holds 5-Point Lead in Poll
Despite President Donald Trump's campaign efforts in Arizona, results of a new election poll continued to show Joe Biden with the majority of support from state voters. Similar to previous surveys conducted among Arizona voters over the past few months, data again showed Trump trailing closely behind his electoral competitor.
The latest numbers showed Biden, the presumptive Democratic presidential nominee set to challenge Trump in November's general election, with a 5-point lead over the incumbent candidate. They indicated 49 percent of Arizona voters lent support to Biden, while 44 percent went to Trump. The polling data reflected results of a survey that Arizona Public Opinion Pulse administered between July 6 and July 7. OH Predictive Insights released the results on Thursday.
About 34 percent of Arizona voters are registered Republicans, and about 32 percent are registered Democrats, according to voter registration statistics, last updated in April. Arizona historically voted red during presidential elections, although figures from more recent races pointed to changes in voter preference.
Trump won Arizona by almost 4 percentage points during the 2016 election. Although significant, the margin dropped from roughly 9 percent to GOP presidential candidate Mitt Romney in 2012.
Polls conducted over past several months confirmed Arizona was one of a few key states to watch ahead of the upcoming election, with many indicating a Biden lead.
Thursday's results were generally consistent with those determined by Arizona voter surveys administered throughout May and June. An earlier Arizona Public Opinion Pulse survey conducted in May showed a slightly wider gap in voter support for Biden versus Trump. At the time, Biden earned 50 percent of Arizona voters' support, while Trump received 43 percent. Results of a Kos/Civiqs survey, released in mid-June, showed numbers identical to those released on Thursday.
Trump's reelection campaign prioritized Arizona as it launched an initial string of in-person events in June, following months of suspended scheduling as a result of the novel coronavirus pandemic. The president spoke at a rally in Phoenix on June 23, the second campaign event to take place since its post-pandemic relaunch. The first took place in Tulsa, Oklahoma, three days earlier.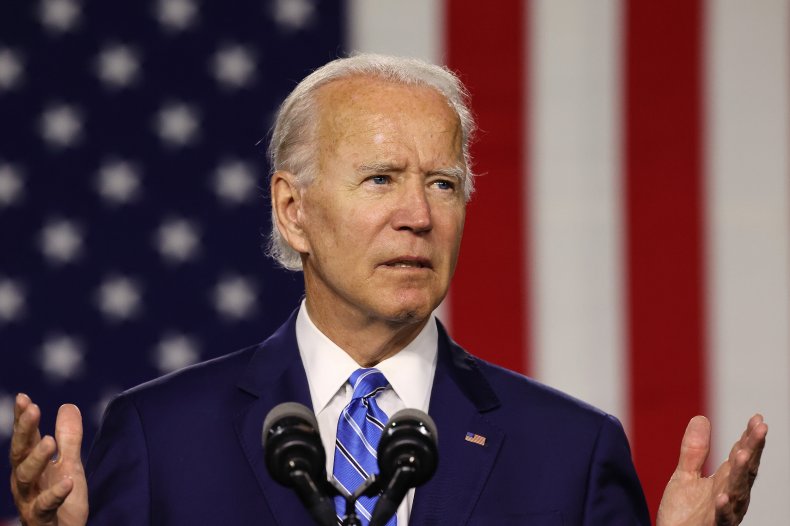 Vice President Mike Pence, who is also running for reelection in November on Trump's ticket, was scheduled to host an additional campaign event in Arizona shortly after Trump's Phoenix rally. The event was ultimately postponed due to Arizona's spiking COVID-19 cases. A Trump campaign official told CNBC the postponements came "out of an abundance of caution" in comments to the outlet at the end of June.
The latest Phoenix rally marked Trump's third visit to Arizona in five months. He spoke at another campaign rally, which also took place in Phoenix, before the onset of the pandemic in February.