Detroit Police Chief James Craig Slams Rashida Tlaib for 'Self Serving' Comments, Says Vulnerable Communities Need Policing
In the continued debate on the future of policing, Detroit Police Chief James Craig slammed "self serving" comments from Democratic Rep. Rashida Tlaib of Michigan, in which she called for "no more policing."
"You know, I got to tell you, and I've said it so many times," Craig said in an interview with Fox News' The Faulkner Focus on Tuesday. "[Tlaib's] comments were reckless and…really don't represent the people who live in our city."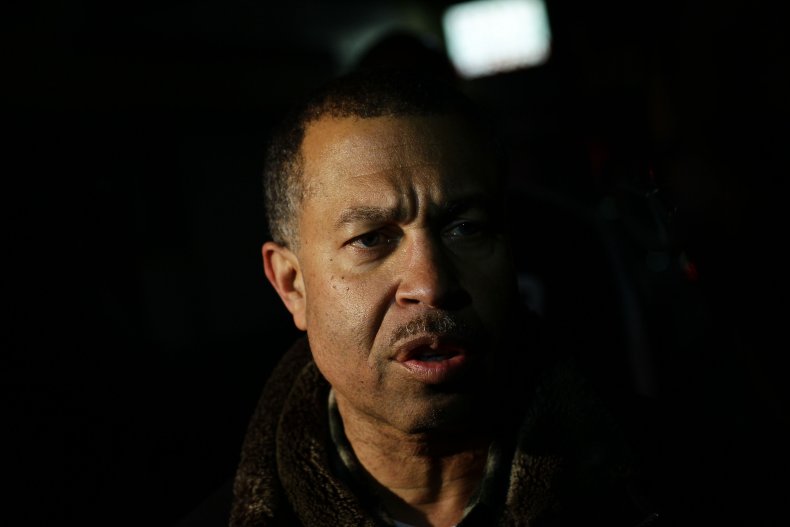 Tlaib, a progressive Democrat, represents Michigan's 13th congressional district, which includes some areas of the city of Detroit and its suburbs. Craig, the leader of Detroit's law enforcement, was responding to Tlaib's social media comments about Daunte Wright, a 20-year-old Black man who died on April 11 after he was shot by a white police officer during a traffic stop in a Minneapolis suburb.
Police said that the fatal shooting of Wright as an "accident" when Officer Kimberly Potter mistakenly fired a single shot when she intended to use a taser.
The congresswoman took to Twitter the day after Wright's death, posting on the social media platform that his death "wasn't an accident," adding that policing in the U.S. is "inherently & intentionally racist."
"Daunte Wright was met with aggression & violence. I am done with those who condone government funded murder," Tlaib wrote. "No more policing, incarceration, and militarization. It can't be reformed."
Craig said Tlaib's comments about eliminating policing send a "reckless" signal and don't reflect the actual interests of the communities Tlaib claims to speak for.
"When you talk about vulnerable communities, they want effective and constitutional policing," he said to Fox News' Harris Faulkner. "So who is she speaking for? They are reckless, and she is doing it as a self-serving approach, and it doesn't work."
Tlaib has argued on behalf of safer communities, too, but she argues more policing isn't the answer. In a tweet on April 14, Tlaib wrote, "I understand that many are concerned about public safety, but it is clear that more investment in police, incarceration, and criminalization will not deliver that safety."
She added that more resources to "tackle poverty, education inequities" and "job opportunities" should be the solution to public safety, not bolstering policing.
"The only way we will all have safe communities is to invest in our people, not double down on failed overpolicing and criminalization," Tlaib wrote.
Craig also mentioned to Faulkner the legal concept of qualified immunity, which Tlaib has advocated against.
"You know, I've got to tell you this whole qualified immunity that's being peddled out right now," he said. "I don't think many people understand how dangerous that is. That is not just dismantling, that's eliminating police altogether."
Qualified immunity refers to a legal precedent that balances "the need to hold public officials accountable when they exercise power irresponsibly and the need to shield officials from harassment, distraction, and liability when they perform their duties reasonably," according to a definition from the Cornell Law School.
Tlaib joined other Congress members in supporting the Ending Qualified Immunity Act, which was introduced in March. The bill aims to eliminate the qualified immunity shield "in response to heinous and unjust acts of police misconduct," according to a briefing of the legislation.
"My colleagues have said, if they push that bill of qualified immunity, that's going to be a problem," Craig said to Faulkner. "We will not know policing like it is.… It's tragic. What's going on today, Harris, is tragic."
To police leadership like Craig, lawmakers like Tlaib are perpetuating a "crisis" for his profession by calling for its virtual end, he said to Fox News. He connected high crime rates in Democratic-run cities like New York, Chicago and Minneapolis, which have increased police attrition, or gradual decrease of police department strength.
"Fortunately, here in Detroit, we see something very different," Craig said of his city. "Last year, 2020, Detroit didn't burn. There was no looting, our community stood with us. They understood these outside agitators came in. Unfortunately, many other cities didn't fare as well."
He added, "Here in Detroit, we are still recruiting, we're still hiring. And our police officers are still motivated to do the job. But I will tell you, things are rapidly changing."
Other reports have shown otherwise; The Washington Post reported last year of no national correlation between spending on local and state and crime rates. Politico reported in June 2020 that substantial investment in police departments has outpaced decreases in crime, showing that increases in spending aren't always a one-to-one relationship with decreases in violent crime.
But Craig said that calls to eliminate policing have increased violent threats to local police forces. To Faulkner, he referenced an incident in New York last week when a detective was attacked on the street by a fiberglass stick while conducting an investigation. He also mentioned a situation on April 18 when a gunman drove through a crime scene, opening firing on Detroit police officers. Officers returned fired and the gunman was killed, Click On Detroit reported.
Craig blamed both violent incidents on anti-police language shared by people with "seats of influence" like Tlaib.
"So why is it happening," Craig said. "It's because of these reckless comments."
Newsweek has reached out to Tlaib for comment.