Alejandro Mayorkas on Sunday called the U.S. immigration system "broken" and defended the deportation of Haitian migrants.
The Homeland Security Secretary, speaking to NBC's Chuck Todd on Meet the Press, said the decision to expel some Haitians from Texas this week was "not a mistake" and was made as a result of the COVID-19 pandemic.
"That is the exercise of a public health imperative. We're in the midst of a pandemic. The Centers for Disease Control and Prevention (CDC) has a Title 42 authority that we exercise to protect the migrants themselves, to protect the local communities, our personnel, and the American public. The pandemic is not behind us. Title 42 is a public health policy, not an immigration policy," Mayorkas said.
His comments come after the DHS said Friday that roughly 2,000 Haitian migrants were quickly deported from the country after more than 14,000 crossed the Rio Grande into Del Rio, Texas, in the past week. The department added that deportation flights will continue "on a regular basis" as individuals are able to be expelled without the opportunity for asylum under pandemic powers, the Associated Press reported.
In total, the U.S. has allowed about 12,400 of the migrants to temporarily stay in the country in the past week while they make their claim before an immigration judge. Mayorkas said Sunday that around 8,000 migrants have also voluntarily left the U.S. for Mexico in the past week.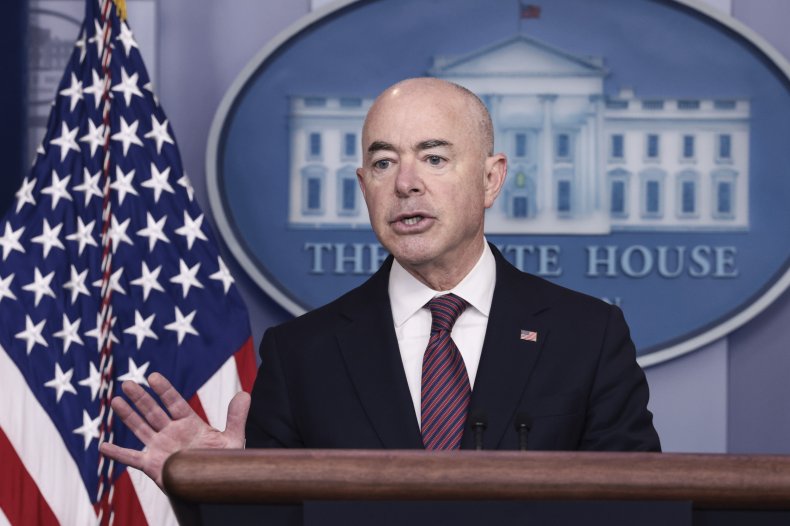 The influx of migrants comes after Haiti was hit by a deadly 7.2-magnitude earthquake this summer, a tragedy compounded by the July 7 assassination of President Jovenel Moïse and a crippled economy. The rapid congregation of migrants in one week prompted the DHS to quickly ramp up deportation efforts in Texas, resulting in fierce backlash from some prominent Democratic lawmakers.
For example Representative Bennie Thompson, chairman of the House Homeland Security Committee, joined others in condemning the expulsion of vulnerable migrants. Controversial video footage of border patrol agents on horseback appearing to lash at the migrants also prompted criticism against officials at the southern border.
On Sunday, Mayorkas said the U.S. is working within a "completely broken" immigration system.
"I am focused on the mission, Chuck, and the challenges we face, and our ability to meet hose challenges," he said. "I think we meet the challenges, but I think we are working within a completely broken system. As to that, there is unanimity in Washington and the country. I've never heard anyone say that the laws of immigration are well structured."
Correction 9/26/21 8:34 PM ET: An earlier version of the story misstated that Haiti's prime minister was assassinated. It was Haitian President Jovenel Moïse. We regret the error.