Dick Durbin Tells Clarence Thomas to Recuse Himself From Jan. 6 Cases
Illinois Senator Dick Durbin, chair of the Senate Judiciary Committee, called on Supreme Court Justice Clarence Thomas to recuse himself from any cases tied to the January 6 siege on the U.S. Capitol in light of revelations regarding his wife's text messages.
Durbin told a gaggle of reporters Monday that the situation involving Thomas' wife "really creates an obvious conflict" for him on cases related to the Capitol riot.
Reports recently emerged that the justice's wife, Virginia Thomas, sent text messages to then-White House Chief of Staff Mark Meadows in support of efforts to overturn Donald Trump's substantial loss in the 2020 presidential election. Virginia Thomas, commonly known as Ginni Thomas, sent the messages after the 2020 presidential election, but before the events of January 6.
One of those messages to Meadows, referencing then-President Trump and current President Joe Biden, read: "Help This Great President stand firm Mark!!! ... You are the leader, with him, who is standing for America's constitutional governance at the precipice. The majority knows Biden and the Left is attempting the greatest Heist of our History," Newsweek previously reported.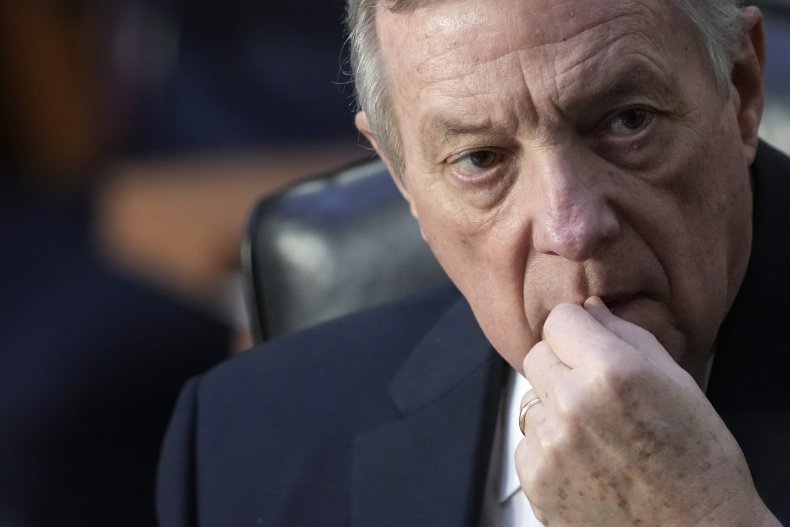 None of the messages mentioned her husband, but some reportedly mentioned QAnon-backed conspiracy theories.
Additionally, Ginni Thomas recently said during an interview that she was present at the rally on January 6 before the riot, according to The Hill.
Durbin is among a growing contingent who has suggested Clarence Thomas should recuse himself from January 6 cases due to his wife's messages to Meadows.
Senator Amy Klobuchar of Minnesota said on ABC News' This Week on Sunday that this is a "textbook case" for removing and recusing the Supreme Court justice from January 6 cases.
"You have the wife of a sitting Supreme Court justice advocating for an insurrection, advocating for overturning a legal election to the sitting president's chief of staff. And she also knows this election, these cases are going to come before her husband," Klobuchar said.
Minnesota Representative Ilhan Omar and comedian Kathy Griffin have gone so far as to call for Clarence Thomas' impeachment from the nation's highest court.
Others have defended Thomas' capacity to remain impartial. House Minority Leader Kevin McCarthy, for example, recently said during a press conference at a House GOP retreat that he thinks Thomas "could make his decisions like he's made them every other time," The Hill reported.
Newsweek reached out to the Supreme Court's Public Information Office seeking comment from Clarence Thomas, but did not hear back in time for publication.
Update 3/28/22, 5:50 p.m. ET: This story was updated with additional information and background.