Ilhan Omar Says Clarence Thomas Needs to Be Impeached Over Wife's Texts
U.S. representative for Minnesota Ilhan Omar has called for Supreme Court Justice Clarence Thomas to resign on Friday, after evidence emerged that his wife pressed the White House former chief of staff to overturn the results of the 2020 presidential election.
Omar was elected to Congress in 2019 and is the first Somali American and the first naturalized citizen of African birth in Congress, as well as one of only two Muslim women to serve in Congress.
She's also the first black woman to represent Minnesota.
"Clarence Thomas needs to be impeached," Omar wrote on Twitter, sharing a tweet that remarked on Justice Thomas' being the only justice in the court to vote "no" in a 8-1 decision in January 2022 to allow the release of Donald J. Trump's draft executive order authorizing the military to seize voting machines.
The Supreme Court's decision formally rejected a request from former president Trump to prevent the House select committee investigating the January 6 attack on the Capitol from obtaining over 700 White House documents.
Justice Thomas voted to grant Trump's request.
The documents Trump was trying to shield from the House committee contained files from White House chief of staff Mark Meadows, among others.
Mark Meadows was revealed on Thursday to have received pressure from Justice Thomas' wife, Virginia "Ginni" Thomas, a U.S. conservative activist and attorney, to overturn the 2020 election.
The context of 29 texts shared between Ginni Thomas and Meadows between November 5, 2020 and January 10, 2021, which were part of 2,320 texts Meadows turned over to the House select committee investigating the January 6 attack on the U.S. Capitol, was published by the Washington Post and CBS on Thursday.
It showed that Ginni Thomas asked Meadows to "Help This Great President stand firm" and "release the Kraken and save us from the left taking America down," quoting a common catchphrase trending on Twitter among far-right activists following the announcement of the results of the 2020 presidential election on November 7.
The texts didn't mention or directly involve Justice Thomas, according to the Washington Post.
Ginni Thomas has repeatedly claimed that there is no conflict of interest between her job and that of her husband.
In an interview with the Washington Free Beacon on March 14, Thomas said: "Like so many married couples, we share many of the same ideals, principles, and aspirations for America, but we have our own separate careers, and our own ideas and opinions too."
"Clarence doesn't discuss his work with me, and I don't involve him in my work," she added.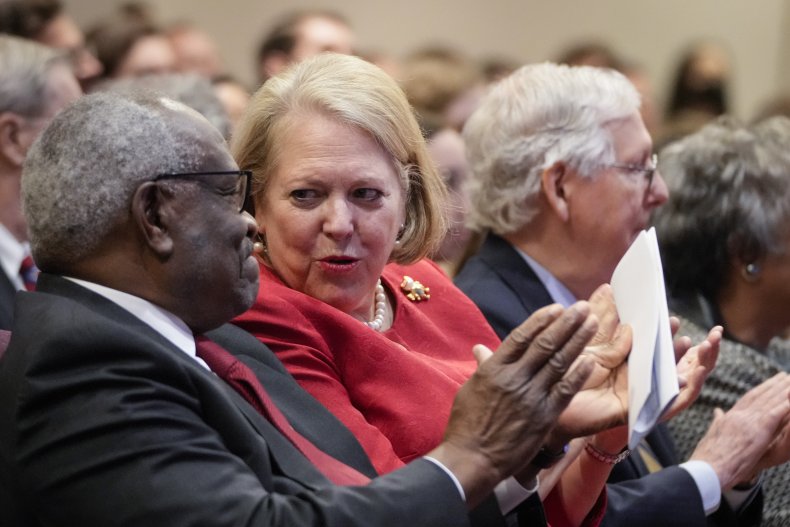 Justice Thomas was the only one in the entire Supreme Court who in February 2021 dissented against the Court's decision to reject Trump's challenges to the 2020 presidential election.
Justice Thomas called the ruling not to hear arguments in the case "befuddling" and "inexplicable."
"There is no dispute that the claim is sufficiently meritorious to warrant review," said Justice Thomas at the time.
Calls for Justice Thomas to resign from Court preceded the revelation of the texts between Ginni Thomas and Meadows, dating back to January 6, 2021, when Ginni Thomas shared on Facebook messages now deleted saying "LOVE MAGA people!!!!" and "GOD BLESS EACH OF YOU STANDING UP or PRAYING!"
A profile of Ginni Thomas by The New Yorker's Jane Mayer in January revealed that her lobbying firm was on the payroll of the conservative pressure group Center for Security Policy.
According to The New Yorker, Justice Thomas never revealed the $200,000 received by his wife for working as a paid consultant with the group between 2017 and 2018, despite being required to declare the source of his spouse's income as part of his annual financial disclosures.
Former Democratic congressional candidate Kim Mangone tweeted on January 30, 2022: "Retweet if you think Clarence Thomas is compromised and should resign from the Supreme Court."
In her recent interview with the Washington Free Beacon, Ginni Thomas revealed she had attended Trump's "Stop the Steal" rally near the White House on January 6 which preceded the attack on the Capitol.
She told the Washington Free Beacon that she got cold and left early.
Lindy Li, a Joe Biden delegate in the 2020 Democratic presidential race, who on January 18, 2022 tweeted that "Thomas should recuse himself or resign," said on March 14 that Ginni Thomas admitting to be at the 'Stop the Steal' rally was "a damning & unforgivable conflict of interest."
On Thursday night, executive director of advocacy group Take Back the Court Action Fund, Sarah Lipton-Lubet, called on Justice Thomas to resign in a statement.
"Given that Justice Thomas has already made known he won't recuse himself from cases related to his wife's right-wing activism, and the damning evidence of his wife's involvement in this attack on our democracy, Thomas is clearly unfit to serve on the nation's highest Court," Lipton-Lubet said.
Justice Thomas, who at 73 years old is the most senior justice in the Supreme Court, is currently hospitalized in the Sibley Memorial Hospital in Washington for an infection that the Supreme Court said is not related to COVID-19.
The Supreme Court said Justice Thomas experienced "flu-like symptoms" but he's now being treated with intravenous antibiotics, and his symptoms "are abating."
The Court didn't specify what the infection was, nor how serious.
In the same press release on March 20, the Court said it expected Justice Thomas to be released in "a day or two," but there is no news about his release from hospital.
Impeachment is the only way to force out a justice of the Supreme Court: it requires a simple majority in the House and a two-third majority of the Senate.
To this day, Justice Samuel Chase remains the only Supreme Court justice to have been impeached by the House in 1805, but Senate later acquitted him.
Virginia Thomas didn't immediately reply to a request for comment from Newsweek.