Did Former Zelensky Aide Say NATO 'Deceived Russia' Over Expansion?
From Elon Musk to the Royals to the Pfizer CEO, decontextualized, misleadingly edited or miscaptioned interviews are some of the most effective and low-effort ways to foment misinformation, as Newsweek and others have previously reported.
In the latest example, Oleksii Arestovych, former advisor to Ukraine president Volodymyr Zelensky, appears to claim in a short video that "the West deceived Russia by expanding to the East," and turning Ukraine into "a huge anti-Russian nation."
But, as Newsweek Misinformation Watch established, the clip—which was viewed millions of times on Twitter and YouTube—is misleadingly edited to strip out key context from Arestovich's remarks, which were made long-before Russia launched its full-scale invasion of the neighboring country.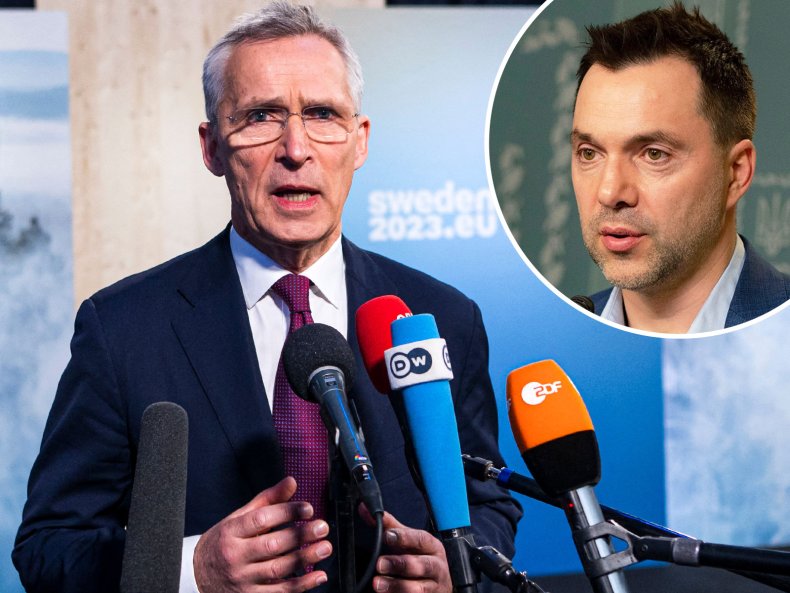 "'The west deceived Russia. They promised not to push NATO to the east, and they did. They turned Ukraine into a huge anti-Russian country. If I was in Russia's shoes, I would have done the exact same thing.' — Former adviser to Zelensky, Alexey Arestovich," says the caption on one Twitter post, viewed nearly 320,000 times.
"Former adviser to Zelensky, Arestovich speaks out in favour of Russia. 'The west deceived Russia. They promised not to push NATO to the east, and they did. They turned Ukraine into a huge anti-Russian country. If I was in Russia's shoes, I would have done the exact same thing.'," claims another post, viewed 65,000 times.
The video has also been shared by accounts in other languages, including French, making similar claims.
Earlier versions of the video have been posted on Russian-language YouTube channels, including one dated February 26 and one from March 2, with the latter receiving more than two million views.
Arestovich was one of the most prominent and outspoken of Zelensky's aides during the course of the war with his numerous interviews, podcast conversations, and statements.
His calm demeanor and soothing voice earned him the nickname "Ukraine's Shrink-in-Chief", but his statements also generated controversy in the past, at various points attracting criticism from both sides of the conflict.
The former Ukrainian intelligence officer-turned-blogger was forced to resign in January, following a throwaway comment that suggested the Russian Kh-22 missile strike on a residential building in Dnipro, which killed dozens of civilians, was a result of a failed air defense intercept attempt.
The Armed Forces of Ukrainian dismissed this theory, and Arestovich later apologized and backtracked on the claim, which he said was a mistake due to "exhaustion." He announced his resignation on January 17, 2023.
However, despite his history of controversial and incendiary remarks, Arestovich's comments on Russia-NATO relations have been ripped out of context in the edited clip, misrepresenting the message that he was conveying, as is evident from the full version of the conversation.
The misleadingly spliced footage appears to have been taken from an interview Arestovich gave more than five years ago to the Ukrainian TV channel UkrLife.
The 49 second clip opens with Arestovich stating that "the West deceived Russia. They promised not to push NATO to the East, and they did."
The video then cuts to another phrase: "They turned Ukraine into a huge anti-Russian country." After another cut, Arestovich appears to say: "In a fight, you should always choose to bet on what works. Nationalism worked at the time, because everyone was whining, they were afraid. And the only force that really stirred people up and raised them to fight was an extreme right-wing Ukrainian nationalism.
"Russia has been brought up with a deep distrust of the West," the former advisor goes on. "Russia was deceived about the non-advancement of NATO to the East and humiliated for a long time in the 90s.
"So Russians are right when they talk about their distrust of the West, and that they need to defend themselves."
Another cut follows, and the video concludes with Arestovich stating: "If I were in the place of the Russians, I would do exactly the same."
The segments were taken from various parts of the interview and spliced together anachronistically—for example, the comment on "extreme right wing nationalism" was not in reference to Ukraine, but instead a comment on his own self-admitted "propagandist" past, about which he wrote a "mea culpa" article.
"In my propagandist work, I took this position closer to the far right, but the problem was that it didn't represent my true political leanings," he clarifies in a sentence that has been cut.
Further, the combined edits and cuts in the Twitter clip act to promote a narrative that Arestovich is voicing his approval of Russia's actions.
But a closer look at the source material dispels that notion, and instead shows that the commentator was simply outlining the Kremlin's thinking process, and why he believes the chosen approach was deeply flawed.
"Unlike some Ukrainian propaganda outlets... I am not bashing Russia, and I do recognize Russia's political interests; but simply said, the methods they chose in 2014 [when Crimea was annexed] have led Russia into a very difficult situation. Their position will only get worse unless they change their approach," Arestovich explains.
He is then asked by the host about what Russia's true interest in Crimea is, citing the claims that the Kremlin is there to defend the Russian-speaking segment of the population.
To which Arestovich retorts that "there are a number of published works in Western media about the reunification of Germany, which push the line that the West deceived Russia," and proceeds to make the comment quoted in the edited video.
"I am here quoting the Western authors," Arestovich crucially clarifies, in a passing note that was not included in the edited video.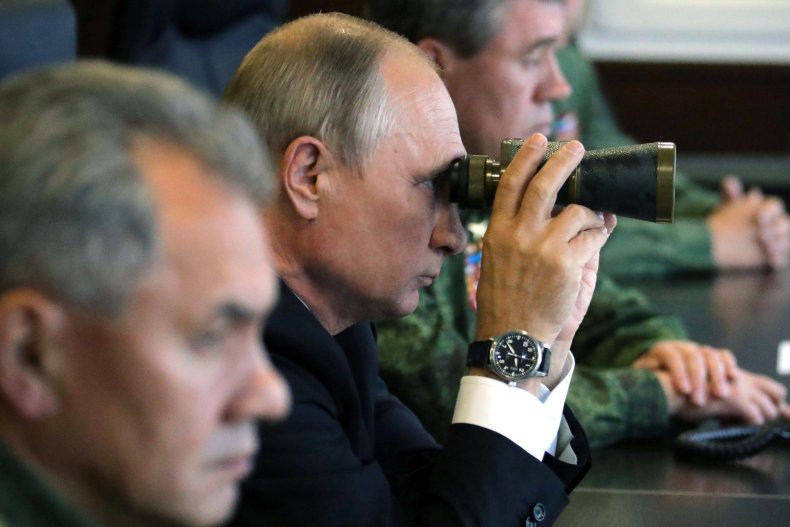 He then says that the "Russians are right when they talk about their distrust of the West," because "even if it is their paranoia, they have the sovereign right to be paranoid."
"And I believe that when the first Maidan revolution took place, they interpreted it as a coup by Western operatives, maybe the CIA, in order to cut a hole in Russia's underbelly, with the aim of turning Ukraine into a huge anti-Russian state," he continues.
"And so they began defending those interests. But they couldn't occupy the whole of Ukraine for obvious reasons, so their response was to cut a hole in Ukraine's underbelly [in Crimea and Donbass], which would bleed constantly and give Russia leverage in its relations with Kyiv."
Arestovich then draws an analogy with Ancient Greece, stating that like the Spartans, Russia tried to push conflict further away from its own border, calling this a "sensible move" and stating: "If I were Russia, I would have done the same."
That is because the Crimea annexation appeared to solve a number of strategic goals for Russia, according to the former Zelensky advisor, including "weakening Ukraine," giving the Kremlin leverage in negotiations with the West, and rallying the Russian population.
At the time, he alleges, "the Russian leadership saw this as a very shrewd move, and they were even able to achieve some of those goals, for a year or two."
"However, democracy moves slowly, but assuredly; and two-three years on, with new generation of leaders [in the West] and new approach to Russia, after seeing what it has done in Syria, Russia's is cut off. The personal sanctions [against Putin's close circle] are just another step in that response."
"The West doesn't intend to break up or destroy Russia; it will simply zero in on the small group of decision makers and work to separate Putin from his close circle," Arestovich concludes.
At no point in the interview does the former presidential aide claim that he supports (or agrees with) Russia's position on NATO expansion. In fact, in comments that he has made more recently, after the February 2022 invasion began, Arestovich expressed doubts about NATO expansion being the true motive for the invasion.
"They failed in that mission: NATO is expanding. They didn't want to see one new NATO member, but there are now two more—Finland and Sweden. It turns out, they were never really bothered by NATO expansion! They just have territorial issues with Ukraine," the pundit said in an interview with Ukrainian journalist Mark Feygin in May 2022.
While the misleadingly cut video chimes into the Kremlin-favored narrative that Russia had been promised no NATO expansion, as numerous participants of the negotiations, academics, fact-checkers, and other experts have noted, there is little factual basis for it.
Both sides have said in the past that no such written agreement exists; Russia's claim that there was a verbal agreement, likewise, is highly dubious and has been dismissed as false by members of both signatory parties, including former president Mikhail Gorbachev.
Historians have also questioned whether such a promise could even have been possible, given that as a defensive alliance, NATO does not force states to become members but instead responds to requests from nations that want to join the bloc.
Furthermore, in 1990 the USSR signed the Charter of Paris with the commitment to "fully recognize the freedom of States to choose their own security arrangements"; in 1997, its successor—Russia—signed the NATO–Russia Founding Act, which similarly pledged respect for the "inherent right" of all states "to choose the means to ensure their own security."
And while the issue remains contested, not least by the Kremlin, the edits in the video are egregious enough to twist the meaning of Arestovich's speech. Given the date of the interview, the pundit clearly was not referencing Russia's all-out offensive in 2022, nor was he supporting or justifying the invasion.
Instead, he was conveying what he perceives as the internal logic behind the initial annexation of Crimea and destabilizing activity in Eastern Ukraine, noting why he believed it to be a miscalculation on behalf of Russia's leadership.
Newsweek has reached out to the Office of President Zelensky and UkrLife for comment.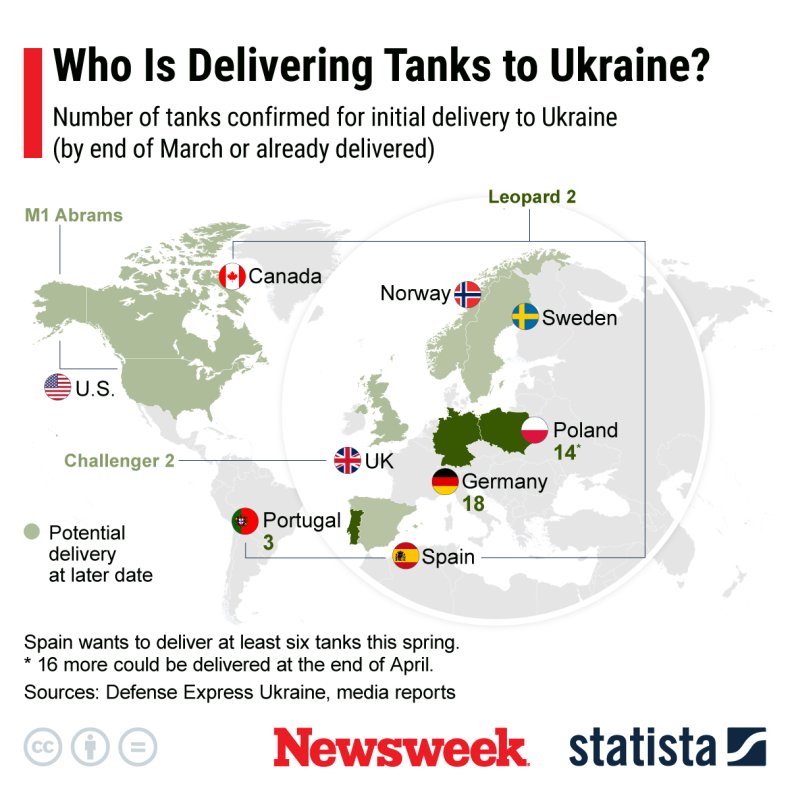 This Statista chart shows the number of tanks confirmed for initial delivery to Ukraine (by the end of March or already delivered).