Did Officer Send Photos of Tyre Nichols After His Death? What We Know
Attorney Ben Crump revealed that Tyre Nichols' legal team knows exactly who received photos of Nichols allegedly sent by former Memphis Police Officer Demetrius Haley.
Five former Memphis police officers charged with Nichols' death pleaded not guilty to several charges against them on Friday. The former officers—Haley, Tadarrius Bean, Desmond Mills Jr., Justin Smith and Emmitt Martin III—are facing charges including second-degree murder and aggravated assault.
Nichols' death made national headlines after disturbing body camera footage from the Memphis Police Department was released, showing the officers repeatedly beating him after conducting a traffic stop. Reports also show that Nichols was tased and sprayed with pepper spray. He died three days after the encounter.
The body camera footage also showed what appeared to be an officer, Haley, taking pictures of Nichols after he was handcuffed.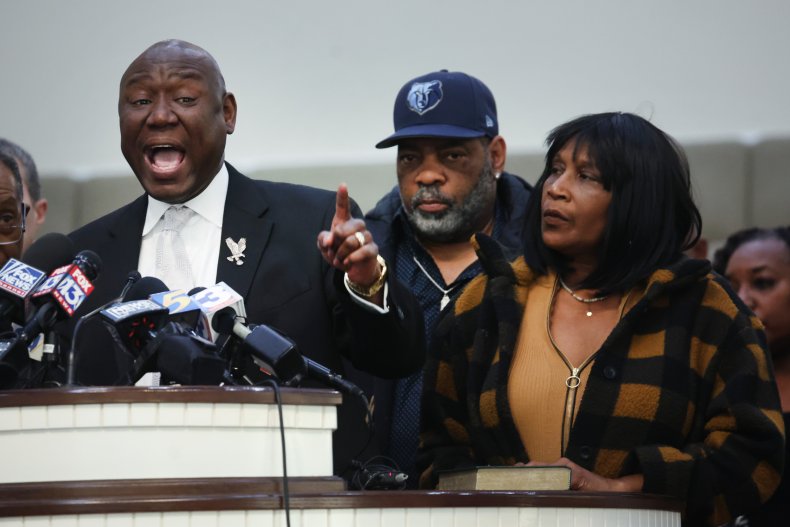 According to the Associated Press, documents showed that Haley allegedly took photos of Nichols, who was lying against a police car. Haley allegedly sent those photos to other officers and a female acquaintance.
Rumors online speculated that the female acquaintance was an ex-wife of Haley who had been involved with Nichols, making the attack personally motivated. Crump dispelled those rumors at a press conference Friday after the officers appeared in court.
"All these rumors circulating are bogus and untrue, because we have the text messages," Crump said. "Prosecutors have been able to verify exactly who those pictures were sent to."
Crump said the family has been "bombarded" with the rumors.
He referenced similar issues that took place following the police killing of George Floyd in May 2020, when rumors alleged that former Minneapolis Police Officer Derek Chauvin knew Floyd, making the attack personally motivated. Chauvin and Floyd allegedly worked details at the same nightclub together, with Chauvin providing security inside and Floyd working as a bouncer outside, but it is unclear if the two ever met.
Chauvin was later sentenced to more than 20 years in prison.
Despite dispelling the rumors, Crump did not reveal more information about the photos taken by Haley or who received them.
Investigations into the incident are ongoing, and the AP reported that up to 13 officers may be disciplined.
Crump said his goal was to remain laser-focused on securing justice for Nichols.
Nichols' mother and stepfather, RowVaughn and Rodney Wells, also spoke at the press conference. RowVaughn Wells criticized the former officers for not being able to look her in the face during the arraignment.
Newsweek reached out to Crump and the Memphis Police Department for comment.