Did Will Smith Doom His Next Film's Oscar Chances With a Slap?
Will Smith's onstage slapping of Chris Rock at last Sunday's Oscars stirred much debate about what, if any, consequences the actor could face. Among the many questions is how the altercation will affect Smith's career. The answer may come as soon as this year when Apple TV+ releases his next scheduled film, Emancipation.
Will Smith stars in the Antoine Fuqua-directed film, which is based on the true story of a runaway slave who escapes from a Civil War-era plantation to join the Union Army. Given the talent and weighty subject matter involved, Emancipation, which Smith is also co-producing, was seen as a potential awards-season favorite the moment its details were announced.
Now, the prestige film's chances at the Oscars could no doubt be adversely affected by Smith's attack on Rock. For one, Smith faces a potential suspension or expulsion from the Academy of Motion Picture Arts and Sciences for violating its code of conduct after he struck Rock and later shouted at him over a joke directed at his wife, Jada Pinkett Smith. But Smith not only faces the possibility that his best actor award for King Richard will be revoked. His eligibility for another acting nomination, for his Emancipation role, might be blocked by the academy.
"Although I feel a suspension is unlikely, I think the recency [2017] of the academy's code of conduct rules could find its first and most high-profile case of this kind," Erik Anderson, an Oscar-tracking expert and editor-in-chief of AwardsWatch, told Newsweek. "The academy often likes to make examples in order to save face and look good, like kicking out Roman Polanski and Harvey Weinstein, and if it happens, that's why."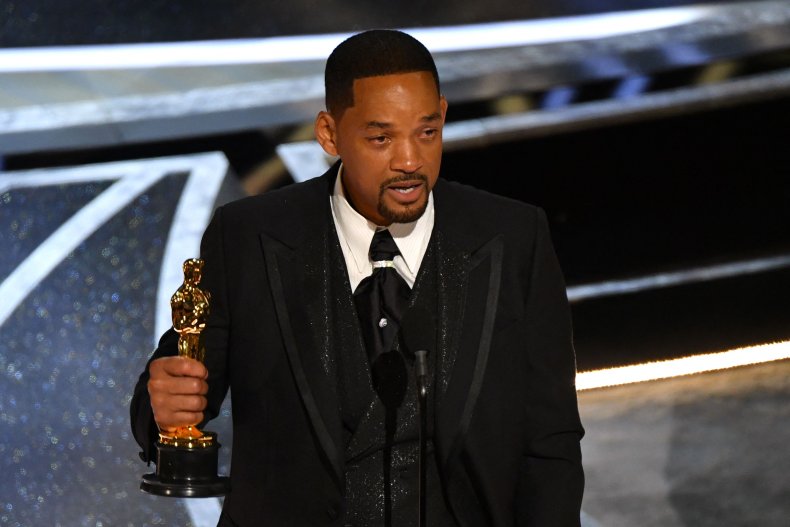 Anderson added that such a decision would come not from academy members but from the Board of Governors and academy executives. He pointed out that a meeting is scheduled for April 18 by those academy chiefs to decide whether to punish Smith. The result may well be "nothing more than a public admonishment," Anderson said.
"Because the academy is trying so incredibly hard to be a place of inclusion and diversity, this is probably their worst nightmare come true. This is a PR disaster," Karie Bible, a media analyst at Exhibitor Relations, told Newsweek. "No matter what they do, there's going to be repercussions. If they don't punish him, a lot of people will be angry. If they do punish him, the optics of that are not going to look good."
Is there a chance that Smith's actions at this year's Oscars could actually improve his chances at another nomination, for Emancipation or another upcoming project? Could Academy voters be afraid of being accused of "canceling" someone for his actions and not separating the art from the artist?
"I'm not sure if it will help, but it's probably not going to hurt. Mel Gibson was nominated for best director [for 2016's Hacksaw Ridge] after his domestic violence and anti–Semitism controversies," Anderson said. "That said, Gibson is a white man in Hollywood, and even though Smith is the biggest Black movie star—and now Oscar winner—ever, if history prevails, he could be judged differently."
Aside from awards, there are also financial considerations regarding Emancipation. Bible told Newsweek that Apple TV+ might simply consider postponing the film's release "until the dust settles, if it ever settles." She also said the Oscar altercation could work in either direction for movie fans: More people may check it out because of increased interest in Smith, or people will be too angry at him to support his work.
Bible said it will be hard to know for sure about the audience reaction since there might not be much of a box office of Emancipation, given that it's being put out by a streaming service. As Apple TV+ did last year with The Tragedy of Macbeth, the company could give it a limited theatrical release before making it available to streaming customers, but even then, Apple likely won't publicly disclose audience metrics.
"There's not really a quantifiable way to measure success anymore like there was with traditional box office," Bible said.
Apple TV+ also distributed this year's best picture winner, CODA, making the company the first streaming service to take home Oscar's biggest trophy. That film is now being re-released to theaters for a victory lap that will bring in more money, an opportunity that might not be afforded to Emancipation should the academy shun the movie because of Smith's actions.
However, there is still hope that despite the controversy around Smith, Emancipation could be celebrated based on its own merits.
"It's unfair to punish innocent people," Bible said, noting all the cast and crew who work hard on motion pictures. "If they still deliver, and it's still a great piece of art, then it's obviously unjust to withhold from it."
Newsweek contacted Smith's management and Apple TV+ for comment but did not hear back before publication.