Disabled Woman Says Delivery Driver 'Discriminated' Against Her Over Tip
A woman went viral after claiming her Grubhub driver left her food in the middle of her long driveway in retaliation for leaving a 26 percent tip, even though she was in a wheelchair and unable to get to the food.
The woman, known as Hunter or @lizardqween, posted about the incident and received more than 220,000 views and nearly 3,000 comments.
What makes "tipping culture" so difficult is that there is no one rule that people should follow when tipping. Rather, some people tip depending on service or situation, and others just don't tip at all.
A survey conducted by creditcards.com found that individuals who normally tip 20 percent at a sit-down restaurant only tip 17 percent for food delivery, with an estimated 59 percent saying they tip drivers at all.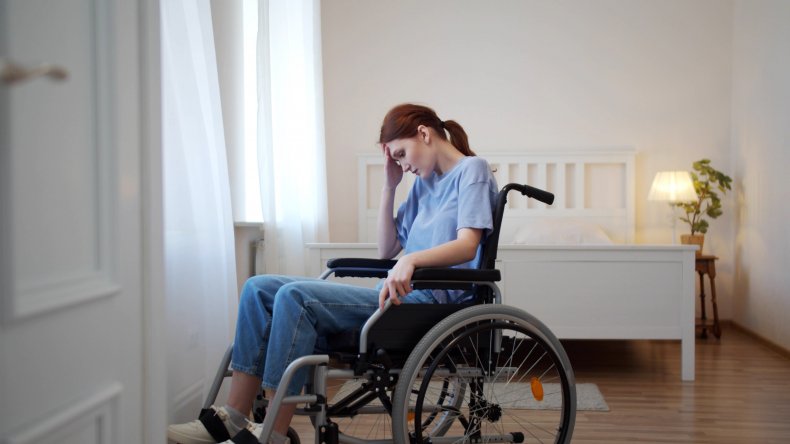 The survey also found that Gen Z and millennials are the least likely to tip their servers, but when they do, the tips are normally higher than other tippers.
The TikTok of the woman sharing her story about being "discriminated" against by her driver over a tip can be watched here.
"When people talk about disability discrimination this is kind of what they're referencing," Hunter said in the video. "Yesterday I ordered some food from Grubhub and when my food was delivered I received this message from my driver."
She then showed a screenshot of their text conversation, with the driver telling her to "tip your driver's better" and to enjoy her food.
"I'm in a wheelchair and can't get my food you a**hole," Hunter replied to the driver. "I tipped above 25%. Don't like it, don't take the order."
Hunter then explained that the driver decided to leave the food in the middle of her driveway in "retaliation" for receiving a 26 percent tip.
"I am in a wheelchair so I couldn't go get my food in the middle of my driveway," Hunter said.
She recalled waiting one hour for her caregiver to arrive before she was able to eat her delivered food. She also claimed that when she reached out to Grubhub they "decided it wasn't really that big of a problem" and "didn't do a lot."
Hunter also said she hopes her TikTok will spread awareness about how this type of behavior is discriminatory.
Nearly 3,000 users commented on the TikTok, with many calling out the delivery driver for not only being discriminatory but also for not thinking a 26 percent tip is good.
"Tipping culture is out of control," one user commented. "It's not the customers' burden to provide a living wage."
"Above 25% and they complained?! Omfg," another commented.
"Ok but I would have taken their text as a threat and been scared to eat the food after that," another added, receiving more than 4,000 likes.
A spokesperson from Grubhub told Newsweek that they are currently investigating the incident.
"Grubhub has a zero-tolerance policy for discriminatory behavior from our delivery partners," the statement read. "We are investigating this incident based on the information at hand and will take appropriate action."
Newsweek reached out to @lizardqween for comment.
One food delivery driver recently went viral for calling out customers who "tip bait" – or initially give an above-average tip before editing it after the food is delivered.
Another viral TikTok showed a delivery order that had been sitting there for 10 minutes because the person did not leave a tip.
"No drivers have picked it up 'cause NO TIP NO TRIP," the TikToker said.
One DoorDash driver sparked debate on TikTok after saying that they refuse to pick up food until they receive a tip.