Although the live-action remake of Mulan has been besieged by controversy since its release, Disney is reportedly "very pleased" with its success—but the company has not disclosed box office figures.
Although the company has refused to reveal how much money the movie has made so far, company officials have suggested a positive result at the box office following its September 4 debut.
Chief Financial Officer at Disney, Christine McCarthy said, per Bloomberg: "We are very pleased with what we saw over the four-day weekend—I'll leave it at that. A four-day weekend is just the beginning."
The $200 million production was set for a major theatrical release, but the coronavirus pandemic saw Disney decide to roll it out on streaming platform Disney+ instead.
However, not every Disney+ subscriber has automatic access to the highly-anticipated movie. Instead, viewers have to pay around $30 (prices vary per country) for "Premier Access" to stream the movie on top of what they already pay.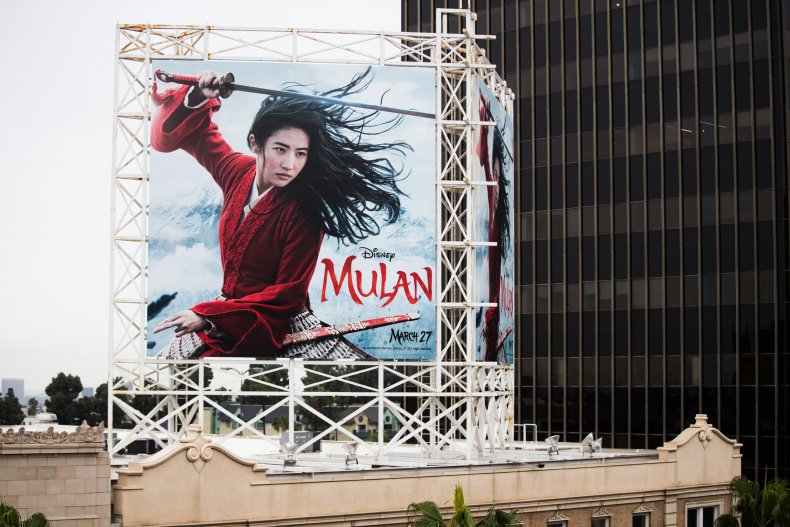 Of this, McCarthy added: "A collateral benefit is what we saw in some additional new subscribers, but that wasn't the driving force. We're certain some people came on the service that had been on the fence before."
Mulan has a hugely successful opening weekend in United Arab Emirates, Malaysia, Singapore, and Thailand as well as Singapore and Thailand, where it has the most successful opening weekend of any film of 2020, per Den of Geek.
Deadline reports Mulan grossed in $1.2 million in Taiwan on its opening weekend with the film said to have made approximately $5.9 million in total over the weekend.
Mulan is set to open in theatres in China on September 11, but the movie might struggle in the country where it is set. Reuters has reported that China has barred media coverage of the film' after the Xinjiang backlash, which is set to be another blow for its reputation which will likely impact ticket sales and subscriber numbers.
The controversy stems from the film's credits thanking the Turpan Municipal Bureau of Public Security, a government security agency in the Xinjiang province, where about one million Muslim Uyghurs are thought to be detained in "re-education camps."
Disney's cooperation with the Chinese government security agency, coupled with the movie's star Liu Yifei previously voicing support for Hong Kong police over democracy protesters, has seen widespread calls to boycott the film.
If Mulan doesn't succeed at the Chinese box office, it will likely dash Disney's hopes of making a profit from the film. CNN Business reported that by combining a successful Chinese theatrical release with additional Disney+ subscriber revenue, Mulan may just break even.
"The math behind this strategy suggests the combination of a premium streaming release combined with theatrical in China and other international markets is the best-case scenario to break even," Shawn Robbins, chief analyst at Boxoffice.com told the publication.