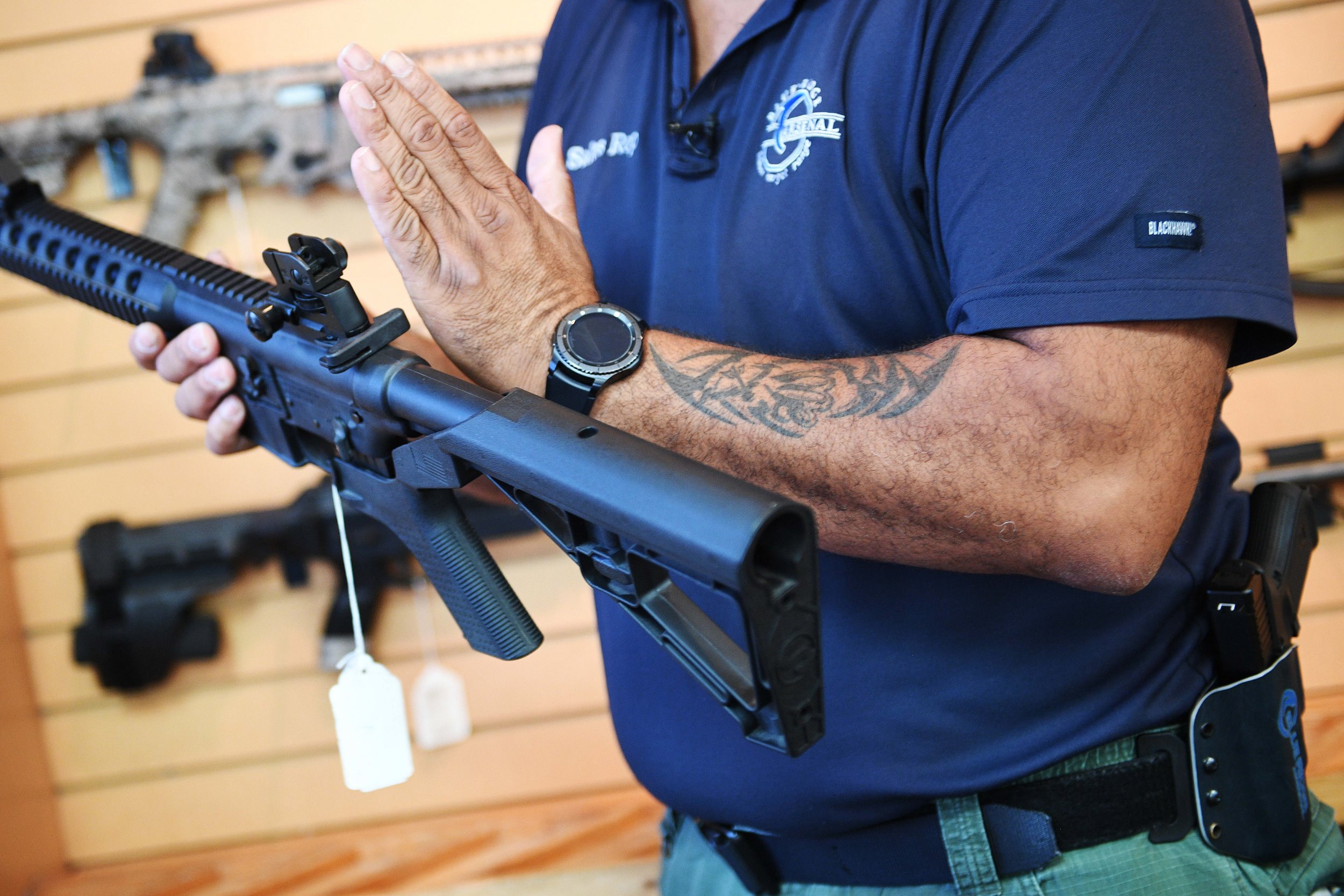 The New York Stock Exchange held a minute's silence for the victims of the mass shooting at a Florida high school before the market opened on Thursday morning, but when news of the massacre reached the markets on Wednesday, gun manufacturers' stock prices rallied on the back of the tragedy.
Stock prices for firearms manufacturer Sturm Ruger & Company and ammunition and rifle-scope firm Vista Outdoor, which are listed on the New York Stock Exchange (NYSE), were both up 2.8 percent on Wednesday while ammunition maker Olin was up 1.4 percent. Smith & Wesson's parent company American Outdoor Brands, listed on the Nasdaq, closed up 5.6 percent, CNBC reported.
At least 17 people died and dozens more were injured in the shooting at the Marjory Stoneman Douglas High School in Parkland, 45 miles north of Miami. Police arrested 19-year-old Nikolas Cruz and charged him with 17 counts of premeditated murder. He was armed with a AR-15-style rifle, a weapon the National Rifle Association (NRA) described as "America's Most Popular Rifle."
A surge in stock prices in the wake of a mass shooting is not a new phenomenon. One of the latest examples being the Las Vegas massacre, the worst mass shooting in modern U.S. history. In the week that followed the Orlando club shooting in Florida in June 2016, one gun store owner registered nearly 30,000 sales of the AR-15 rifle, Fox Business Network reported at the time.
Hunter's Warehouse shop owner Tom Engle said that it was not the shooting that makes people feel the need to buy a gun to protect themselves, but the fear of gun laws changing. "Shootings don't push up gun sales. It's when the government starts talking about banning particular guns and up go gun sales. When people lose their right to buy a particular gun or a particular type of gun, they go after them and they want them then," he said.
When President Donald Trump won the presidential election, having sent a clear message he would oppose attempts to toughen up gun control, gun manufacturers' stock prices actually fell because investors did not expect a surge in sales to continue without fear of regulation. By the end of 2017, the effect of a year of Trump's presidency was felt across the industry.
"There was some fear-based buying that would take place from time to time. There is no fear-based buying now," American Outdoor Brands CEO James Debney said in a conference call quoted in Bloomberg in December, when the company cut its annual profit targets by 45 percent and resorted to discounting prices to keep up sales.
The gains for gun manufacturers registered on Wednesday are also likely to be temporary, as several Republican legislators rushed to reassure the public that the shooting would again not affect gun laws.
"I don't think that means you then roll that conversation into taking away citizens' rights—taking away a law-abiding citizen's rights. Obviously this conversation typically goes there. Right now, I think we need to take a breath and collect the facts," House Speaker Paul Ryan, who received $171,977 from the NRA during the 2016 election cycle according to Politico, said on Thursday in an interview to Indiana radio station WIBC quoted in Reuters.