Dog Attack Leaves Woman in Critical Condition, Hand Partially Amputated
A woman was reportedly in critical condition after she was mauled by a dog in Texas on Monday.
Rescue crews with the Cy-Fair Fire Department arrived at the 20900 block of Westgreen Springs Drive in Katy, about 25 miles west of Houston.
The woman was treated by EMS at the scene and taken to hospital by Memorial Hermann Life Flight in critical condition, the department said on Monday, alongside a series of images from the scene.
In one photo, the woman can be seen lying on a stretcher as rescue teams from Life Flight prepare to move her into the chopper.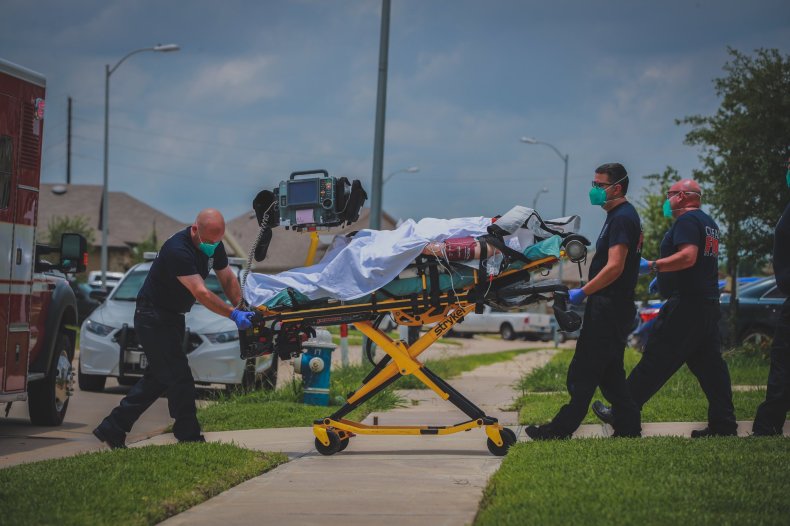 While in hospital, the victim's hand had to be partially amputated following the attack, according to the department and as reported by ABC13.
The unidentified woman is said to have suffered from multiple bites sustained in the attack, with the most severe on her hand.
Multiple witnesses reportedly said the dog belonged to the woman, according to Click2Houston who spoke to neighbors in the area.
The Harris County Sheriff's Office is leading an investigation into the attack.
Newsweek has contacted the Cy-Fair Fire Department and the Harris County Sheriff's Office for comment.
The incident follows a horrific attack where a mailman was reportedly bitten by a dog with such ferocity that a portion of the bone in his leg was exposed.
Andrew Barton, a Scottish postman based in Glasgow, alleged that while making deliveries last February in Milton, he was attacked by a Staffordshire bull terrier named Bruno. He maintained that he did nothing to provoke the animal.
The woman responsible for the dog's care entered into a guilty plea with the Glasgow Sheriff Court, The Glasgow Times reported last week.
Court records obtained by the outlet claimed that when the woman answered the door for a package delivery, Bruno snuck out and ambushed Barton.
Barton needed to be hospitalized and required stitches for the wound on his left leg.
In North Carolina, a 10-month-old baby was killed following a brutal attack from the family's two Rottweilers last week.
Police said the incident occurred in Willow Springs, North Carolina, around 8 p.m. on Tuesday, May 26 after the baby was left unattended inside the home for just a few minutes.
Another attack in Michigan earlier this month left a 4-year-old boy "covered in blood" from several bites on his face.
Kaiden McCray was attacked while playing at a relative's house on the east side of Detroit after a dog, reported to be a Mastiff Shepherd, entered the backyard.