Dog Completes Painting of Flower in Stunning Video Viewed 70 Million Times
Dogs have many incredible traits, but artistic ability is usually not one of them. One dog, however, is proving skeptics wrong with its remarkable painting, as shown in a viral TikTok video.
The star of the clip is named Secret, an Australian Shepherd whose humanlike skills have built her a massive online following. Her adventures are featured in the TikTok account @my_aussie_gal, which is run by her owner, Mary.
Secret's abilities seem to transcend species. Past viral clips show the pup playing guitar, doing yoga, folding laundry, and even filming her TikTok videos of her own.
Now, the dog is back, this time with a stunning piece of representative art. The clip, found here, begins with Secret placing a canvas onto an easel using her mouth. She then paints a blue background across the canvas by holding the brush between her teeth. She follows it with a green stem, complete with leaves, and then a yellow, circular shape to represent the flower itself.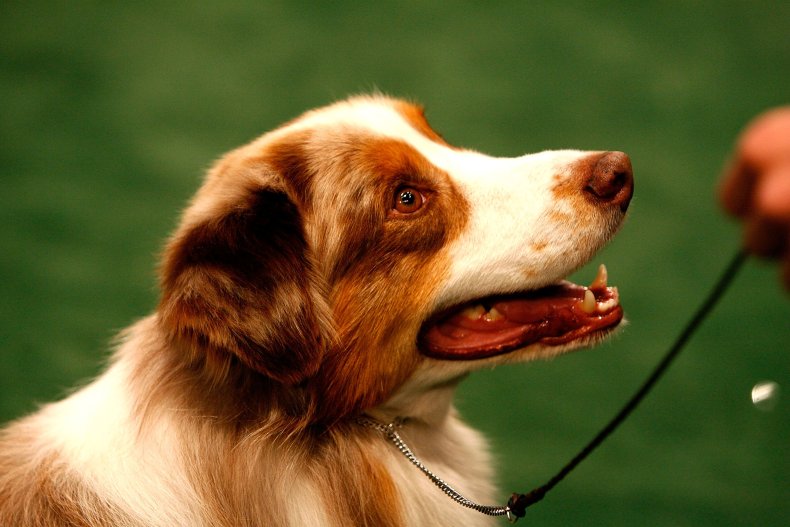 Next, she goes back to add some details. She includes a brown center to the flower and a few more leaves to the stem.
The video ends with Secret running toward the camera with paint marks visible on her nose, then cuts to her sitting proudly next to her masterpiece.
Since it was posted this month, the TikTok has been viewed 70 million times on the app, racking up over 14 million likes and 260,000 comments.
"Am I trippin or did I just watch a dog paint a flower," reads one top comment, which has been liked over 850,000 times. Others half-joked that Secret is even "better at drawing" than them, and many more sarcastically pointed out their own dogs' slightly less impressive "skills" (including "drinking out of the toilet bowl" and "walking into walls").
Meanwhile, Mary took to the comments section to answer a few common misconceptions about the clip. Some, for example, doubted that Secret could have completed the painting on her own, suspecting that Mary was inconspicuously holding the brush behind the dog's mouth. Others cited the commonly held belief that dogs are colorblind, suggesting that Secret could not have chosen the colors herself.
Mary explained that the footage was the result of training with Secret for "[six] years." She added: "It's one of the most rewarding things we've ever done together."
Additionally, in response to a commenter who wrote that "dogs can't see color," she explained, "That's actually a myth, they do see color just differently than humans do! Much like a colorblind human."
Newsweek has reached out to Mary for further comment.