Dog Who 'Hates Mornings and Sleeps All Day' Stars in Very Relatable Video
A dog who hates mornings, sleeps all day and parties all night is, perhaps unsurprisingly, proving popular online.
If there's one thing dogs love besides food, it's sleep. The average canine spends 10-12 hours a day sleeping, according to Sleep.org.
In fact, it's estimated that dogs are active for around just 20 percent of their day and only awake for roughly 30 percent. That might sound extreme but to some it probably sounds just about perfect.
The CDC estimates that the average adult needs at least 7 hours of sleep a night. However, their figures indicate that around a third of people aged 25 to 54 struggle to get enough shut-eye.
Maybe that's why the antics of Lady the Golden Retriever are proving so popular on social media. A canine resident of Orange County, California, Lady is quite literally living the dream—as in she is quite literally asleep, dreaming.
In a video posted to TikTok by her owner, viewers were given a glimpse of Lady's lifestyle. The footage can be watched here.
The clip begins with a shot of Lady sitting at the top of a staircase looking groggy. "My dog hates mornings and sleeps all day," an onscreen caption explains as the camera zooms in on her weary expression.
The action, or rather inaction, then cuts to a shot of Lady, laid out on a doggy sofa, with a cuddly toy for a pillow, dozing in the inviting sunlight.
Suddenly the screen cuts to black as the words "then 5 p.m. hits" appear before the action takes us to Lady bouncing around outside, suddenly the life and soul of the party.
Lady slides into her owner's house, screeching across a rug and bashing into a nearby couch before heading off in search of more fun.
The perfect encapsulation of the lethargy that many greet the working day with before springing into life when the clock hits 5 p.m., the video has proven very relatable on social media where it has already been viewed 7.6 million times.
Commenting on the clip, SodaSiren said: "I'm the same way" with Jessica Lorc, meanwhile, asking rather cryptically: "Am I your dog?" Elsewhere, McKennan declared: "This dog is me," while MykoMushroom said Lady's routine was "very relatable."
Another TikToker, posting as xunkownx_ said: "I have actually found my spirit animal" with Ithsnh_ commenting that they were the "same but at 10 p.m." Ahavamaizel, meanwhile, claimed Lady was "the animal spirit of the majority of us" with Daniel Kat Esc one of many to comment: "I'm the same way."
Lady's owner Erika Ekman told Newsweek: "I film Lady in the morning almost everyday to capture her grumpy face. She is not a morning doggo and always stops at the top of the stairs and stares at me like 'I'm not coming down.'"
"I always say her energy is either zero or 100 and nothing in between because after 5 p.m. she's like a tornado for a few hours," she added.
Erika said she has been blown away by the response to her TikTok clip.
"It's been so fun to receive so much love over this video," she said. "A lot of people relate to Lady's day and say that they are just like Lady, and that's a relief because I'm also like that!"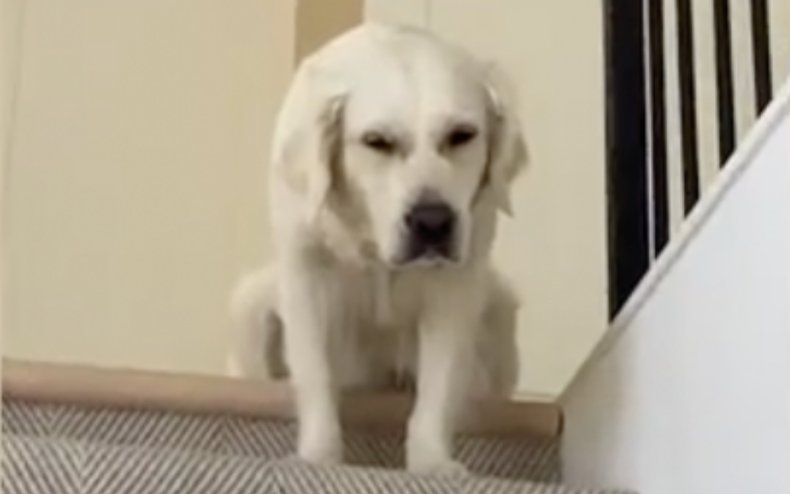 Update 03/21/22 12:20 p.m. ET: This article was updated with quotes, video and a new image from Erika Ekman.