Huge Dog Being Spoon-Fed After Refusing to Eat From Bowl Delights Viewers
A video of a dog being a "brat" after declining to have its dinner has gone viral on TikTok, where it had 1.3 million views at the time of writing.
The video, shared by TikTok user @allstartok1, which has not been independently verified by Newsweek and was credited to be from @nooooovgg (an account that appears to no longer exist), showed a dog being spoon-fed a scoop of what's believed to be dog treats in a bowl.
A message overlaid on the video read: "My dog being a brat. He wants a treat but won't finish his dinner [crying laughing emoji]."
While it might seem counter-intuitive to spoon-feed your pet and run the risk of spoiling them, there are some benefits to hand-feeding your canine.
They include the following, as outlined by the American Kennel Club (AKC), the world's largest purebred dog registry:
Good for building trust and relationships: It teaches your dog that "good things happen," when it reaches towards you, such as getting food. It also teaches them to focus, as the dog gets fed when they pay attention to you.
Stops resource guarding: Hand-feeding can help keep your dog from "resource guarding." The AKC says: "By only feeding your dog from your hand, you show her that you are the gateway to valuable things and when you reach into her space it means food."
Teaches impulse control: Keep your hand closed until your dog stops badgering you for the food. "As soon as your dog backs away, looks away, or just stops pawing/licking at your hand," open your hand and give them the food. They'll realize the quicker they demonstrate self-control, the quicker they get to eat, the AKC said.
Reduces inhaling of food: Hand-feeding will help any dogs that eat too fast to slow down.
Good for shy or fearful dogs: Dogs that are nervous around others will benefit from being hand-fed by their owners, "especially if you get other members of the family, and eventually friends and neighbors to hand feed your nervous dog too," the AKC says.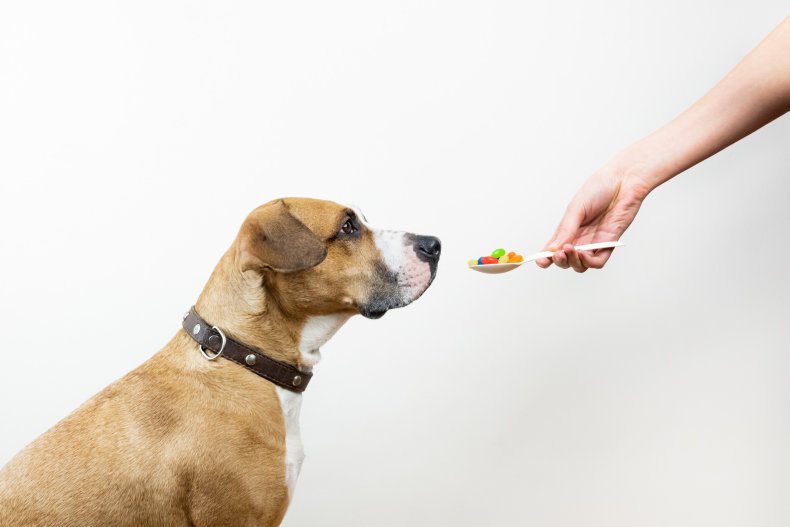 Several users were delighted by the latest viral video, including some who could relate to the owner.
Angela Lambert said: "My dog loves being spoon fed... he is very spoiled."
Maria said: "omg [oh my god] that's so cute."
User Tony_8417 said: "Your dog has taught you well!"
Loki said: "I have to do that with my dog lol x," while Jamie Smith said: "[crying laughing emoji] Got two with the same attitude [hand on face emoji]."
Newsweek has contacted @allstartok1 for comment.
Do you have funny and adorable videos or pictures of your pet you want to share? Send them to life@newsweek.com with some details about your best friend and they could appear in our Pet of the Week lineup.