Doja Cat Loses Followers, Noah Schnapp Gains Following DM Controversy
Doja Cat lost a significant amount of followers while Noah Schnapp's increased following their DM controversy.
According to data from Social Blade, a tool used to track social media statistics and analytics, the rapper, 26, had 24,308,793 followers as of June 29. By Tuesday, July 12, however, her count dropped to 24,129,073 for a difference of 179,720. Meanwhile, the Stranger Things actor, 17, had 23,051,310 followers on June 29, which increased to 25,334,432 as of July 12 for a total of 2,283,122.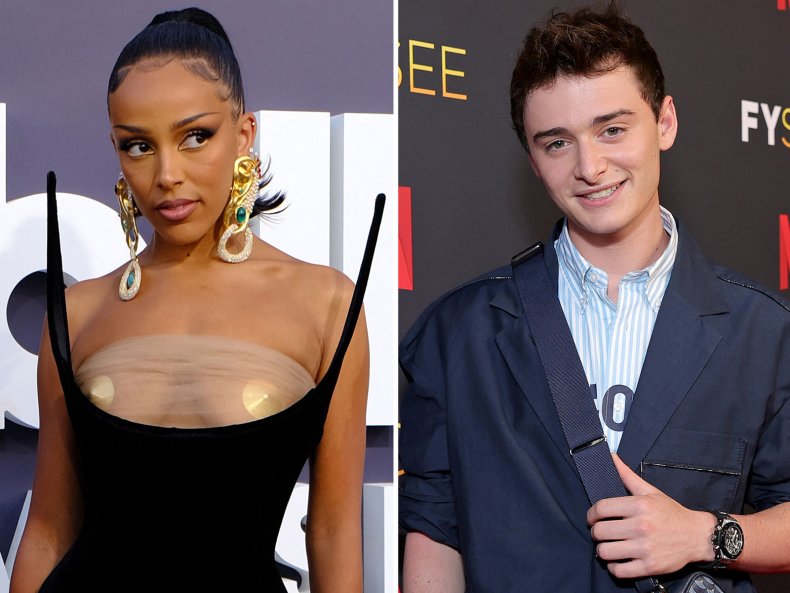 The unlikely pair's drama first began when Doja Cat, whose real name is Amala Ratna Zandile Dlamini, sent Schnapp a message asking him to set her up with his co-star Joseph Quinn. Schnapp then shared their exchange in a since-deleted TikTok video.
Clearly, the California native wasn't thrilled with the clip because she went on her own TikTok to call him out for leaking their conversation.
"The fact that Noah did that, like went and posted a private conversation between me and him is so unbelievably socially unaware and wack," she said. "That's like borderline snake s***, that's like weasel s***. And I'm not saying that encapsulates his entire personality — like, I don't imagine Noah that way."
That said, many social media users questioned Doja Cat's response, given that Schnapp is a teenager. "A 17 year old needs to be coy about a 26 year old's DMs? F*** that. Hell naw glad he blasted it," one person wrote on Twitter. Another agreed, writing, "That's fine. He's a kid. He gets to be frustrated. He still working things out. She's 26. She is only one who should know better of the two."
A third even seemed to predict her follower loss, tweeting, "She's a grown ass woman, she should be ashamed of herself and doing a public apology to him. She will lose fans for picking on a kid and I'm glad."
Others, however, defended the "Need to Know" singer. "No, 17 year olds know what's up, this was petty weirdness ... I mean if he mentioned it coyly in an interview that a celeb slide into his dms for a cast member MAYBE, but this was straight up intent to embarrass," someone said, with another pointing out: "I think she's just joking or bored for attention because she had already made it public that she's crushing on him and Noah posting the dms just seemed like adding to her humor."
Meanwhile, a separate commenter added: "It shouldn't be this serious when Doja has literally tweeted that she liked Joe before. Sure, it's maybe embarrassing, but it's not like her feelings for him were secret."
Back in May, Doja Cat tweeted: "Joseph Quinn is fine as s***."
Schnapp and Quinn have yet to respond to Doja Cat's comments.