Domino's Worker Shares How One Pizza Cost $275 With 'Triple' Toppings
A Domino's worker in Alberta, Canada recently shared a ridiculous order which totaled over $275 for just one pizza.
The pizza order has shocked online, and disgusted many at the same time, after Domino's worker Ryan Cook took to TikTok with the details.
In a video that has since gained over 300,000 views, the list of ingredients was so long that not all of them could be displayed on the screen. The order featured a single 16" pizza with six different sauces and a shockingly long list of toppings, most of which were triple ordered.
The toppings included pepperoni, beef crumbles, Philly steak and Donair meat (similar to gyro meat)—all triple. The total price came to $275.09, but it's a price Cook said in a comment would be "worth it."
"These Domino's employees finna regret working here," he joked in a comment on-screen.
Fortunately for the workers, but unfortunately for viewers online, Cook confirmed that he did not end up putting the order through, in fear he would get in trouble but vowed that it "probably" would work.
In another comment, he promised to try to order the pizza the next day but he has yet to share an update on his attempt.
Despite carrying an absurd price tag, a $275 pizza is nowhere near the most expensive. Instead, the most expensive pizza in the world is reported to be the Louis XIII, by Italian pizza chef Renato Viola.
The pizza is a small 20 centimeters (7.8 inches) but can be purchased for a whopping 8,300 euro, or $8,347.86. It's served at home and created by Viola's catering team, a sommelier and a chef. The whole pizza is made on-site apart from the dough, which is made 72 hours prior.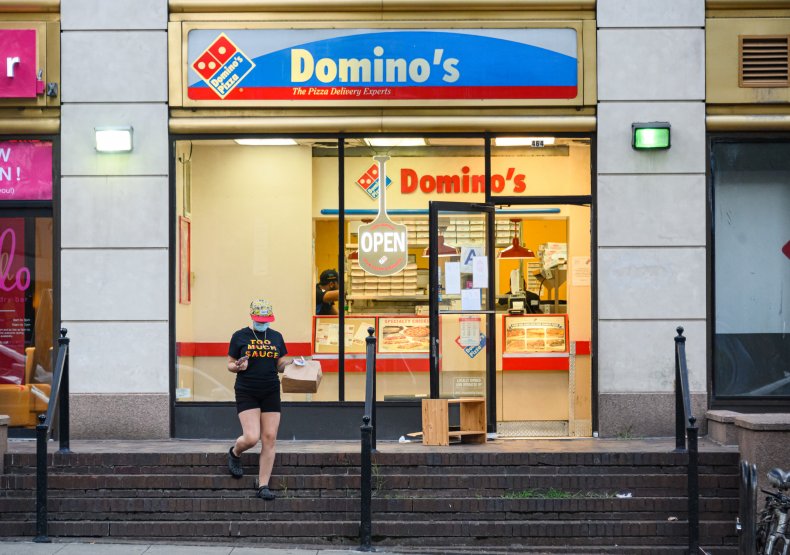 Its toppings include various caviars, lobster and a type of shrimp named Squilla mantis, and the pizza is served on limited edition dishes with Cognac and champagne.
Despite not being the most expensive in the world, for many this order was the most expensive Dominos order they'd seen, and garnered shock across the board.
"I'm clearing it off the screen like I never saw it," wrote one user.
"Bros pizza is gonna cost his life saving," added another
"I work fast food and I would legit cry and scream bro I thought the giant blizzard special orders were bad," noted one viewer.
It would seem that pricey fast food orders aren't so rare though, as one worker confirmed. "I've had someone order $1,000 worth of pizza and wings," wrote one TikTok user.
Newsweek has reached out to Ryan Cook for comment.