CNN's Don Lemon Says Trump Will Go down in History as 'The Worst of the Worst'
CNN anchor Don Lemon gave an emotional take on what he believed would be President Donald Trump's legacy after his supporters stormed the U.S. Capitol on Wednesday.
During the protests, four people died including a woman shot by a police officer, while dozens of demonstrators were arrested in the unrest which forced the evacuation of both chambers about to certify the Electoral College win of President-elect Joe Biden.
The quote
Visibly moved at the attack, Lemon gave his assessment on what Trump would be remembered for.
"You will go down in history as the worst of the worst," he said.
"Some day in the future that will be all anyone remembers of you, that you were awful, terrible, the worst president, and that you won by an electoral fluke and by lying to people. You are a complete and utter disgrace is what people will remember."
Why it matters
The demonstrations on Wednesday that turned violent provide a dramatic bookend to a turbulent presidency.
Trump's tenure has been marked by an impeachment trial, criticism over his response to the coronavirus and alleging without evidence that the election he lost was marred by fraud.
But the scenes of chaos at the epicenter of American democracy have been seen by some as a step too far, with The Washington Post's editorial board describing it as an act of "sedition" which it said "lies squarely with the president."
"He should be removed," the editorial added, calling for him to be replaced by Vice President Mike Pence under the auspices of the 25th Amendment because he was "unfit to remain in office."
Among those blaming Trump for the violence was soon-to-be Senate Majority Leader Chuck Schumer, who suggested that U.S. democracy had been irrevocably tarnished. "January 6 will go down as one of the darkest days in American history," he said.
Newsweek has contacted the White House for comment.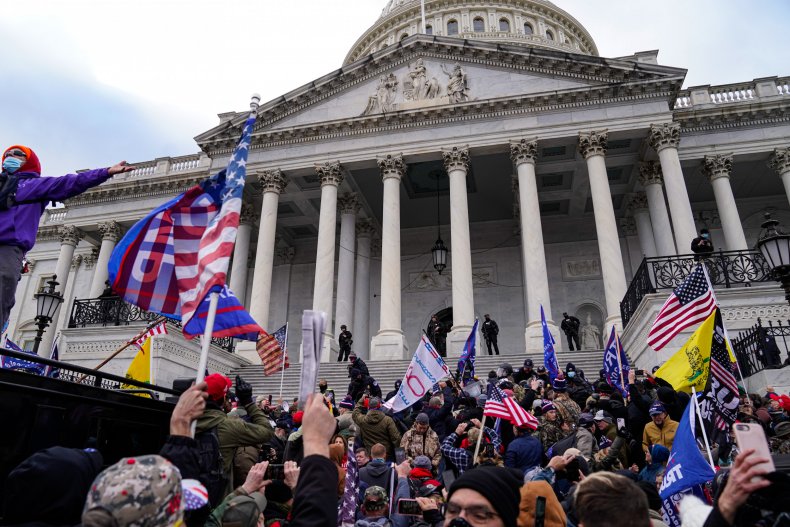 The Counterpoint
Although Lemon appears certain of how history will judge Trump, whether the scenes of violence in Washington, D.C. will be framed as an example of his being the "worst" president in the long term remains to be seen.
Trump's supporters may be keener to view his successes during his term such as record stock market highs and a boost in pre-pandemic job numbers. Also, despite his defeat, more than 74 million voted for him in the election whose results he disputes, the second-highest ever and a clear sign that his influence will long be felt after he leaves office.
In the short term at least, the appeal he has to his base has ensured that he will remain the center of gravity on the GOP long after Inauguration Day. Senate races in 2022 are likely to see him play a key role, and of course there is the possibility at another run for office in 2024, which could give historians much more to write about.