Is Donald Trump Jr. Next? President's Son Is 'Probably Having a Nervous Night,' Ex-Prosecutor Says
A former federal prosecutor has suggested that a number of people in President Donald Trump's inner circle—including his eldest son, Donald Trump Jr.—will be increasingly nervous while watching special counsel Robert Mueller's Russian meddling probe gain pace.
This week has been a busy one for the special counsel's office and a miserable one for the Trump administration. The rate of activity suggests Mueller may be moving into the probe's endgame.
At the start of this week, it was revealed that former Trump campaign chairman Paul Manafort had been lying to federal investigators despite agreeing to a plea deal with them following multiple fraud convictions in August.
The revelation came hot on the heels of Trump finally providing written answers to a list of questions posed by Mueller regarding possible collusion between the president and Moscow during the 2016 presidential election.
Trump attorney Rudy Giuliani admitted that Manafort's defense team had been briefing Trump's lawyers on the internal workings of Mueller's investigation, suggesting the president's written answers may repeat some of the lies Manafort told investigators.
And on Thursday, former Trump attorney Michael Cohen made a surprise appearance at a New York courthouse to admit to lying to Congress about the timeline of negotiations for opening a Trump Tower in Russia, negotiations for which were still ongoing as late as June 2016.
On Thursday night, Fox News host Shepard Smith asked former federal prosecutor Jeffrey Cramer whether members of the Trump family had reason to be concerned, given Cohen's admission.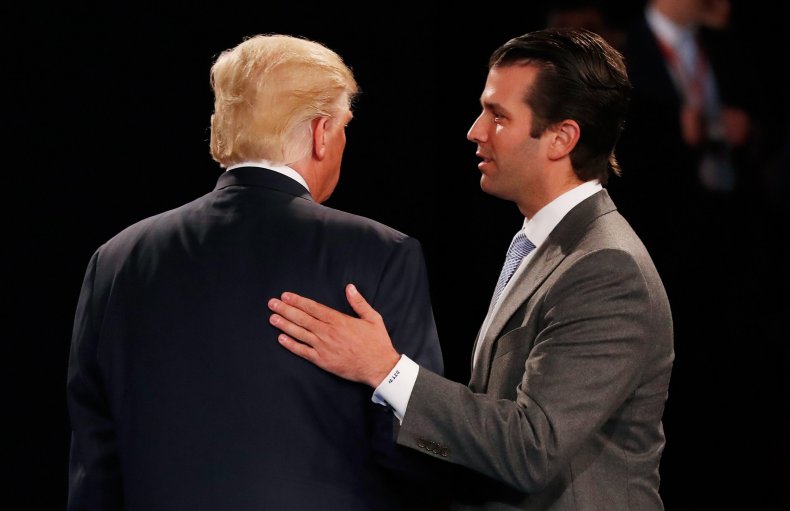 "I think if an objective observer was to look at it, yes," Cramer replied. "We know from what Mr. Cohen said—there's others in the Trump Organization that knew about the time period when the conversations were going on, and were aware that a trip to Russia was discussed with candidate Donald Trump. So if you're one of those people in the Trump Organization who has talked to Mr. Mueller or a congressional hearing and you toed the line, you're having a nervous night tonight."
Asked whether he considered Donald Trump Jr. part of the group, Cramer said, "That's a logical inference, given what we know to date and Mr. Cohen's allocation.
"Those questions would have been asked of Donald Jr. They may have been asked before on the written questions submitted to the president," Cramer continued. "They may have been asked, and probably were, of others in the Trump Organization. Anybody who said it was January is when it stopped and that there was no trip planned to Russia, they're looking at an indictment square in the face right now."
Trump quickly responded to Cohen's plea, calling his former attorney a "weak person" who was "lying" in the hope of being handed a reduced sentence.
Asked what he thought of the response, Cramer said, "In my experience as a prosecutor in New York and then here in Chicago for a dozen or so years, defendants lie," he said. "They lie regularly. That's not a big thing. Nobody lies about lying. That's a hard one to wrap your head around.
"I've never seen that; I doubt many prosecutors have," he continued. "If you're lying about lying to cut a deal, that makes no sense. If you're telling the truth in the first instance, then you've got no jeopardy. But it's an odd one to lie about lying, the result of which could send you to prison. That's just illogical."