Fox News pundit Sean Hannity—who has been a regular champion of President Donald Trump—urged folks on his radio show on Wednesday who may know of crimes not to talk to the FBI.
Hannity made the comments amid the ongoing investigation from special counsel Robert Mueller. Like Trump, the Fox host has been openly critical of the ongoing probe.
"If you're like me, and you were—grew up to revere an FBI agent, and the FBI comes to your house, and maybe some crime took place in the neighborhood, and maybe you have a little bit of information, but you don't quite fully recall everything, but you're pretty sure you do—the advice I have to give you now is: 'Don't talk to the FBI,'" Hannity said, via a clip posted by the liberal group Media Matters for America. "How awful is that?
"Because we want to help our FBI, because we want to help them solve crimes. We're good people. We play by the rules. We obey the laws in the country. We pay our taxes. ... We want to get the people that are doing bad things because there are enough of them."
Later, Hannity connected his point back to the Mueller probe and former Trump associates who've pleaded guilty and cooperated with the investigation.
"That's all that they want to fixate on, which is all redacted, and it's all speculation, and I don't think anything of what we're hearing is true, because it just—none of it makes sense, but they get to jump the gun, because they want this all to—they want everybody to believe Donald Trump was colluding with the Russians," Hannity added.
The Washington Post's Philip Bump pointed out in an analysis piece Thursday that, about a decade ago, Hannity publicly pushed for more "snitching" to authorities after rapper Cam'ron said he didn't believe in talking to the police in a 60 Minutes interview. The Fox host's view has clearly changed in the intervening years.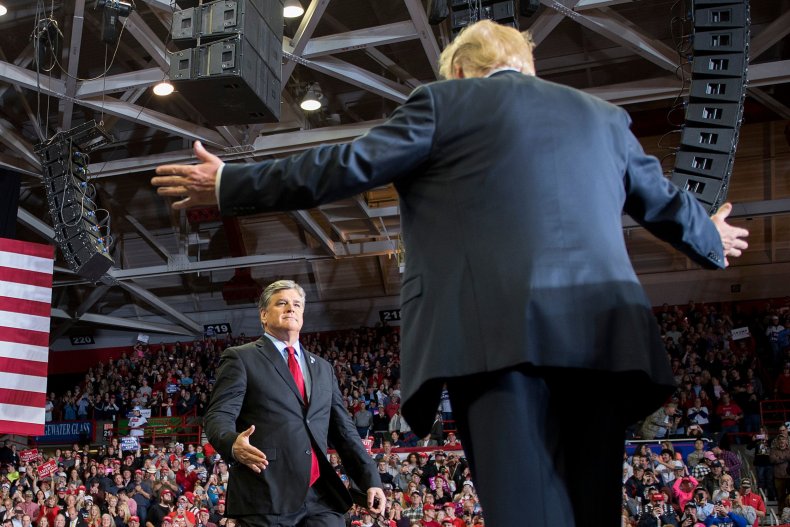 Trump is apparently a regular viewer of Hannity on Fox News, and the host's views seem to be in lock-step with the president. For instance, Hannity has compared the Mueller investigation to Stalin's secret police, called for 2016 Democratic presidential nominee Hillary Clinton to face her own special counsel investigation and defended Trump's backing of Saudi Arabia despite the murder of a Washington Post journalist. He even joined the president onstage at a campaign rally last month and, New York magazine reported in May, the two often talk on the phone before going to bed.
Trump has ramped up his attacks on the Mueller investigation of late, often tweeting angrily about the probe.
"Without the phony Russia Witch Hunt, and with all that we have accomplished in the last almost two years (Tax & Regulation Cuts, Judge's, Military, Vets, etc.) my approval rating would be at 75% rather than the 50% just reported by Rasmussen," Trump posted on Thursday, for instance. "It's called Presidential Harassment!"