Donald Trump Says Americans Are Angry Over 'Attack on Democracy' Raid
Donald Trump has continued to fume about the FBI's search of his home, saying the entire country is "angry" about it.
The search warrant served on August 8 was part of an ongoing Justice Department investigation into the discovery of classified White House records recovered from the former president's Florida home earlier this year.
The National Archives had asked the department to investigate after saying 15 boxes of records it retrieved from the estate included classified records.
FBI agents recovered 11 sets of classified records from Mar-a-Lago, including some marked top secret and "sensitive compartmented information," according to a property receipt unsealed by the court on Friday.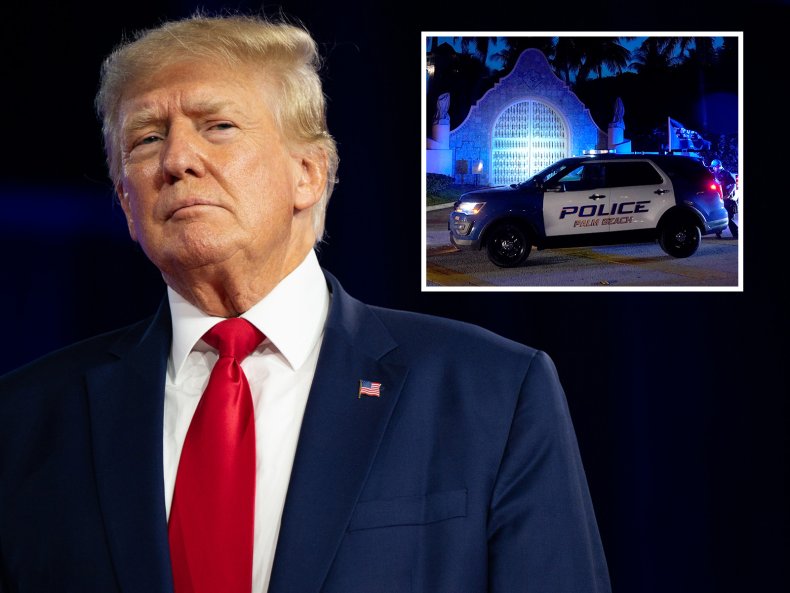 The warrant cited potential violations of three federal laws, including the Espionage Act, which makes it a crime to release information that could harm national security.
But the former president—whose actions on January 6, 2021, as a mob of his supporters broke into the U.S. Capitol to disrupt the certification of Joe Biden's 2020 election victory were laid bare in a recent hearing by the House select committee investigating the deadly attack—has decried the search of his home "as a sneak attack on democracy."
"America has never suffered this kind of ABUSE in Law Enforcement!" Trump posted on his Truth Social website on Sunday night.
"For the FBI to RAID the home of the 45 President of the United States, or any President for that matter, is totally unheard of and unthinkable. This Break In was a sneak attack on democracy (our Republic!), and was both unannounced and done at a time when the President was not even present."
He added that the raid was for "political, not legal reasons, and our entire Country is angry, hurt, and greatly embarrassed by it."
However, a Rasmussen poll conducted between August 9 and 11, before the warrant for the search was unsealed, found Americans were split in opinion. About 50 percent of likely voters approved of the FBI's actions, while 46 percent disapproved, according to the survey.
Andrew David Miller, a senior fellow at the Carnegie Endowment for International Peace, was among those to call out Republicans for uniting behind Trump in criticizing the FBI search.
"Stunning though not surprising Rs in House are treating DOJ/FBI lawful search at Trump's residence as greatest threat to Republic since Pearl Harbor while dismissing illegal, violent insurrection on January 6 as just another day on the Hill by bunch of happy well-meaning patriots," Miller tweeted last week.
In another post on Sunday, Trump said he had just left a large gathering where all people could talk about was "the complete and total stranglehold" that Democrats have over the Justice Department and FBI.
"It shouldn't be that way," he wrote.
Attorney General Merrick Garland said he had personally approved of the decision to seek the search warrant and that it "was authorized by a federal court upon the required finding of probable cause."
Garland also hit back at "unfounded" attacks on the professionalism of FBI agents and federal prosecutors.
"I will not stand by silently when their integrity is unfairly attacked," he said. "The men and women of the FBI and the Justice Department are dedicated, patriotic public servants.
"Every day, they protect the American people from violent crime, terrorism and other threats to their safety while safeguarding our civil rights. They do so at great personal sacrifice and risk to themselves. I am honored to work alongside them."
In posts on Truth Social, Trump also criticized the FBI after Fox News, citing unnamed sources familiar with the investigation, reported that some of the boxes seized by agents contained documents covered by attorney-client privilege.
"By copy of this TRUTH, I respectfully request that these documents be immediately returned to the location from which they were taken," Trump wrote. "Thank you!"
Earlier, Trump accused FBI agents of rummaging through his wife Melania's closets during the search.
He also claimed it was carried out without witnesses, although his attorney Christina Bobb was at Mar-a-Lago during the search and signed two property receipts that listed what FBI agents had taken.
The FBI declined to comment on the matter. Newsweek has contacted Trump's office for further comment.