What Did Angela Merkel Whisper to Donald Trump?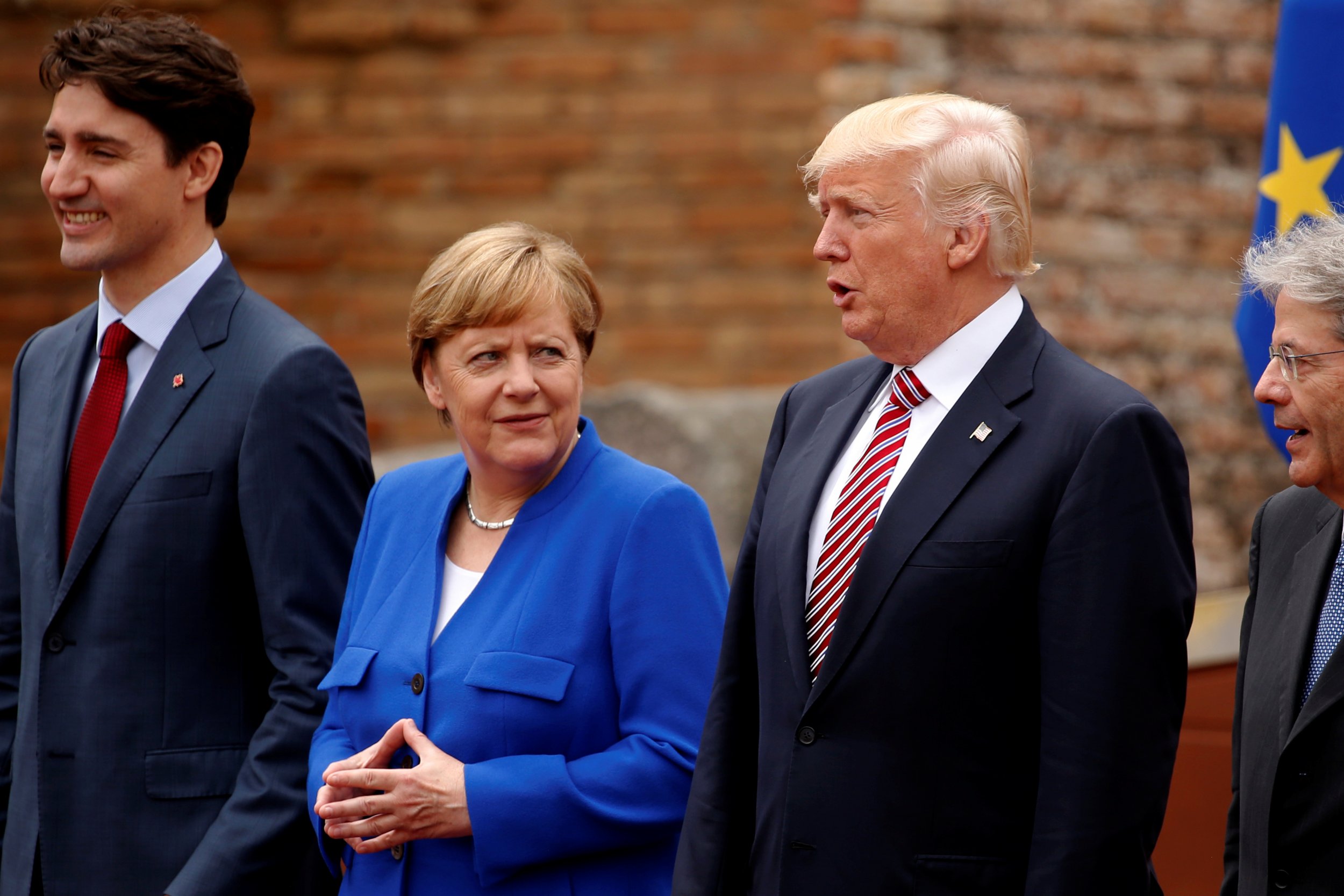 Donald Trump's first trip abroad since assuming the Oval Office has been documented ad nauseam, with media outlets capturing virtually every move—including several unusual interactions the new president shared with world leaders and his wife, Melania Trump.
The latest presidential encounter to ignite internet intrigue happened during a Friday-morning brunch at the G7 summit in Sicily, following Trump's bizarre handshakes with French President Emmanuel Macron and shoving of a a NATO member, and the first lady seemingly avoiding physical contact with her husband.
Related: Melania Trump rejects Donald Trump's hand-holding
German Chancellor Angela Merkel, one of the first global leaders to visit Trump in the White House (she was denied a handshake from him at the time), was seated next to the president during the kickoff to a day of highly publicized meetings among the world's major economic powers. The two were settling into their seats and skimming through prepared remarks when a candid moment was caught by photographers that could reveal the biggest glimpse into their professional relationship behind closed doors.
Trump began the interaction with his characteristically grandiose hand movements, saying something that caused both leaders to shake their heads in apparent disapproval. That's when Merkel, aware that reporters were flocking the table, covered her mouth and face with her hand and leaned toward Trump to share a private thought.
What the German chancellor said to the president remains unclear, though it appeared the two had grown more comfortable in each other's presence than when they first met at the White House back in March. Trump appeared to lean back before Merkel was finished with her quiet statement, seemingly nodding in total agreement. She then leaned back as well, looking on at Trump as she swiveled in her chair while chuckling.
Perhaps Merkel was telling Trump a prepared one-liner, as Pope Francis did earlier in the week when asking Melania what she was feeding the president during their visit to the Vatican. Or maybe she was providing the president with information on the summit's history and importance following his controversial remarks to NATO Thursday afternoon. There's no way of knowing for sure. But the internet, which has grown adept at creating memes and hot takes about the president's encounters, immediately had some theories.
"She's saying, 'I mean, you can ASK for the ketchup if you really want it Donald, but no, they don't just leave it on the table,'" one Twitter user wrote. "New BFFs," wrote another.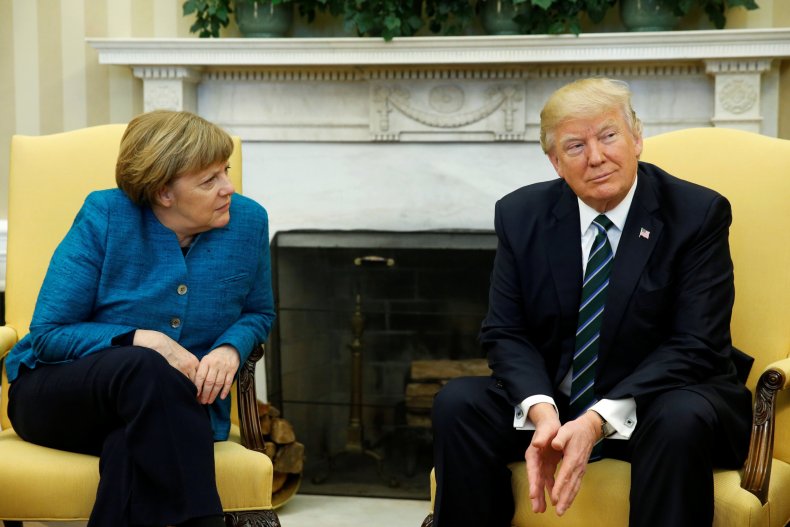 Merkel could be working to smooth things over with the president following his less friendly interactions with her and statements he has made about Germany. Trump told EU Commissioner Jean-Claude Juncker and European Council President Donald Tusk that "the Germans are bad, very bad" during a Thursday meeting in Brussels. He also reportedly handed Merkel an "invoice" for her nation's NATO membership for over $300 billion.
Perhaps Merkel whispered a joke to Trump about that exact exchange: "I've thought about your bill, Donald. I'll print an IOU."