Donald Trump Asks 'Why Does Fox News Keep Chris Wallace?'
Former President Donald Trump questioned on Monday why Fox News continues to employ anchor Chris Wallace, in a new statement from his Save America Political Action Committee (PAC).
The criticism comes after Wallace clashed with former Trump campaign manager Corey Lewandowski over unfounded claims of voter fraud in the 2020 election, and had a tense exchange with Senator Joe Manchin (D-WV) about the filibuster.
Trump remains suspended from social media platforms such as Facebook and Twitter, but he has been communicating with the public through brief written statements issued by Save America PAC.
"Why does Fox News keep Chris Wallace?" Trump's statement said.
"His ratings are terrible, he's 'almost' Radical Left, he was acknowledged to have failed badly as a Presidential debate moderator (except for Biden who he totally protected!), and so much else. Usually, these are not the qualities of a long-term stay!"
Wallace has been the anchor of Fox News Sunday since 2003 and previously worked at NBC and ABC.
Trump has criticized Wallace in the past, comparing him unfavorably to CNN's Chuck Todd, who has also been a frequent target of the former president's criticism.
However, Trump's statement on Monday may have been prompted by an interview Wallace conducted with Lewandowski, who was Trump's campaign manager from January 2015 to June 2016.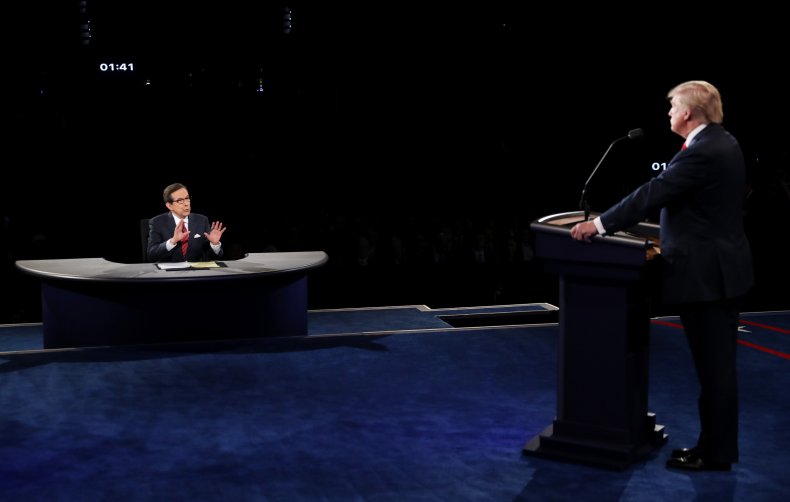 Wallace spoke to Lewandowski following Trump's speech in North Carolina on Sunday where the former president pushed unfounded claims of widespread election fraud in 2020.
"We notified the media of at least one dead person who voted. It is unequivocal. But the response from the media was, 'well that person was a Trump supporter.' Chris, we need to have election integrity in this process," Lewandowski said.
"Corey, you keep blaming this on the media," Wallace said. "The fact of the matter is this went to more than 60 different court cases and you were beaten in every one. The Supreme Court refused to even hear the Trump challenges, so please don't blame this on the media. You had your day in court and you lost."
"But Chris, what I'm saying that the media's obligation and responsibility should be is making sure we have a fair and honest account of what the election results were. Look, I have provided specific examples of the dead..." Lewandowski said.
Wallace interrupted, saying: "What about the courts, including Trump appointed judges? Including the Supreme Court that has a 6 to 3 conservative majority?"
"They threw you out of court," Wallace added.
Wallace and Lewandowski later clashed about the theory that COVID-19 could have originated in a lab in Wuhan, China, with the Fox News anchor arguing Trump's "inaction" on the question couldn't be blamed on Dr. Anthony Fauci. Wallace also recently criticized Republican attacks on Fauci over his emails, calling them "highly political."
Newsweek has asked Donald Trump and Fox News for comment.