Donald Trump's First Visit to Baltimore Since His 'Rodent Infested Mess' Comments Will Be Met With Several Protests
President Donald Trump is set to be met with protests in Baltimore later this week as he returns to the Maryland city for the first time since he described it as a "rat and rodent infested mess" where "no human being in the world" would want to live.
The White House confirmed that Trump will speak at the 2019 House Republican Conference Member Retreat Dinner on Thursday (September 12).
According to The Baltimore Sun, the retreat will run on until Sunday and will be held at the Baltimore Marriott Waterfront Hotel in Harbor East.
The visit will be the first one Trump has made to Baltimore since he continually attacked it and Democratic Rep. Elijah Cummings in July.
According to The Washington Post, the GOP decided on Baltimore to be the city which will hold the retreat before Trump described Cummings's predomonitely-black 7th Congressional District as "the worst run and most dangerous anywhere in the United States."
Several protests have been planned for Trump's visit by the Baltimore Welcoming Committee, a coalition of groups which include climate change activists Extinction Rebellion.
One of the protests organized by The People's Power Assembly will begin at 4 p.m. on Thursday at the Christopher Columbus statue at South President Street and Eastern Avenue, close to the Marriott hotel where the GOP retreat is taking place.
"Let's show the world that racist RAT Trump is NOT welcome in Baltimore! It's time to rally against racism and white supremacy," the group wrote in a Facebook page promoting the protest. The group said the event is to demand that Trump be impeached for "racist hate crimes," as well as all the camps and detention centers on the U.S.-Mexico border be shut down.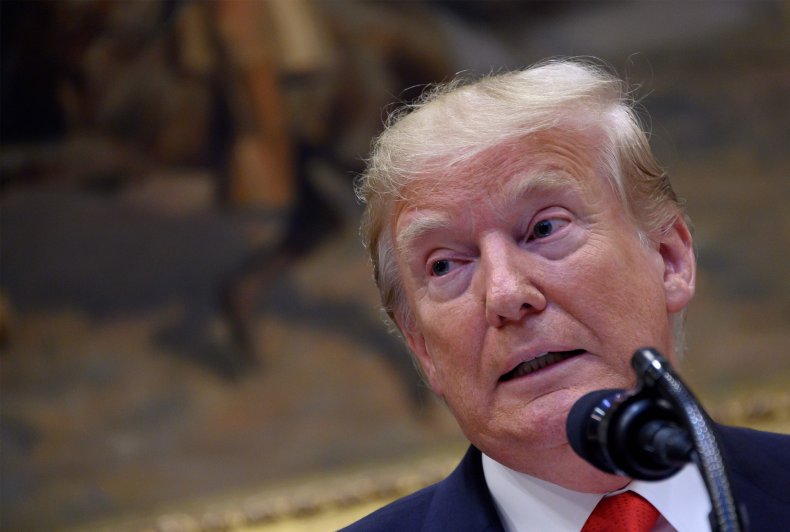 A "Musical Labor Protest" has been organized on Friday, September 13 on the corner of East Falls Avenue and Aliceanna Street, with organizers encouraging people to bring their musical instruments to help sing songs during the protest.
Elsewhere, an LGBTQ+/Allies Dance Party is due to be held on Friday evening from 7 p.m. which is being described as an "uplifting first amendment event."
"The House GOP is holding their annual retreat in Baltimore, Sept 12-14, less than two months after 45's rat tirade on Twitter," a Facebook event page states. "To welcome them, the LGBTQ+ community is holding a dance party protest in front of their hotel."
There will also be an environmental protest on Saturday September 14 against Trump and the GOP as they are "helping to lead the charge towards a climate apocalypse."
Trump faced accusations of racism because of his attacks on Cummings and his district which has a majority black population. Trump denied the allegations in another tweet and then claimed Cummings himself was racist.
"There is nothing racist in stating plainly what most people already know, that Elijah Cummings has done a terrible job for the people of his district, and of Baltimore itself. Dems always play the race card when they are unable to win with facts. Shame!," the president wrote on July 28.
"If racist Elijah Cummings would focus more of his energy on helping the good people of his district, and Baltimore itself, perhaps progress could be made in fixing the mess that he has helped to create over many years of incompetent leadership. His radical 'oversight' is a joke," Trump added.
In the wake of the president's comments, The Baltimore Sun published a scathing op-ed attacking Trump entitled "Better to have a few rats than to be one."
Baltimore Mayor Bernard "Jack" Young also condemned the president over his remarks.
"It's completely unacceptable for the political leader of our country to denigrate a vibrant American City like Baltimore," Young said in a statement. "Mr. Trump, you are a disappointment to the people of Baltimore, our country, and to the world."
In a statement to The Baltimore Sun, Mark Strand, president of the nonprofit Congressional Institute which is sponsoring the GOP retreat, said: "Since 1987, the Congressional Institute has been proud to sponsor the annual planning session for House Republicans so that lawmakers may convene outside of Washington, D.C., to discuss their legislative strategy and explore new and innovative ideas.
"Some of the issues lawmakers will discuss are the issues that are foremost in Americans' minds, such as health care, growing the economy and national security."