Donald Trump Claims He Would 'Do Very Well' in a Boxing Match Against Vladimir Putin
President Donald Trump believed he would do "very well" in a boxing bout against Russian President Vladimir Putin.
In July, Trump came under fire for being too obsequious and accommodating during his meeting with Putin in Helsinki.
Speaking on Thursday at a campaign rally in Minnesota, Trump joked that the public had wanted him to be much more aggressive with his Russian counterpart.
"With Putin of Russia they said, 'He was too nice.' That was a great meeting," the President said, as reported by The Washington Examiner. "They want me to get into a boxing match with him. I think I'd do very well."
According to Trump's driver's license, which was released in March 2012 and posted on Twitter in January of this year, he is 6 feet 2 inches tall, although a medical report released by the White House in the same month said the president was 6 feet 3 inches.
Regardless of the slight discrepancy, Trump's height, coupled with a reported weight of 239 pounds. would make him a heavyweight boxer. For most boxing organizations, the maximum weight for a cruiserweight is 200 pounds and the International Boxing Federation, the World Boxing Association, the World Boxing Council and the World Boxing Organization consider boxers who weigh more than 200 pounds as heavyweights.
But Trump's fondness for McDonald's burgers and Diet Coke, coupled with his lack of exercise, might somewhat limit his efficacy in the ring.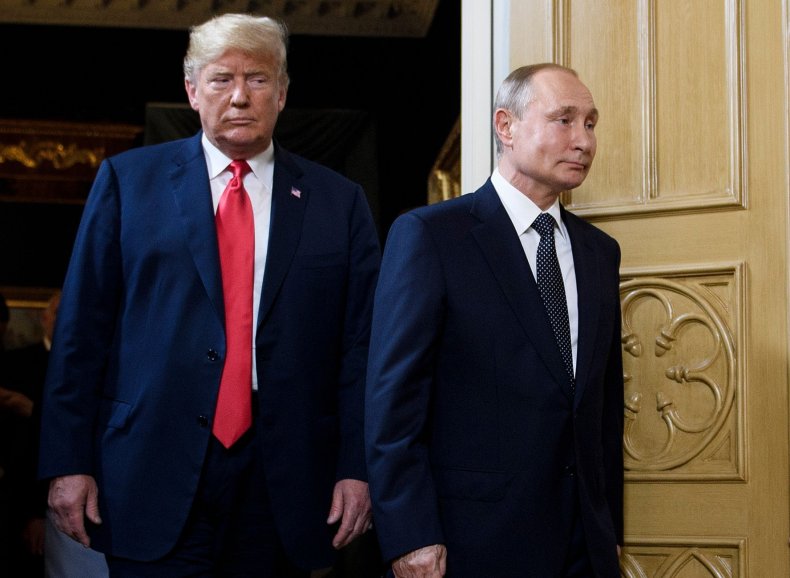 At approximately 5 feet 7 inches, according to The Guardian, Vladimir Putin is slightly taller than champion boxer Manny Pacquiao and an inch shorter than fellow pugilist Floyd Mayweather Jr. While there is no reliable record of Putin's weight, the Russian leader is built like a textbook lightweight boxer.
A keen sportsman, Putin has trained in martial arts from his teenage years. In 2012 he became the first Russian to be awarded the 8th dan of the black belt in judo. Most Japanese martial arts are divided in dans from 1 to 10, which rank the progression through the art in terms of knowledge, understanding and physical skill. Putin also practices karate.
Even if the two world leaders wanted to promote the most bizarre political stunt of all time and square off in the ring, boxing organizations—not worried White House and Kremlin staffers—would prevent them from doing so because of the apparent weight division discrepancy.