Democrats Investigating Trump's Alleged Money Laundering May Soon Have His Deutsche Bank Financial Records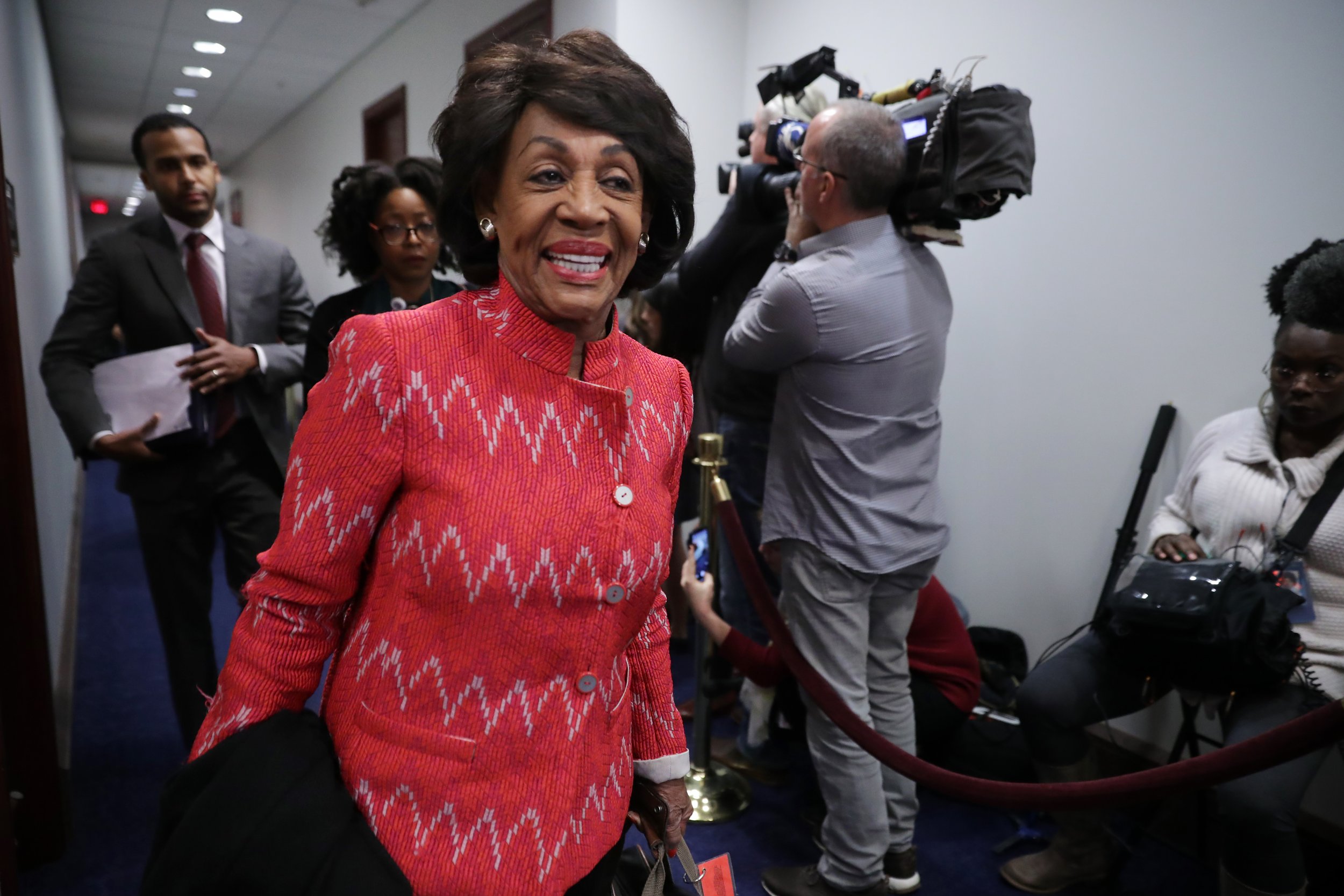 A key House Democrat revealed Friday evening that staffers of the Financial Services Committee were coordinating with attorneys at Deutsche Bank in order to obtain President Donald Trump's past financial dealings with the institution and investigate any potential wrongdoing, including money laundering.
The Trump Organization has long done business with the foreign bank and reportedly owes hundreds of millions of dollars in outstanding loans, due to be repaid over the next few years. The bank has been fined hundreds of millions of dollars by state and federal regulators over a $10 billion Russian money laundering scheme, and Democrats have suggested the president could be compromised by Russian money laundering.
"We have people that are going up to New York to sit with people and to go over our documents request," Financial Services Committee Chairwoman Maxine Waters told MSNBC's Chris Hayes. "We're going to find out a lot about Deutsche Bank and that bank's relationship to the president. We are very concerned about money laundering."
Waters and others on the committee first sent letters requesting documents from the bank about their dealings with Trump last year, but "they were not responsive because they did not feel we had the authority to demand anything from them." The congressional probe is one of a laundry list of issues House Democrats are investigating with their newfound majority powers.
The move to obtain such documents comes on the heels of testimony from Trump's former attorney and "fixer," Michael Cohen, before the House Oversight Committee. He revealed several financial documents and accused Trump of inflating "his total assets when it served his purposes," including to Deutsche Bank in hopes of obtaining a loan and bidding on the Buffalo Bills. Copies of some of Trump's financial records provided by Cohen showed that in a 2013 financial statement, Trump listed his "brand value" at $4 billion, a category absent from his 2011 and 2012 statements.
Such revelations prompted Democrats to say they now want to hear from Trump Organization Chief Financial Officer Allen Weisselberg and the president's eldest son Donald Trump, Jr., both of whom Cohen said have knowledge of the alleged financial wrongdoing.
A recent Bloomberg report also said that Deutsche Bank executives were so concerned Trump's organization would default on $340 million worth of loans while president, they chose to cease doing business with him until he is out of office. Executives were reportedly concerned not with the creditworthiness of Trump or his company, but rather the public relations crisis that would ensue, should they be forced to seize assets of a sitting president.
The congressional inquiries into Trump's finances also support Democrats' quest for the president's tax returns, which he has refused to publicly release. And with the list of House panels looking into Trump's past dealings, Waters said Democratic leadership is working not to step on one another's toes.
"There's a coordinated effort between all of us—the five different committees that we chair—I'm on Financial Services and of course we have Judiciary, Oversight, Ways and Means and Foreign Affairs," Waters said of Democrats investigating Trump. "We're meeting so that we understand what each other are doing and so that we're not necessarily bumping into each other."