Trump Said The Drug Epidemic Is Unlike Anything in American History. Is He Right?
In October, President Donald Trump declared the current drug crisis a national public health emergency. On Thursday morning, at the White House, Trump spoke about the crisis once more, saying it was without comparison in our nation's history.
THE CLAIM
"We have to be careful because there's a drug epidemic the likes of which we've never seen in this country," Trump said.
Related: Trump's opioid crisis failures mean states must lead the way
THE BREAKDOWN
The United States is undoubtedly in the midst of a truly horrific drug epidemic, but is it without precedent in the country's 250-year history?
Drug overdoses are currently the leading cause of death in America for people under the age of 50 and the numbers are moving in the wrong direction. Drug overdoses kill more people in the U.S. than gun homicides and car crashes combined. Drug overdoses in 2016 killed more people than HIV/AIDS did in 1995, the peak of the crisis.
In 2015, a new record was set as more than 52,000 Americans died from drug overdoses, the majority coming from opioid-related drugs, including opioid painkillers, synthetic opioids and heroin. The number startled countless Americans and personally affected tens of thousands more. But the record was short-lived. In 2016, that number ballooned approximately 20 percent to create a new record: nearly 64,000 deaths.
New Jersey Governor Chris Christie, who has been an outspoken advocate for solutions to the crisis, put the number of deaths into sobering perspective on CNN in July.
"We have a 9/11-scale loss every three weeks," he said.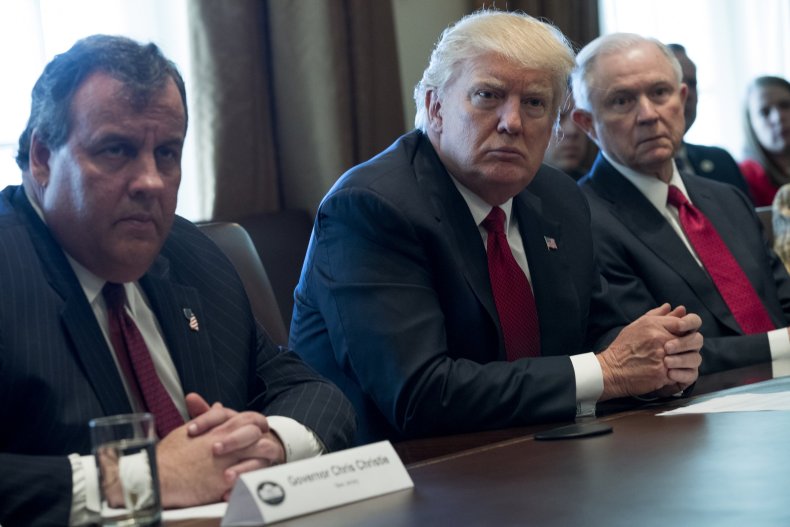 When people think of drug overdoses, the leap is often made to blaming junkies and addicts. But the problem often starts in a seemingly innocuous way. According to Christie, four out of five heroin addicts begins on prescription opioids.
Trump's comments came in the context of border security as he seemed to imply a strong connection between undocumented immigration and the drug crisis. But the facts tell a slightly different story.
The current drug epidemic has its origins in the 1990s when doctors, unable to effectively treat every patient's complaints of pain, began overprescribing opioid painkillers like Vicodin, Percocet and Oxycontin. Patients became hooked on the substances, and, when doctors stopped prescribing, they found other ways to satisfy their new addictions.
THE CONTEXT
There is no question, America is in the midst of its deadliest drug crisis in history. But that may not tell the whole story. America is no stranger to drug epidemics and crises, as each century has brought its own widespread epidemic, often in correlation with a new medical discovery or advancement.
In the 1800s, opium dens sprouted up, specifically in San Francisco, and doctors believed they had perfected the drug. Mary Todd Lincoln, President Abraham Lincoln's wife, even took it for headaches and grew addicted. During and after the Civil War, thousands of soldiers became addicted to morphine because it eased the pain they felt from battle. In fact, morphine addiction plagued so many soldiers that it became known as "the army disease."
Next up was cocaine, which was introduced in the late 1800s as a cure for morphine addiction. It was also used to treat sinus problems as it was purported to open up the sinuses. Just a few years later came heroin, which was used as a pill to treat the flu. Each time, the dangerous and addictive side effects of these drugs were discovered years or sometimes decades after they had made their way into thousands of households across the country, each drug creating an epidemic of its own.
THE VERDICT
There is no doubt, the scale on which Americans are dying from drug overdoses is absolutely unprecedented and such a widespread epidemic at a time of incredible scientific knowledge makes it particularly shocking. But the existence of drug epidemics in America are far from a novelty, and the connection between undocumented immigration and the crisis is unclear.
Therefore, we rate the claim as mostly true.