Donald Trump Fundraising Dips Below DeSantis As Strategist Blames 'Fatigue'
Former President Donald Trump's fundraising has fallen below Florida Governor Ron DeSantis in the first six months of 2022 as the Republican marked one year since leaving office.
The latest filings show that Trump brought in at least $36 million in the first half of this year through online donations - down from $56 million over the same period in 2021 - and notably less than DeSantis.
The former president's fundraising committees brought in about $17 million during the first quarter of this year.
The Florida governor, who has often been discussed as a potential presidential candidate, raised about $45 million over the first six months of 2022.
However, the comparison has limitations. DeSantis' PAC is able to bring in unlimited funds and he is running for re-election as governor this year, for which he is raising contributions. Donors are only permitted to give $10,000 a year to Trump's joint fundraising vehicle and he is not currently seeking office.
Republican strategist Mike DuHaime told Reuters on Friday that people may be fatigued with the former president.
"There is definitely Trump fatigue," DuHaime said and added that by not yet declaring whether he's running in 2024, Trump's appeal for funds might appear less urgent than candidates running in the 2022 midterms.
"Donors care about future elections, not past elections," he said.
Trump's fundraising figures do not include direct donations to his Save America PAC, which will be reported later in July. Those contributions have come to about $20,000 a month in recent months, according to The Washington Post.
Reports from WinRed, the portal Republicans use to gather online donations, showed that Trump's fundraising has fallen in seven of the last nine months.
In September, Trump brought in about $300,000 a day in donations but that had fallen to around $200,000 a day in the last four months.
"The energy in the GOP is moving away from Trump and towards DeSantis. Everyone knows it," tweeted Ben Kew, editor of ElAmerican, which describes itself as the "first bilingual conservative media platform for Hispanics."
Taylor Budowich, a Trump spokesperson, told Reuters that the former president was "raising money at an unparalleled pace" and that "any suggestion otherwise is just a tired case of bias narrative peddling by the Fake News."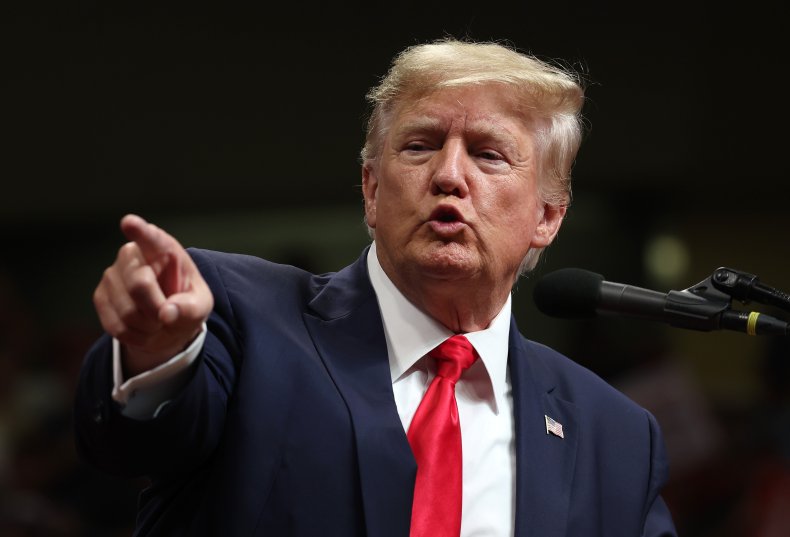 Nonetheless, Trump's overall share of donations through WinRed appears to have fallen significantly. In June, 2021 he received around a fifth of donations made through the platform but only about one tenth in June this year.
Trump has repeatedly hinted that he will announce another presidential campaign but he has made no formal announcement yet despite reports that he could do so soon.
There has been speculation for months that DeSantis will run in 2024 but he has neither confirmed nor denied this and said he is focused on his own re-election campaign.
Trump remains the clear favorite among potential Republican primary voters but recent polls suggest the Florida governor could be making gains among GOP voters.
Newsweek has approached Trump's team for comment.