Former President Donald Trump has said that his base is key for GOP candidate Glenn Youngkin to win Virginia's gubernatorial election on Tuesday.
In a ballot considered to be a litmus test for the 2022 midterms, Trump told Fox News that his supporters need to turn out if Youngkin hopes to take the governor's mansion.
"If my base turns out, he's going to win," Trump said, "I hope they turn out, I really want them to turn out."
Youngkin has said he was "honored" to have Trump's endorsement but has not campaigned in person with the former president. On Saturday, he told reporters he is "not going to be engaged" in Trump's tele-rally on Monday the day before the election.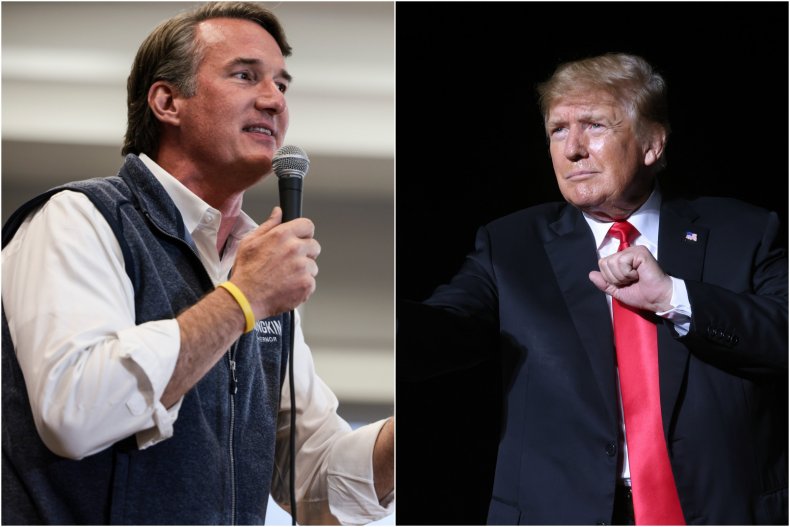 In contrast, his Democratic rival, Terry McAuliffe has drawn on the star power of President Joe Biden and former President Barack Obama on the campaign trail.
Biden has accused Youngkin of being "embarrassed" to campaign alongside Trump even if he has embraced some of his policies. There is speculation that by distancing himself from the former president, Youngkin is trying to attract independent and moderate voters.
But Trump said that his supporters were crucial to Youngkin's victory. When asked about Youngkin's prospects in the election, Trump said, "I think he should win. I'll be honest, my base has to turn out."
When asked by host Jeanine Pirro about the impact on Youngkin of being labeled by Democrats as a "Trump acolyte" the former president said, "I think it backfires because I think it gets the base to come out and vote."
As if to warn of the perils of rejecting his brand of politics, Trump continued, "the last person that ran as a Republican did not embrace Trump in Virginia," referring to Ed Gillespie, who was defeated by Democrat Ralph Northam in 2017.
"He got killed, he was absolutely destroyed," Trump said, "I think if my base doesn't come out, he can't win. I think my base has to come out very strongly."
When asked if he saw himself as a "kingpin" for future elections, Trump replied, "If I endorse somebody, they win."
"I think I am 148 and two," he said, referring to the ratio of successfully elected candidates he has backed compared with those who have lost.
"I did endorse Youngkin. And we're going to see, I hope it's not going to be three," Trump added.
While Trump's influence undoubtedly looms large over the Republican Party and his endorsement goes a long way at the ballot box, candidates he has backed have not quite had the success he claims.
During the 2020 cycle, five out of 23 Senate candidates and 33 out of 149 House candidates whom Trump had backed, did not win, according to Ballotpedia.
Meanwhile, gubernatorial candidates in Kentucky and Louisiana backed by Trump lost in 2019. Meanwhile, North Carolina Republican, Dan Forest, who also counted on the former president's support, was defeated in 2020.
Newsweek has contacted Youngkin's campaign for comment.