Donald Trump Is the 'Golden Calf,' the Thing Republicans 'Come Down and Bow Before,' Says Ex-RNC Chairman
Former Republican National Committee Chairman Michael Steele said on Monday that folks in the GOP essentially worship at the feet of President Donald Trump.
"I don't know how anybody could watch those three sound bites in a row, or just listen to the president on any of these dictators and think that's where we want to be as American citizens in the United State of America. Help me understand [Trump's] base," Morning Joe co-host Mika Brzezinski asked Steele on MSNBC, via a clip posted to Raw Story.
Steele agreed that he didn't quite get why Republicans were falling in line with Trump and even brought up the president's defense of North Korean dictator Kim Jong Un in regard to the death of an American citizen, 22-year-old Otto Warmbier.
Steele responded:
"You're right. You'd think that's not where we want to be. But I would submit to you that we're exactly where we want to be...You have a president who's sitting at a significant level of job approval and that translates for a lot of folks out there... What's happened, manifested at CPAC, is a new form of idolatry. Donald Trump is the Golden Calf, he is the thing that they come and bow before. And that they offer up their future political support. They show—they stand there for two hours and applaud the nastiness towards a hero like John McCain and buy the lame excuses for the president's behavior with respect to Mr. Warmbier."
The Conservative Political Action Conference (CPAC) last week did see folks bending over backward to praise Trump. Steel questioned if that was the norm the party really wanted.
"So this is the new space, this is the new party," he said on MSNBC. "In terms of where we go from here, well, we have to look at each other, look at our neighbor, look at ourselves in the mirror and go: 'Is this us?' Are we now this America, where these things are less important to us and are less regarded because we love that guy in the White House so much?"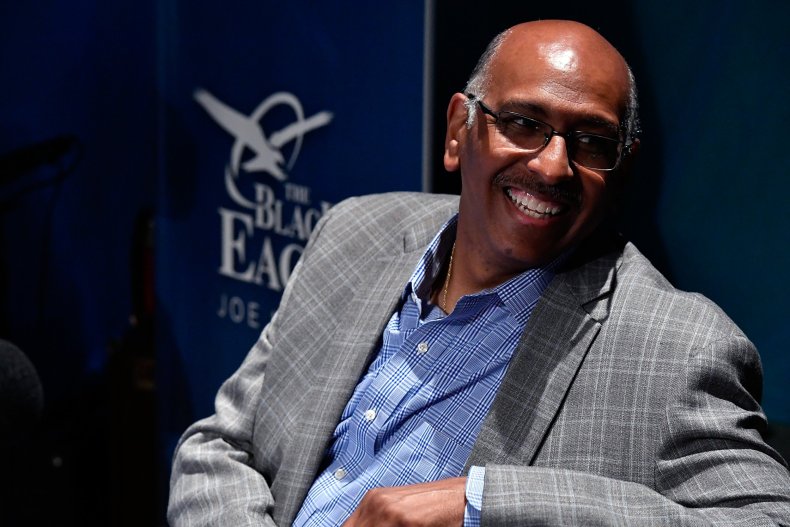 Steele is far from the first high-profile Republican to question the future of the party in the Trump era.
"It used to be the confab of conservatives who would get together once a year, but it's not CPAC anymore—it hasn't been since 2016. It's now Trump-PAC and be TPAC," Republican strategist Rick Tyler said on MSNBC this weekend. "The people there talk about being pro-tariffs, anti-justice, anti-law enforcement, anti-immigrant, anti-Muslim, pro-Russia, pro-autocrat. It's unrecognizable what Donald Trump has done to the party and what he's done to the conservative movement… It's a shame."