Bubbling GOP Dissent Against Trump May Become Insurrection If Defeat Looms
In November last year, President Donald Trump said "there has never been so much unity" within the Republican party.
That doesn't appear to be the case half a year later at a time when, with an election looming, Trump needs support from within his own ranks.
With the president's declining poll numbers, whether that be in terms of approval or his standing against Biden, GOP lawmakers have to consider the possibility of his defeat—and what the political future would look like post-Trump.
"While we're far from a full-out mutiny among Republicans on Capitol Hill, several GOP lawmakers have been more willing to take a more questioning tone toward the president of late," Thomas Gift, a political scientist at University College London, told Newsweek.
"This is notable precisely because Republican lawmakers have—almost without exception—refused to break ranks with the president during his other political challenges, including the Mueller investigation and impeachment over Ukraine.
"A key difference now, however, is that Trump's poll numbers have started to slide—and some Republicans may be rethinking whether backing Trump at every turn is really the best strategy for them personally."
As Gift points out, GOP lawmakers aligned with Trump during previous Russia-linked controversy. However, questions are now being voiced louder.
Several Republican lawmakers have pushed for answers over reports of a Russian intelligence branch putting bounties on allied forces troops, including U.S. soldiers, with questions over the extent of Trump's knowledge of the situation and what will be done to hold Russia accountable if true.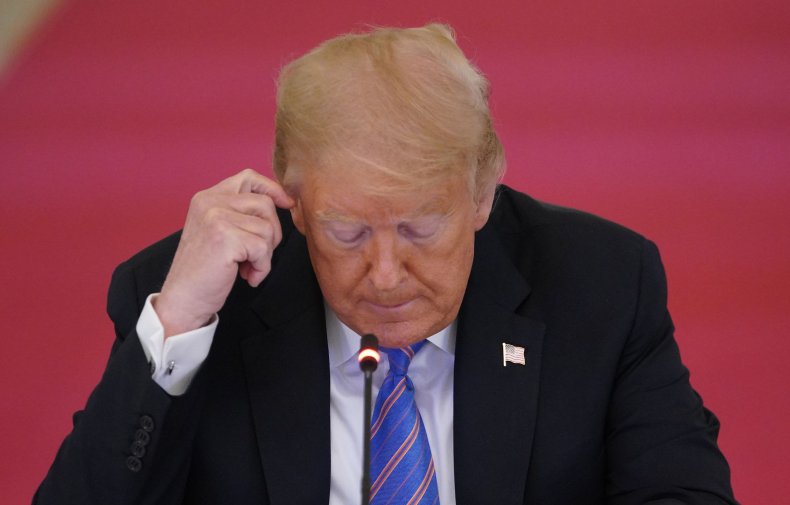 As well as queries on his position on Russia, his actions in the battle against COVID-19 have also been scrutinized.
A visual example came when Vice President Mike Pence openly wore a face mask on a recent trip to Dallas, before going the step further of directly advocating their wider use.
Trump has long shirked wearing such coverings publicly, while branding the decision to wear one a personal choice.
House Majority Leader Mitch McConnell has also split from Trump on masks, urging people they "must have no stigma" over wearing them.
McConnell has also moved from Trump on Russia, rejecting the notion they be allowed to join the G7, which the president has suggested.
The sweeping hit of the COVID-19, with its mammoth death toll and its huge economic impact, as well as civil unrest following the killing of George Floyd, have mounted further questions for the president—with his actions in the face of these crises hitting his favorability.
A growing number of Republicans not currently serving politically have also turned against the president, with senior figures such as former Secretary of State Colin Powell stating that Trump "lies" and he will likely back Biden.
Richard Johnson, a lecturer in U.S. Politics at the U.K.'s Lancaster University, said he still feels speaking against Trump is a tough choice politically for Republican lawmakers—but his popularity dipping further could change that.
"What's clear is that when Trump ran in 2016, most Senators were not his biggest fan," Johnson told Newsweek.
"They're doing a delicate balancing act because they still don't want to be outwardly disloyal to Trump.
"It's grumblings, not outward condemning.
"The more likely it looks Trump will lose the election, the less tied those people will feel to him.
"As Trump becomes less popular, if he is where he is now and can't pick himself up, those who never liked him and feel like there's nothing to gain may become more vocal."
Will Holland, from anti-Trump group The Lincoln Project, echoed the belief that if defeat looks more likely, GOP lawmakers will push against Trump.
He said it appears Trump will "need a historically unprecedented comeback to pull off a reelection win."
Commenting on the Democrats' generic ballot advantage, he told Newsweek: "If that edge holds or continues to grow heading into the fall, it is quite likely that many Republicans will attempt to distance themselves from the president."
However, moves against Trump could subside, if polling tightens up nearer the vote.
Gift said that in his opinion "Republicans won't all of a sudden do a volte-face on the president."
He added: "Even if we've seen some high-profile dissent within the GOP, that shouldn't be read as an indication that the party has given up on Trump. There's still a long way to go between now and November.
"Oftentimes, polls tend to tighten as we get closer to election day, as voters pay more attention to the campaigns and partisan loyalties get activated. As a result, I'd expect support among Republicans to tighten—and for internal dissent within the party to quiet—as we get closer to November 3.
"Trump is still the only game in town for Republicans, and much as they might wish otherwise, their political fortunes in the House and Senate are largely inseparable. As a result, GOP politicians will likely believe they have little choice but to support Trump and hope for a turnaround in the polls."
Matt Borges, former head of the Ohio Republican Party and co-founder of the Right Side PAC, which aims to urge former Trump supporters to back Biden, said he believes if a loss looks increasingly likely, there will be a move away from the president.
However, he feels the real split from would happen after a defeat.
"If a loss is likely, we'll probably see the beginning of a movement away from him," he told Newsweek.
"If he does lose, I really think we'll see a sharp break away from Trumpism and Trump personally. These are things that really can't seriously be defended by any serious person.
"While there may be some reticence to speak up now, but when it's over, and he's gone, it won't be hard."
Asked about why Republicans might shift against him, Borges said: "I'd like to believe it's less about the polling and more about his behavior, and maybe then that reflects in the polling."
Borges also pointed to that while the polling is against the president, it was in 2016, adding "everybody thought that Trump was going to lose on the election day" ahead of his victory.
"It's certainly possibly something like that could happen again," he said.
Newsweek has contacted the Trump campaign for comment.