2016 Presidential Debate: How to Watch Donald Trump and Hillary Clinton's Last Faceoff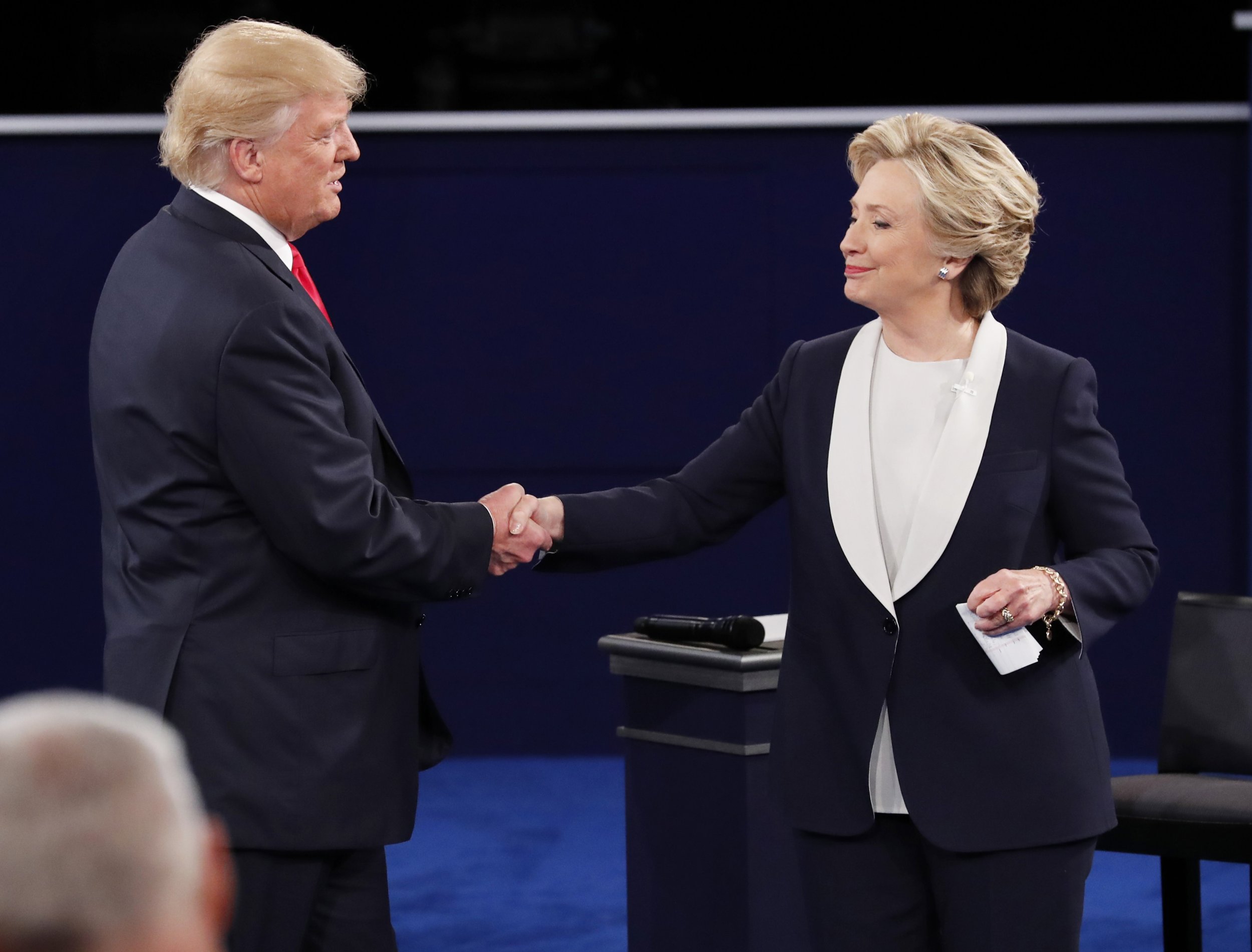 Less than three weeks before Election Day, Donald Trump and Hillary Clinton will face off in their third and final debate Wednesday night in the swing state of Nevada.
Fox News's Chris Wallace will moderate the matchup at the University of Nevada, Las Vegas. The format of this forum will be identical to that for the first debate on September 26, with calls for six 15-minute time segments. Each segment will focus on one of the six debate topics chosen by Wallace: debt and entitlements, immigration, the economy, the U.S. Supreme Court, foreign hot spots and "fitness to be president." The candidates will each have two minutes to respond to a question, then another chance to answer his/her opponent. Wallace will use the remaining time in each segment to allow for a deeper discussion of the topic.
The debate will run without commercial breaks from 9 p.m. to 10:30 p.m. Eastern time. C-Span and all major TV networks and cable news channels will live-broadcast the forum. The networks, Twitter and YouTube will offer a free live stream on their websites. And social media users can follow along using the hashtags #debates or #debates 2016. The previous two presidential debates attracted large numbers of viewers.
The event comes as the Trump campaign battles to recover from a dismal past few weeks. Several women have accused the former reality TV star of inappropriate sexual behavior, while Trump has blamed the media and Clinton of rigging the election. He has detached himself from established Republicans like House Speaker Paul Ryan, who separated himself from his party's nominee after the release of a 2005 tape on which Trump brags about groping women. At the previous presidential debate earlier this month, Trump dismissed his comments as mere "locker room talk" and not harmful actions. On Monday night, his wife, Melania, told CNN's Anderson Cooper that her husband's lewd comments were simply "boy talk."
Trump also has called out Republicans for not acknowledging what he sees as "voter fraud" happening throughout the country. He also has claimed that the Commission on Presidential Debates, a nonpartisan organization that has sponsored general election debates since 1988, is rigged. As a result, his campaign spokesperson suggested Trump might skip the third debate.
In the background, Clinton's aides are dealing with the fallout from thousands of her campaign chairman's emails being leaked. Meanwhile, she has increased her lead over Trump in national polls. In recent days, media reports have surfaced claiming that Jared Kushner, Trump's son-in-law, has reached out to a veteran media investment banker about setting up a Trump-branded TV network after the election.
Clinton's campaign on Monday released a new ad titled, "America's Bully," which compares her rival to some of the most well-known Hollywood bullies, including Regina George from Mean Girls and Scut Farkus from A Christmas Story.
Clinton spent the past several days preparing for the final debate. Earlier this week, her husband, former President Bill Clinton, and a one-time rival, Vermont Senator Bernie Sanders, held events in Colorado and New Hampshire, respectively. On Thursday, first lady Michelle Obama, who last week delivered an emotional speech against Trump's alleged misconduct with women, is scheduled to hit the campaign trail for Clinton in the traditionally red state of Arizona. Sanders and Chelsea Clinton also will campaign there this week. Meanwhile, Trump held public events this week in Wisconsin and Colorado.
Third-party candidates Gary Johnson and Jill Stein did not meet the qualifying standards to earn a spot on stage in any of the three presidential debates this election season.