'Home Alone 2': Calls For Trump To Be Cut From Film He 'Bullied' His Way Onto
Donald Trump's one-time co-star Macaulay Culkin is the latest person to attack the president following his bans from multiple social media platforms and his second impeachment by the House of Representatives.
The Home Alone actor responded to a call on Twitter for 20th Century Studios, the distributor of the film franchise, to cut out Trump's cameo scene from that movie's sequel Lost in New York.
A Twitter user wrote: "petition to digitally replace trump in 'home alone 2' with 40-year-old macaulay culkin," to which the actor replied, "Sold."
This is not the only call for the president's cameo to be removed from the movie. Earlier this week, a fan launched a petition asking Disney (who own 20th Century Studios) to replace him with president-elect Joe Biden. A Canadian TV broadcast of the film in Christmas 2019, meanwhile, cut out the scene entirely—though the network who aired it told CNN: "As is often the case with feature films adapted for television, Home Alone 2 was edited for time.
"The scene with Donald Trump was one of several that were cut from the movie as none of them were integral to the plot. These edits were done in 2014 when we first acquired the film and before Mr. Trump was elected President."
Of course, 20th Century Studios has not revealed any plans to do any of these edits, and at the time of writing the studio has not replied to Newsweek's request for comment.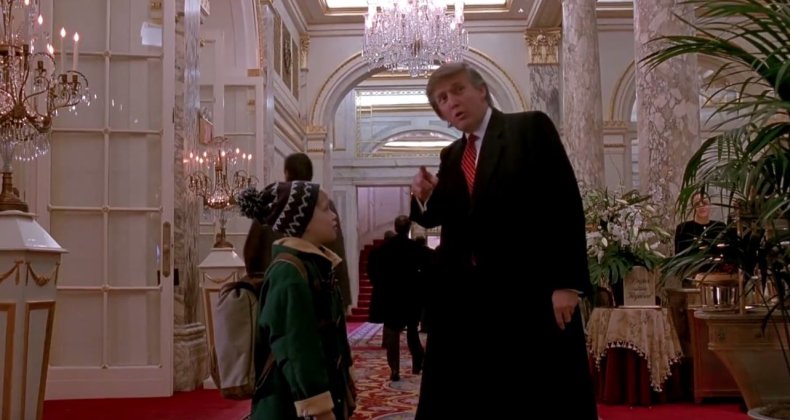 However, Culkin is not the only person related to the film who has spoken about not wanting Trump in Home Alone 2.
That film's director Chris Columbus told Insider in December 2020: "Like most locations in New York City, you just pay a fee and you are allowed to shoot in that location. We approached The Plaza Hotel, which Trump owned at the time, because we wanted to shoot in the lobby. We couldn't rebuild The Plaza on a soundstage.
"Trump said OK. We paid the fee, but he also said, 'The only way you can use the Plaza is if I'm in the movie.' So we agreed to put him in the movie, and when we screened it for the first time the oddest thing happened: people cheered when Trump showed up on-screen. So I said to my editor, 'Leave him in the movie. It's a moment for the audience.' But he did bully his way into the movie. "
The last time Columbus told this story publicly, it was in more neutral terms. He told NBC Bay Area in January 2017: "We were shooting Home Alone 2 at the Plaza Hotel in New York, and we needed it as a location, because a significant part of Home Alone 2 took place at the Plaza Hotel."
"And the only way we were allowed to shoot at the Plaza Hotel was if Donald Trump—who owned the Plaza—could have a cameo in the movie. So I wrestled with that for a long time, and finally, I said, 'Okay, he can have a cameo, because we couldn't move into another hotel... So we worked for a couple of hours with Donald Trump. He came in, he did his line, and the rest is history."
Matt Damon had previously corroborated that Trump often asked to appear in a cameo in return for filming in one of hIs properties. He told The Hollywood Reporter in September 2017: "[Director] Martin Brest had to write something in Scent of a Woman – and the whole crew was in on it. You have to waste an hour of your day with a bull**** shot: Donald Trump walks in and Al Pacino's like, 'Hello, Mr. Trump!'—you had to call him by name—and then he exits.
"You waste a little time so that you can get the permit, and then you can cut the scene out. But I guess in Home Alone 2 they left it in."
Trump himself, meanwhile, spoke about the film role in a December video call to U.S. troops. He said, Well I'm in Home Alone 2...it was an honor to do it...And it turned out to be a very big hit, obviously..."
Home Alone 2: Lost in New York is streaming now on Disney+.