Trump Shares Conspiracy Theory About Hydroxychloroquine and 2020 Election
President Donald Trump shared a tweet suggesting the use of hydroxychloroquine to tackle COVID-19 is being suppressed in order to keep deaths high and the economy shutdown ahead of November's election.
Trump has long advocated the drug's use and previously said he took it himself, suggesting it helps to prevent people from contracting the new strain of coronavirus.
There is mixed evidence about the effectiveness of hydroxychloroquine in treating COVID-19 and studies are ongoing. Most have so far shown it offers little or no benefit, though some suggest it could be beneficial if used early and in certain circumstances.
Concerns have also been raised over hydroxychloroquine's safety by the Food and Drug Administration (FDA) and the World Health Organization (WHO).
Newsweek subscription offers >
Trump shared a post from Melissa Tate, who describes herself as a "Trumpublican," which claimed "6000 doctors surveyed across the world all said #Hydroxychloroquine works in Covid patients" and also referred to "Multiple Studies in France."
The tweet added that "here in America it is being suppressed to keep deaths high so the economy can be shut down ahead of the election. It's sick!"
Newsweek subscription offers >
Fact-checking organization FullFact has previously rejected the claim that a survey of 6,200 doctors found the majority backed hydroxychloroquine as the most effective coronavirus treatment, saying there were inaccuracies in the reporting of this polling.
The FDA has warned against the use of the drug, which is usually used to treat malaria and rheumatoid arthritis, due to the risk of heart rhythm problems.
Trump has dismissed concerns over the use of the drug. Earlier this year he said there was a "very good chance" it could have a positive impact on treating the virus.
The president added that "you're not going to get sick and die" from taking it even if the drug does not help an individual with COVID-19.
These comments sparked a backlash and many of those criticizing Trump made reference to a Department of Veterans Affairs (VA) study which did show a higher mortality rate for those treated with the drug alone.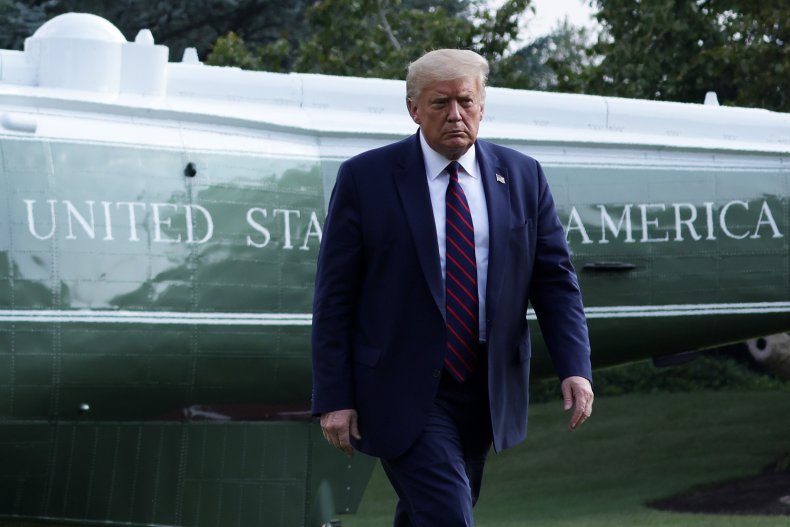 The FDA said there were "reports of serious heart rhythm problems and other safety issues, including blood and lymph system disorders, kidney injuries, and liver problems and failure" linked to the use of hydroxychloroquine.
Newsweek has contacted the White House, the Trump campaign, and the FDA for comment.
Several other posts on Trump's Twitter account were no longer available, amid various tweets about the use of hydroxychloroquine. Newsweek has contacted Twitter for comment on the removed posts.
Trump's comments come as the number of new COVID-19 cases continues to rise in the U.S. There are surges in certain areas where lockdown measures to stem the spread of the virus were lifted.
This increase in the spread of infection prompted certain states and cities to pause reopening or reimpose restrictions, posing further economic uncertainty as businesses struggle to resume operations.
The president has long touted the strength of the economy as a marker of his success during his tenure and had hoped to use this as a pillar of his reelection bid.
There have been more than 4.2 million confirmed COVID-19 cases across the U.S., according to Johns Hopkins University figures.
The graphic below, from Statista, shows the states with the highest numbers of confirmed cases as of July 27.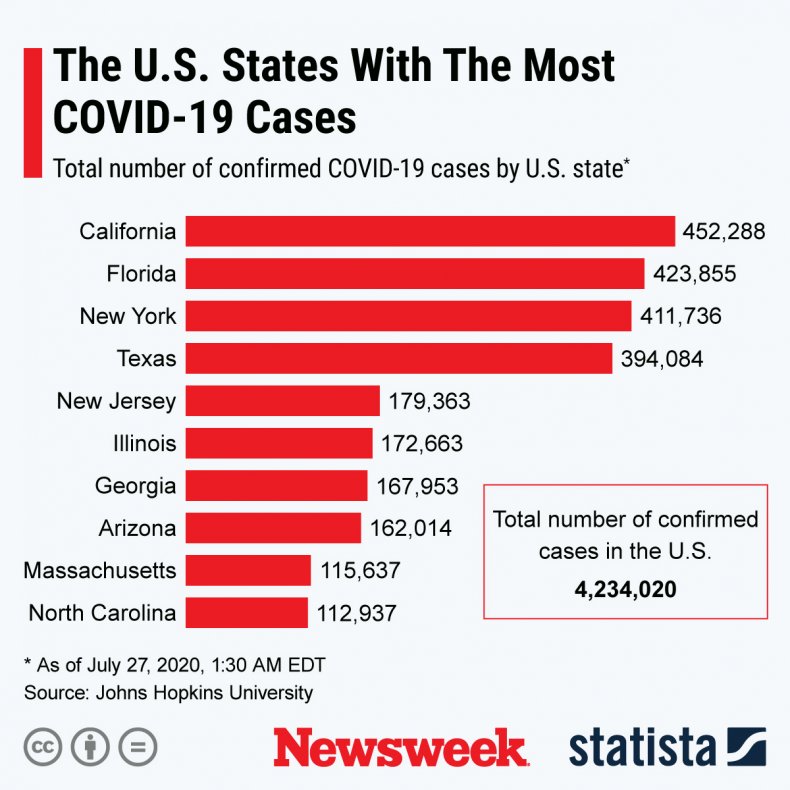 Trump Shares Conspiracy Theory About Hydroxychloroquine and 2020 Election | U.S.