Trump Claims Impeachment Will Turn America Into a 'Third-World Country'
President Donald Trump told supporters at a rally in Billings, Montana, Thursday night that he would blame his impeachment on supporters who did not vote in the upcoming election, claiming such an event would turn the U.S. into a "third-world country."
Some Democrats have pushed for impeachment if they retake both houses of Congress in the November midterms, kicking Trump out of the White House. Presidents can be impeached for treason, bribery, or "high crimes and misdemeanors."
On Trump's potential charge sheet are conflicts of interest involving his family and their businesses, and alleged obstruction of justice relating to the investigation of Russian interference in the 2016 presidential campaign, among others.
According to a poll of Americans by ABC News/Washington Post poll at the end of August, 49 percent believe impeachment proceedings should begin, while 46 percent believe they should not.
"This election, you aren't just voting for a candidate. You're voting for which party controls Congress. A very important thing. Very important thing," Trump said.
"I say, how do you impeach somebody that's doing a great job? That hasn't done anything wrong? Our economy is good. How do you do it? It is a hell of a place in Washington.
"You'll have a country that's going to turn into a third-world country," Trump continued, "because if the opposite party becomes president, every time before it even starts, before you've even found out whether or not he or she is going to do a great job, they'll say: 'We want to impeach him!' And they'll impeach him. It's so ridiculous."
He then passed on the blame for his impeachment if it happens.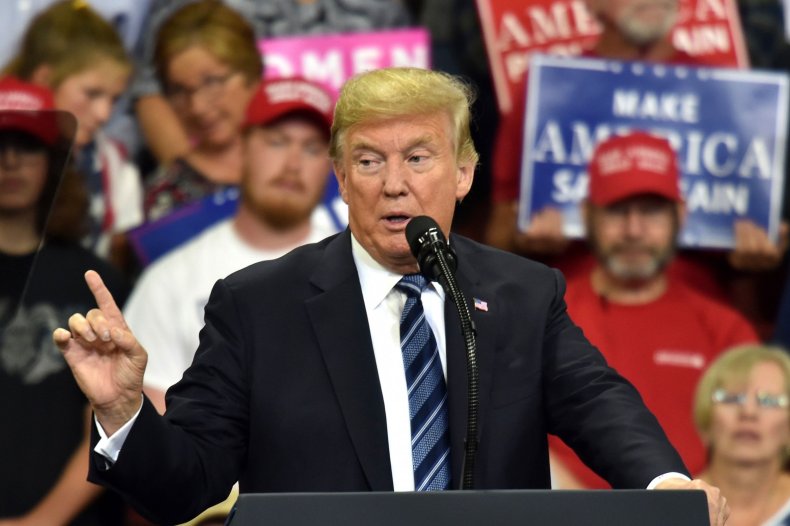 "We'll worry about that if it ever happens. But if it does happen, it's your fault because you didn't go out to vote," he told the crowd of supporters in Montana.
"OK. You didn't go out to vote. You didn't go out to vote—that's the only way it can happen. I'll be the only president in history, they'll say what a job he's done, by the way we're impeaching him."
The president also accused the Democratic Party of being "held hostage by haters. Left-wing haters. Angry mobs. Deep-state radicals and their fake news allies."
In a previous interview with Fox News, Trump claimed that "if I ever got impeached, I think the market would crash, I think everybody would be very poor."
The rally took place amid the fallout from an anonymous op-ed published in The New York Times written by a "senior administration official" who claimed Trump's most senior aides were "working diligently from within to frustrate parts of his agenda and his worst inclinations.
"It may be cold comfort in this chaotic era, but Americans should know that there are adults in the room," the author wrote. "We fully recognize what is happening. And we are trying to do what's right even when Donald Trump won't."
Trump addressed the op-ed during his Montana rally, which was held to support state auditor Matt Rosendale, who is running against incumbent Democratic Senator Jon Tester. He called the op-ed the "latest act of resistance" by a "gutless coward."
"For the sake of our national security, The New York Times should publish his name at once. I think their reporters should go and investigate who it is. That would actually be a good scoop. That would be a good scoop," Trump said.
"Unelected, deep-state operatives who defy the voters to push their own secret agendas are truly a threat to democracy itself."
According to the deep-state conspiracy theory, pernicious Washington insiders and operatives run the administration in pursuit of their own goals and agenda, despite the wishes of whoever is elected, in a kind of undemocratic shadow government.
Many Trump diehards believe this hidden bureaucracy has undermined the president and his policies.
But the op-ed writer said the motive was to "preserve our democratic institutions" from Trump's "amorality," "reckless decisions" and "erratic behavior," because "our first duty is to this country, and the president continues to act in a manner that is detrimental to the health of our republic."
The anonymous official also praised the administration, which they "want to succeed," for policies that "have already made America safer and more prosperous," such as "effective deregulation, historic tax reform, a more robust military and more."
The writer even addressed the deep-state theory directly. "This isn't the work of the so-called deep state. It's the work of the steady state," the author wrote.
This article was updated to include more comments by Trump.