Trump Would Be Only 4th President in History to Refuse to Attend Successor's Inauguration
President Donald Trump has not yet indicated whether he will attend the inauguration of President-elect Joe Biden. If he is absent, he would join only a handful of incumbents who have not witnessed the formal handing over of power.
Biden has said that Trump's presence at the U.S. Capitol on January 20 would be an important signal, telling CNN: "It is totally his decision and it's of no personal consequence to me," but adding, "I do think it is for the country."
However, as Trump continues to dispute the election result, the chances of his becoming a no-show are growing. NBC reported that Trump does not plan to attend and may even announce a campaign to retake the White House in 2024 on the same day.
The most recent one-term president, George H.W. Bush told his supporters after losing to Bill Clinton in 1992 that he was committed to working "closely with his team to ensure the smooth transition of power."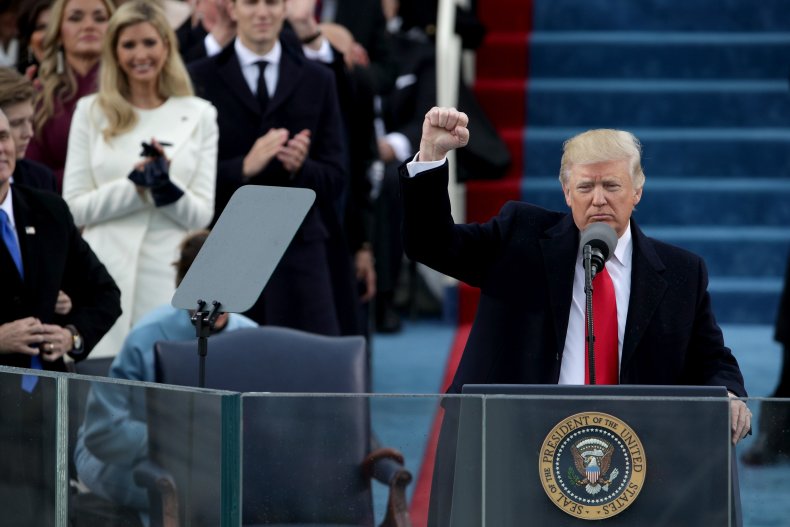 But not all transitions have been quite so cordial. If he insists on staying away, Trump would be the fourth incumbent to refuse to attend the inauguration of his successor, Thomas Balcerski, associate history professor at Eastern Connecticut State University, told Newsweek.
The first incumbent no-show was John Adams in 1801, who faced a challenge from his own vice president Thomas Jefferson.
At the time, electors voted twice, with the vice presidency and presidency going to the candidates with the second-highest and highest number of votes. A tie between Jefferson and running mate Aaron Burr was followed by the House of Representatives choosing Jefferson and ending Adams' tenure. Before the ceremony, he left Washington at 4 a.m. on March 4, the date for inaugurations until 1933.
His son John Quincy Adams followed suit, leaving Washington before the celebrations of Andrew Jackson in 1829. Meanwhile in 1869, Andrew Johnson, who like Trump had survived an impeachment trial, refused to attend the inauguration of Gen. Ulysses S. Grant, preferring instead to stay in the White House to sign legislation.
Circumstances rather than point-blank refusals were behind the inauguration absences of three other incumbents.
In 1921, poor health prevented Woodrow Wilson from attending Warren G. Harding's inauguration, although they did ride from the White House to the Capitol together.
On August 9, 1974, Richard Nixon resigned at noon and flew off in Marine One, after which Gerald Ford took the oath of office in the White House.
Another presidential no-show occurred on March 4, 1841 when President-elect William Henry Harrison rode to the Capitol on a white charger. Incumbent Martin Van Buren was nowhere to be seen, although his vice president, Richard Mentor Johnson, did attend Harrison's inauguration. However, Van Buren was probably not invited by Harrison to participate so it would not be qualified as a snub, Balcerski said.
Trump ally Sen. Lindsey Graham thinks the president should attend the event, telling reporters this week, "I just think it's good for the country. It'd be good for him."
But Trump's attendance is looking increasingly unlikely if it means granting legitimacy to Biden's win.
"Trump's choice will likely be met with a sigh of relief from the Biden team, since it avoids at least one potential distraction," Thomas Gift, director of the Centre on U.S. Politics at University College London told Newsweek.
"Of course, Trump is reportedly mulling over the possibility of holding his own rally during Biden's inauguration—so his presence may be felt even if he's not physically present on the Capitol steps," he added. Newsweek has contacted the White House for comment.
The graphic below from Statista shows the tightest presidential races over the last 124 years.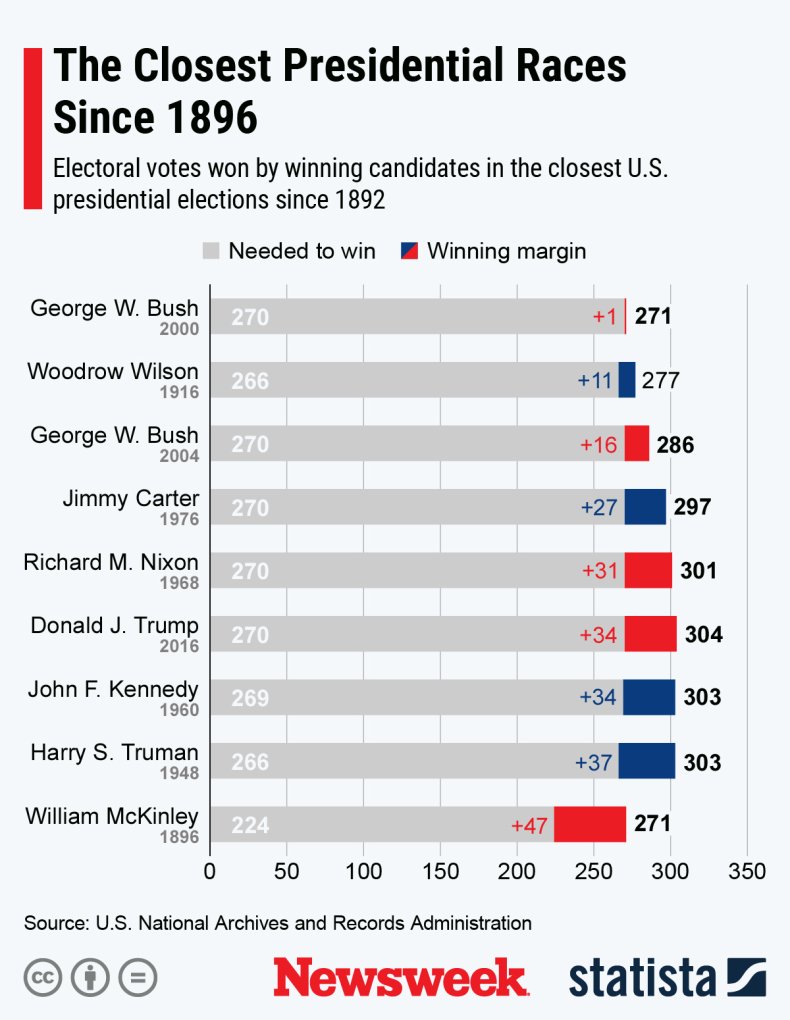 Correction 12/4/20, 1:40pm. ET: This article has been updated to correct the surname of President Andrew Johnson.