Trump, at Risk of Losing White Evangelicals, Attacks Biden on God
President Donald Trump has attacked rival Joe Biden and the Democrats on God as he moves to shore up support among the Christian voters that were integral to his 2016 victory.
Trump has suggested Democratic presidential candidate Biden and his party are "against the Bible" in a recent "tele-rally" with supporters in Pennsylvania.
"Essentially, they're against God if you look at what they're doing with religion," he said.
He did not expand further on how he felt they were against religion, but his comments reiterate similar combative lines he has used towards his political adversaries in recent days.
Trump previously said that while in Texas he had said "the Radical Left Do Nothing Democrats," and Biden are against "Oil, Gas, Guns, & God."
He added: "Must be tough to win Texas on that platform!"
Recent polling has shown Trump trail Biden narrowly in Texas, while he has also been behind in Pennsylvania.
In the run-up to November, Biden's campaign has expressed hope his own religious values will help him to make inroads with voters the Democrats previously have not mustered support from.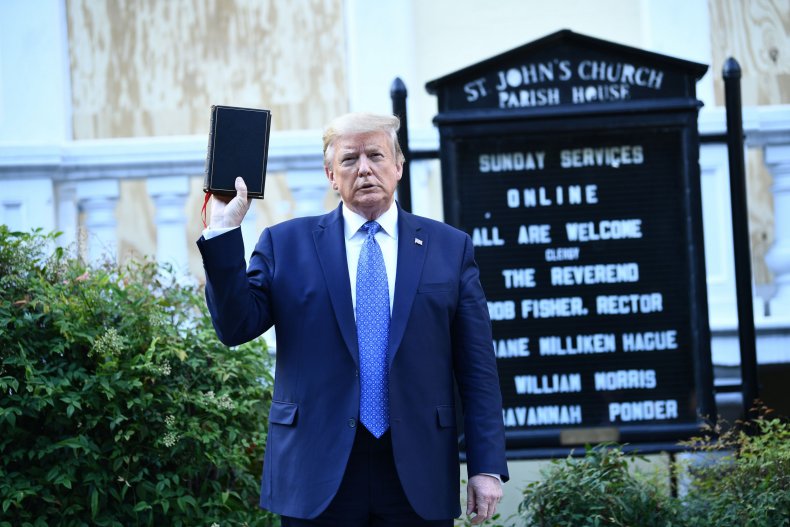 John McCarthy, deputy political director for the Biden campaign, recently told National Catholic Reporter that"faith outreach is probably the most integrated it's ever been" in a Democratic candidate's presidential campaign.
"I think his own faith and values narrative allows us to have inroads into these communities in ways that Democrats might previously not have been able to do," said McCarthy.
Biden, who is Catholic, has also laid out plans for "safeguarding America's faith-based communities" should he win the election.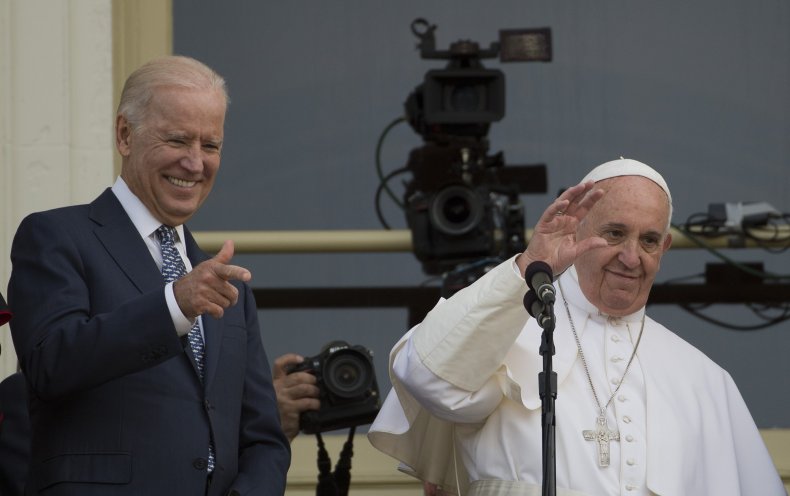 Comments introducing his plans, laid out on his campaign site, state: "America was built on a foundation of religious freedom and tolerance. We haven't always lived up to these ideals, but we've never stopped trying. And today, with communities of faith increasingly being targeted with hate-filled acts of violence and intimidation, we must redouble our efforts to reach our highest values."
He also touched upon his faith in a campaign ad earlier this year, in which he said: "To me my religion is an enormous sense of solace. I go to mass and I say the rosary, I find it to be incredibly comforting."
While Biden looks to bolster his support among religious groups, polling has recently indicated a declining approval among some of them for Trump.
In 2016, the majority of white evangelical Christians voted for Trump, according to Pew Research analysis.
However, polling released in July by Pew Research showed the president's approval rating had declined among Christian groups, including white evangelicals.
The president still held a 72 percent approval rating from white evangelical Protestants asked between June 16 and 22, though this marked a 6-point drop since April.
Despite this, 82 percent of them still said they would vote for or lean towards voting for Trump come November, with an overall majority of Christians, 55 percent, stating the same.
Respondents were asked these views following Trump's controversial visit to St. John's Episcopal Church, in which the clearing of protesters to allow him to cross the road to pose with a Bible sparked a backlash, and the Supreme Court's landmark LGBTQ rights ruling.
Public Religion Research Institute (PRRI) polling released in April also suggested a decline in favorability among white evangelical voters amid the COVID-19 lockdown.
Trump's rating dropping 11 points from 77 percent to 66 percent between March and April among white evangelicals, coinciding with a 7-point drop among all 1,0008 respondents asked between April 21 and 26.
Previous polling also found a majority of respondents did not view Trump, who has previously called himself "Presbyterian Protestant," as religious, despite his frequent references to God in public remarks.
Trump has previously been vocal on his support among evangelicals, stating last year there had never been such enthusiasm among them for a political candidate as what he had garnered.
Ken Farnaso, deputy national press secretary for the Trump campaign, told Newsweek: "Whether it be the 200 conservative judges appointed to the courts, his fight for international religious freedom, or his staunch pro-life polices, President Trump is a strong voice for Evangelicals in the White House. Joe Biden's socialist agenda of taxpayer funded abortions [is] lauded by his Marxist supporters. It couldn't be more clear that President Trump is the only candidate who will fight for Evangelical voters."
Newsweek has contacted the Biden campaign for further comment.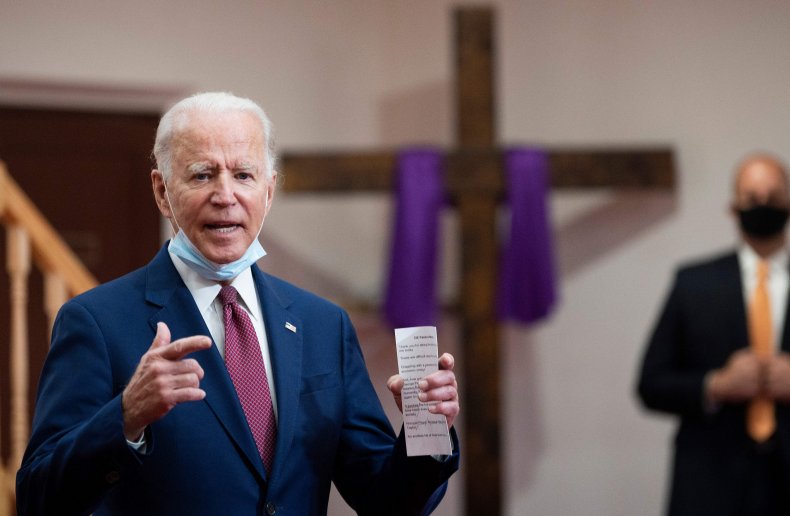 Update 08/04/2020: This page has been updated to include comment from the Trump campaign.