Donald Trump Jr.'s Video Rant About Joe Biden Viewed Over 2 Million Times
A video clip of Donald Trump Jr. mocking President Joe Biden for giving the Russians a list of cyber targets that were out of bounds, has gone viral on Twitter.
The son of the former president took aim at Biden in the video, which was initially posted on Rumble—a video site popular among some conservatives—on June 19, three days after the summit between Biden and his Russian counterpart Vladimir Putin in Geneva.
In the four minute-13-second monologue, Trump Jr. made fun of Biden's statement that he had provided the Russians with a list of 16 entities "defined as critical infrastructure" ranging from the energy sector to water systems which Biden had said were "off limits."
Conservative voices criticized Biden's statement for sending a message to Moscow that anything not on the list would be fair game.
The U.S. imposed sanctions on Moscow after the SolarWinds hack compromised government agencies last year. That attack was linked to Russia's SVR foreign intelligence service. Washington also accused Russia of interfering in its 2020 elections. Moscow has rejected both accusations.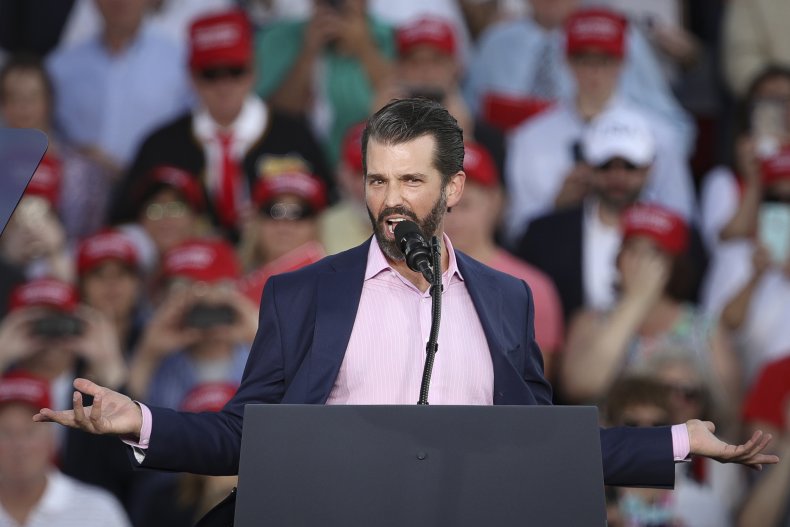 Meanwhile, a cyber attack of the Colonial Pipeline on the east coast of the U.S. was said to have originated within Russia, although it is not believed to be state-sponsored.
Trump Jr.'s video on Rumble titled, "Biden is a weak clown for Putin" was viewed only 16,000 times as of Tuesday morning. However, a 29-second clip of it shared on Twitter has been seen far more widely, having so far garnered more than 2.3 million views.
In it, Trump Jr., wearing a baseball cap and a black t-shirt, said: "I don't think Joe is smart enough to be like, 'Hey, let's send them off the trail—don't hack the McDonald's on D.C."
"I mean, why doesn't he just give Putin like, I don't know, the keys to the nuclear football?"
Trump Jr. continued with his dismissive tone.
"What's the list? Don't hack, one—Joe's basement. Two—Hunter's businesses. Three—Hunter's laptop," referring to the president's son, Hunter Biden, whose dealings with the Ukrainian energy company Burisma faced scrutiny after the leaking of emails from a laptop purportedly belonging to him.
"What's going on?" added Trump Jr. who has been posting regular videos to Rumble since February, praising the platform for providing a "level playing field" for conservative voices.
Meanwhile, in an interview published Tuesday, Secretary of State Antony Blinken reiterated the U.S. warning to Russia about cyber hacking.
He told La Repubblica that if Moscow "continues to attack us", referring to SolarWinds and election interference, "then we will respond."
Newsweek has contacted the White House for comment.