Did Donald Trump Jr. Lie for His Father?
Michael Cohen, President Donald Trump's former personal attorney and longtime "fixer," has put a political bomb under the feet of his old boss. And Trump's eldest son is in the blast's radius.
The debacle centers on what the president knew about the infamous Trump Tower meeting in June 2016 between senior members of his campaign and Kremlin-linked Russian lawyer Natalia Veselnitskaya, who was touting dirt on Hillary Clinton, the Democratic candidate.
That meeting has become a focus of special counsel Robert Mueller's investigation into Russian election interference and possible collusion between the Trump campaign and Russia.
Cohen, under pressure from prosecutors, is reportedly preparing to testify that he witnessed Donald Trump Jr. telling his father about the meeting before it took place. That goes against what Trump Jr. has said about his father's knowledge of the meeting.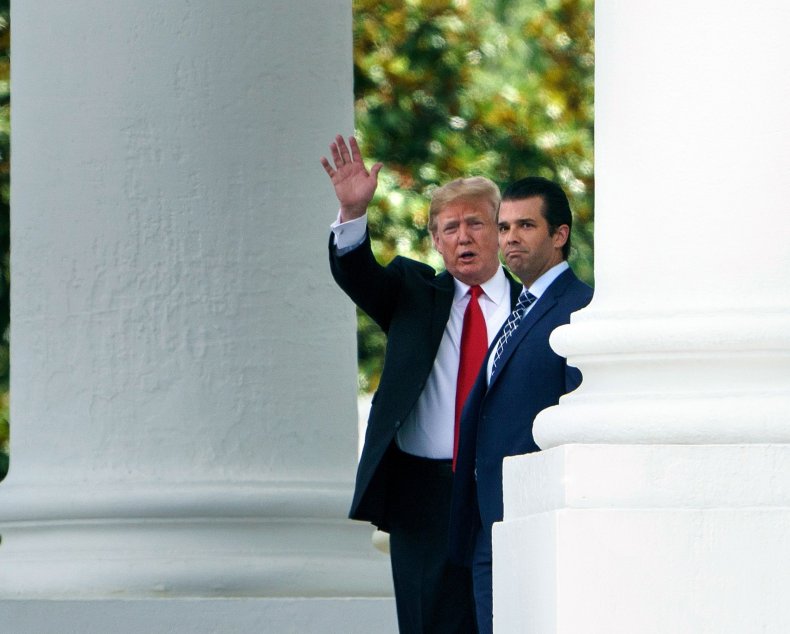 It also contradicts President Trump's claim to have known nothing about the meeting until The New York Times revealed it in 2017. "I only heard about it two or three days ago," he told journalists on Air Force One after the meeting's existence emerged.
"I did NOT know of the meeting with my son, Don jr," Trump tweeted the morning after Cohen's threat was made public. "Sounds to me like someone is trying to make up stories in order to get himself out of an unrelated jam (Taxi cabs maybe?)," Trump continued, a reference to legal difficulties around Cohen's taxi businesses.
Rudy Giuliani, President Trump's lawyer, called Cohen a "pathological liar" and disputed his account.
In July 2017 in an interview with Fox News host Sean Hannity, Trump Jr. was asked if he told his father about the meeting.
"No," he replied. "It was such a nothing. There was nothing to tell. I wouldn't have even remembered it until you start scouring through the stuff. It was literally just a wasted 20 minutes, which was a shame."
At a Senate Judiciary Committee hearing behind closed doors in September 2017, Trump Jr. reiterated that his father did not know about the meeting.
"Obviously, he's aware of it now because he's read it, it's been in the papers, but that's the extent of my knowledge of his knowledge of it," Trump Jr. told senators, NBC News reported. "I wouldn't have wasted his time with it."
Lying to Congress is a crime and carries a jail sentence of up to five years.
Trump Jr. has a history of making contradictory and false statements about the meeting. Among them was an initial denial that he had set up any meetings with a Russian national that would be relevant to the campaign, which was later found to be untrue.
He also claimed in a statement that the meeting was primarily about a defunct Russian adoption program, yet an email he sent to an intermediary, later released to the public, suggested the fundamental reason for the meeting was the promise of material damaging to Clinton.
The statement making the adoption claim was actually dictated to Trump Jr. by his father, The Washington Post reported.
Trump Jr.'s intermediary, former British tabloid journalist Rob Goldstone, promised via email information that "would incriminate Hillary and her dealings with Russia and would be very useful to your father."
Goldstone also wrote: "This is obviously very high level and sensitive information but is part of Russia and its government's support for Mr. Trump."
Trump Jr. replied: "If it's what you say I love it especially later in the summer."
The meeting at Trump Tower in June 2016 was booked. Trump Jr. said he would bring along Paul Manafort, then the campaign manager, and Jared Kushner, his brother-in-law and a real- estate billionaire who is now a White House adviser.
In the end, those present said no information was provided and nothing happened as a result of it. Mueller's probe is investigating if that is correct and may yet turn up new revelations about what happened within those four walls.
But Cohen has just reopened another question many thought had been all but settled: Did Trump Jr. tell his dad about the meeting? Cohen said he was not the only witness to it.
"Donald Trump Jr. has been professional and responsible throughout the Mueller and congressional investigations," said Alan Futerfas, an attorney for Donald Trump Jr, in a statement sent to Newsweek.
"We are very confident of the accuracy and reliability of the information that has been provided by Mr. Trump, Jr., and on his behalf."