Donald Trump Jr. Slams Psaki for Touting Biden's Weight Lifting: 'Really Jen?... World Is On Fire'
Donald Trump Jr. has slammed White House Press Secretary Jen Psaki on Tuesday for publicly discussing Democratic President Joe Biden's weight lifting and exercise routine.
"Really Jen?... The world is on fire," Trump remarked.
Trump made his comment in a Tuesday video in which he showed a journalist asking Psaki about Biden's exercise routine. The journalist asked whether Biden weight lifts, bike rides or has a personal trainer.
"I have nothing to read on the President's private exercise regime," Psaki replied, "but I can tell you having traveled with him a fair amount, sometimes he's hard to keep up with."
Trump scoffed at Psaki's reply.
"He can't walk up the stairs of Air Force One without falling over," Trump said, referencing Biden's stumbling on March 19 while walking up the stairs to Air Force One. The stumble compelled many of Biden's critics to question Biden's health and mental abilities.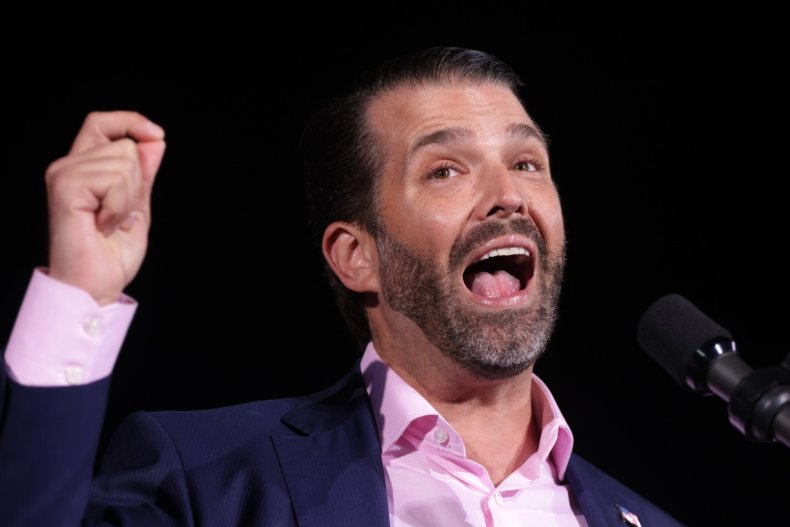 "What the hell are you asking about? If the President rides a stationary bike? Oh that's wonderful," Trump continued. He called the reporters Biden's "fan club" and comparing their questions to "softballs."
"The world is on fire, and we're pretending that everything's just fine, and Joe Biden is riding a bike and he's weightlifting, he's a strong and viable leader," Trump added. "We got to push back, we got to call it out.... since we're not going to know what's actually going on, because [Biden is] not going to tell us, and neither is the press secretary."
After Biden's stumbling on the airplane stairway, Deputy White House Press Secretary Karine Jean-Pierre, told reporters that the weather had been "pretty windy." She said that she too had almost fallen when walking up the same stairway.
In December 2019, Biden's physician Kevin O'Connor said Biden was a "healthy, vigorous, 77-year-old male" who was fit to "execute the duties of the Presidency." Biden appointed O'Connor as the new White House physician in January.
Republican former President Donald Trump also received criticisms and speculation about his mental and physical fitness while in office. Numerous mental health professionals said it was unethical to try and diagnose him while he ran for office or assumed the presidency.
Before becoming president, then-candidate Trump had Dr. Harold Bornstein issue a letter calling him "the healthiest individual ever elected to the presidency." Bornstein later admitted to NBC News that he wrote the letter in five minutes while the then-candidate's staff sat outside in a car waiting for it to be done.
Trump's critics also scrutinized his physical health twice near end of his term. In June 2020, he wobbled unsteadily down a ramp after giving a speech at U.S. Military Academy at West Point in New York.
In October 2020, President Trump's contracting of COVID-19 raised questions about whether his doctors were being truthful regarding his recovery.
Newsweek contacted the White House for comment.