Donald Trump Jr. Pranked With Snake in Toilet: 'You've Activated the Evil Genius Part of My Brain'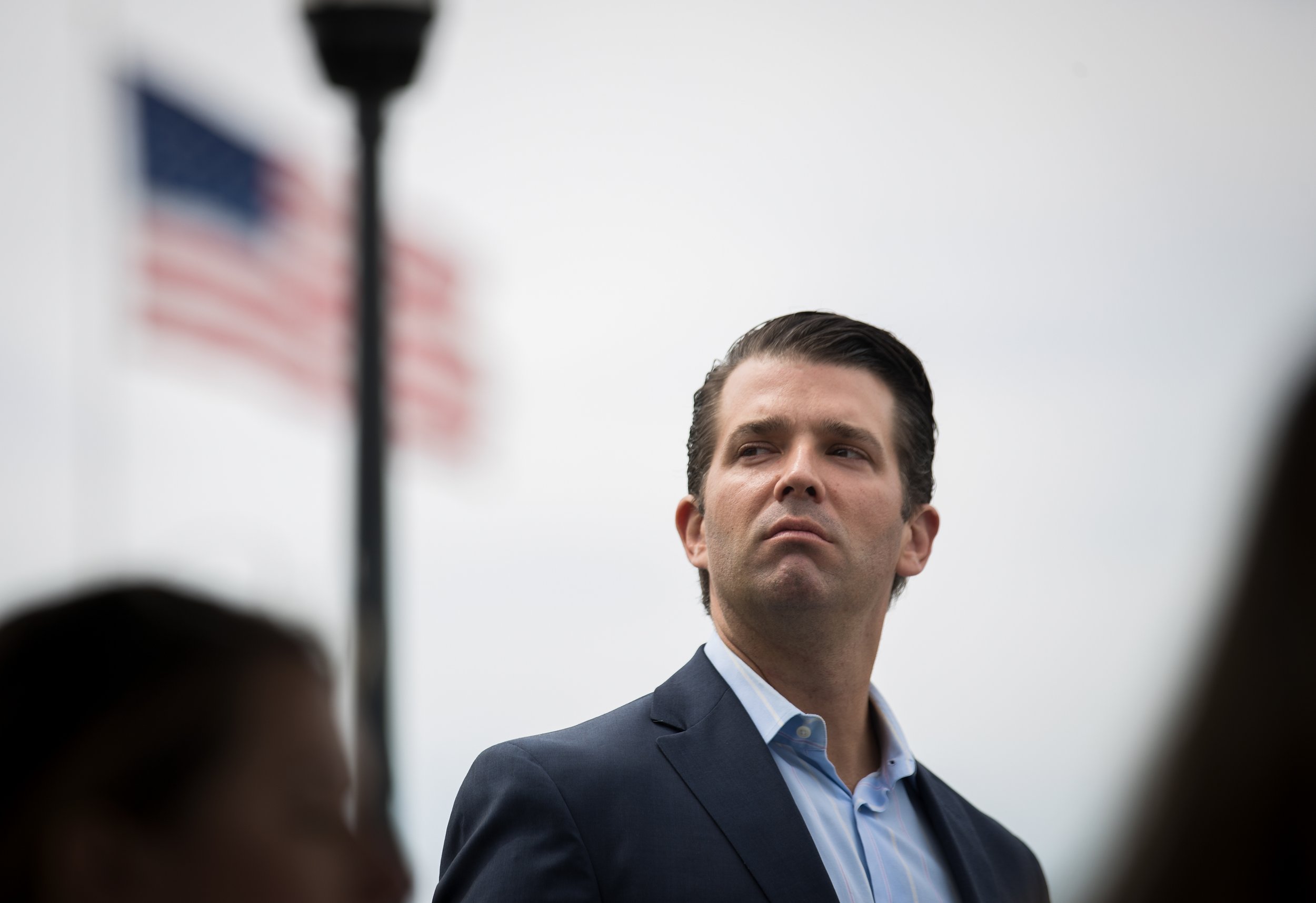 Donald Trump Jr. warned his friends they had "activated the evil genius" part of his brain after they pranked him with a fake snake in a toilet.
On Sunday, the eldest child of President Donald Trump shared a photo of a plastic snake taped to the inside of toilet seat on Instagram, while he was on a hunting trip.
Read more: Alexandria ocasio-cortez trolls Donald Trump Jr.'s 'Very, very large brain': 'Have fun' when democrats have subpoena power
Trump Jr., who earlier this year said he would not be afraid of going to jail if special counsel Robert Mueller's Russia probe found him guilty of wrongdoing, appeared to have been spooked by the toy snake which he said his friends left in a restroom.
The image, tagged at the Louisiana/Mississippi State Line, was captioned: "With friends like these who needs enemies??? Remember guys… He who laughs last laughs longest. Good hunting camp prank though. Points for effort. Now you've activated the evil genius part of my brain. #snake #prank #jokes."
The photo posted on Trump Jr.'s Instagram page, which has over 1.5 million followers, received over 28,000 likes.
A day before, Trump Jr. shared a photo of himself beside a gunsmith and a customized firearm featuring illustrations of his father sporting a Make America Great Again cap.
Against a backdrop of the stars of the American flag, the weapon was emblazoned with the words: "To Donald Trump Jr. Son of the USA's Smartest and Greatest President Period."
Trump Jr.'s Instagram feed also made headlines last week following a spat with Congresswoman-elect Alexandria-Ocasio Cortez who ran on a democratic socialist platform.
On Thursday, Trump Jr. shared a meme depicting Ocasio Cortez appearing to ask: "Why are you so afraid of a socialist economy?" Beneath, his father is pictured replying in the mock-up, "Because Americans want to walk their dogs, not eat them."
Ocasio Cortez hit back in a tweet referencing Robert Mueller's Russia investigation: "I have noticed that Junior here has a habit of posting nonsense about me whenever the Mueller investigation heats up.
"Please, keep it coming Jr - it's definitely a 'very, very large brain' idea to troll a member of a body that will have subpoena power in a month."
Last week, Mueller recommended that Michael Flynn, Trump's former national security advisor, be spared jail after lying to the FBI because he provided "substantial assistance" to the investigation. On Friday, Mueller recommended Michael Cohen, Trump's former lawyer, should be handed a four-year prison sentence after pleading guilty to lying to Congress.
Donald Trump Jr. is also being investigated by Mueller over a June 2016 Trump Tower meeting with a Russian attorney and others to get dirt on Hillary Clinton. Last month, Trump Jr., who runs the Trump Organization, told USA Today: "I know that I'm not worried about anything I actually did."
However, Trump Jr. did seem concerned that Mueller would fabricate charges against him: "That doesn't mean they don't totally fabricate all of this stuff at this point," he added.