Trump Says Mail-In Voting Session 'Must Be Met With Immediate Litigation,' Continuing Call to Delay Election
President Donald Trump has called for "immediate litigation" over mail-in voting in Nevada after Republicans accused Democrats of "working to steal our election."
Trump has frequently hit out at mail-in voting, claiming without evidence that it will lead to widespread election fraud throughout the election.
He has indicated that he might not accept the election result, while he also posed the idea of the vote in November being delayed in order for people to be able to cast their votes in person.
Due to the coronavirus pandemic, states have looked to expand possibilities for people to cast their votes remotely, with lawmaker in Nevada having looked to make it so every registered voter receives a mail-in ballot.
Former Nevada Attorney General Adam Laxalt tweeted yesterday: "Gov. Sisolak and the NV Dems called a special session with no public present and inside 24 hours are ramming through mail-in balloting and ballot harvesting.
"They are massively altering our election 97 days out entirely without the SecState. They are working to steal our election."
The president has shared this post and added: "This is outrageous. Must be met with immediate litigation!"
He also tagged GOP Chairwoman Ronna McDaniel in his message.
Asked for comment by Newsweek, a spokesperson for McDaniel referred to a tweet in which she said: "Imagine if Republicans did this. Democrats are trying to upend this election. We still do not have results in NY! How does ballot harvesting make voters safe? It allows more room for fraud! The RNC will continue to challenge and fight this assualt on our Democracy."
Trump previously threatened to withhold federal funding from Nevada as it took steps to expand this voting option.
Nevada State Democratic Party Chair William McCurdy II hit out at Trump in a statement, branding his stance "utterly hypocritical," pointing to the president having previously voted absentee.
He went on to criticize Trump's actions throughout the pandemic adding: "What is really 'outrageous' is Trump's priorities. That he would threaten Nevada Democrats' work to protect voting access through a crisis of his own making is both despicable and par for the course.
"But Democrats will not be intimidated. We stand with Nevadans and will do the necessary work to ensure every eligible voter can participate easily and safely in what will surely be the most important election in a lifetime."
Newsweek has contacted Nevada Gov. Steve Sisolak and the White House for further comment.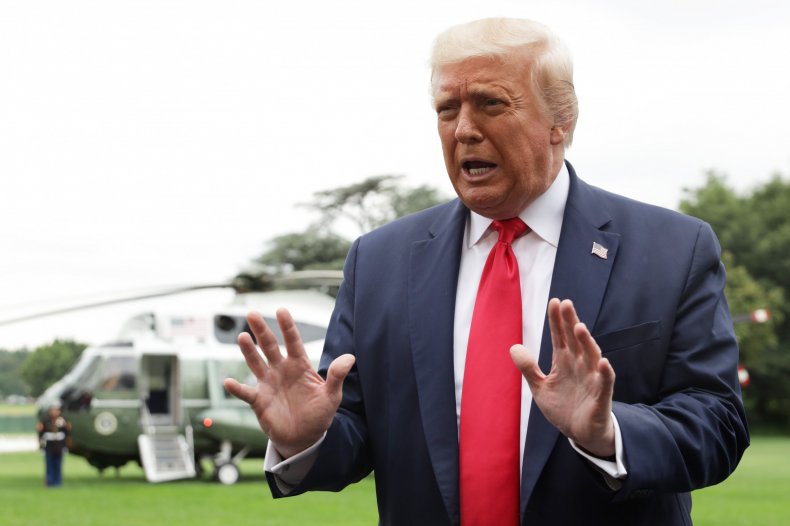 In a tweet last week, Trump said: "With Universal Mail-In Voting (not Absentee Voting, which is good), 2020 will be the most INACCURATE & FRAUDULENT Election in history. It will be a great embarrassment to the USA. Delay the Election until people can properly, securely and safely vote???"
Sisolak, a Democrat, previously responded to this insisting that the vote would be held in Nevada on November 3, amid the "unprecedented circumstances" of the coronavirus crisis.
"Nevada is widely recognized as being a leader in election administration, and we will continue to support the safest, most accessible election possible under these unprecedented circumstances," he tweeted, in response to Trump's delay comments. "Nevada will hold its election as required by law on November 3."
The Nevada Democrats also previously criticized the president's comments, condemning his "attack on mail-in voting."
"While Trump has no authority to move the election, allies of democracy everywhere must ardently denounce his rhetoric on mail-in voting," the statement said.
Nevada State Democratic Party Chair William McCurdy II added: "As we approach November, that fight becomes more important than ever. For the health of all Nevadans, for the preservation of democracy, we will continue to combat Trump's falsehoods and work to expand ballot access in the state."
The president's comments on delaying the election have been widely rejected and he does not have the power alone to postpone the vote, with Republican lawmakers among voices to push back against the suggestion.
His comments on potentially declining to accept the election result have also been condemned by numerous lawmakers.
Update 08/03/20: This page has been updated to include a statement from Nevada State Democratic Party Chair William McCurdy II.