Why Trump Can't Delay 2020 Election, Even If He Wanted to
President Donald Trump hinted at postponing the U.S. election on Thursday as he launched another attack on mail-in voting in the wake of dire second quarter GDP figures.
Posting on social media, the president said the 2020 election would be "the most inaccurate & fraudulent" presidential race in U.S. history with less than 100 days to go until polling day.
"With Universal Mail-In Voting (not Absentee Voting, which is good), 2020 will be the most INACCURATE & FRAUDULENT Election in history," Trump tweeted. "It will be a great embarrassment to the USA. Delay the Election until people can properly, securely and safely vote???"
He also described mail-in voting as a "catastrophic disaster" and argued that it would provide "an easy way for foreign countries to enter the race," despite studies showing the system has historically involved few instances of voter fraud.
Although the president posited the idea of postponing the November elections, he would have no power to do so due to rules set out in the U.S. constitution.
Under the 20th amendment, which covers presidential terms, the term of the sitting president and vice president ends at noon on January 20th, and they are provided no power to change that date.
But according to the Congressional Research Service, the U.S. constitution does empower Congress to set the dates on which states have to choose their presidential electors, and the date on which those electors cast their votes for president.
"The Constitution empowers Congress to determine the date the electors will cast their vote for President from their home states," the CRS said in a March research document.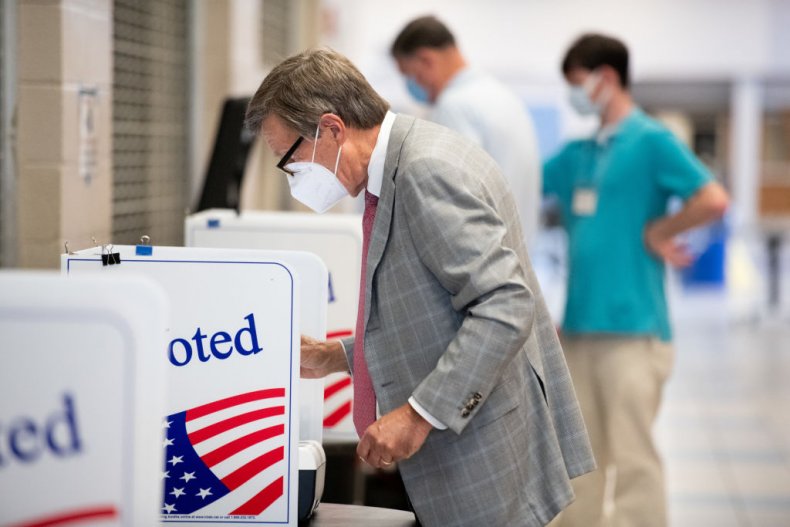 President Trump floated postponing this year's presidential election as several national and state level polls showed him trailing former Vice President Joe Biden with less than four months left in the race.
National surveys released by Ipsos, Morning Consult and YouGov a few weeks ago found Biden was leading Trump by at least 7 percentage points, while a fresh Ipsos poll published on Wednesday found the Democratic challenger leading by 14 points among registered voters.
FiveThirtyEight's head-to-head state poll trackers also showed Biden ahead of the president in six key battleground states—Arizona, Florida, Michigan, North Carolina, Pennsylvania and Wisconsin.
On the national level, the former vice president holds an average 9-point lead over Trump, according to the weighted tracker.