Trump 'Praying For' Louisville Police Shot Amid Breonna Taylor Protests, Demands Law and Order
President Donald Trump said he is "praying for" two police officers shot in Louisville amid protests following the decision no police officer would be indicted for homicide over Breonna Taylor's death. The president also called for law and order.
Taylor was fatally shot after police entered her apartment using a no-knock warrant. One officer has been indicted with three counts of wanton endangerment in regards to bullets going into adjacent apartments. None will face charges directly related to her death.
Protests have been held across Kentucky following this grand jury decision. Amid the demonstrations on Wednesday night, two Louisville Police Department officers were shot.
"Praying for the two police officers that were shot tonight in Louisville, Kentucky," Trump tweeted. "The Federal Government stands behind you and is ready to help."
The president said he has spoken with Governor Andy Beshear and said "we are prepared to work together, immediately upon request!"
In a separate tweet Trump wrote: "LAW & ORDER!"
Following the shooting of the officers, Beshear said he understood people were feeling "powerful emotions."
"But sadly we have seen at least one individual turn what were non-violent ways of expressing ourselves into the shooting of at least two law enforcement officers," he said.
"We know that the answer to violence is never violence, and we are thinking about those two officers and their families tonight."
He called upon those involved in protests to go home and said there would be opportunities to be heard in coming days.
The FBI is investigating the officer shooting, which it said occurred "during first-amendment protected peaceful protests," that reportedly happened at around 8:30 p.m. near Broadway and South Brook Street.
Louisville Metropolitan Police Department said one officer was hit in the abdomen and was undergoing surgery while the second was hit in the thigh. Both officers are expected to survive.
An unnamed suspect was arrested and taken into custody following the shooting.
Newsweek has contacted the White House, Beshear and the Louisville Metropolitan Police Department for comment.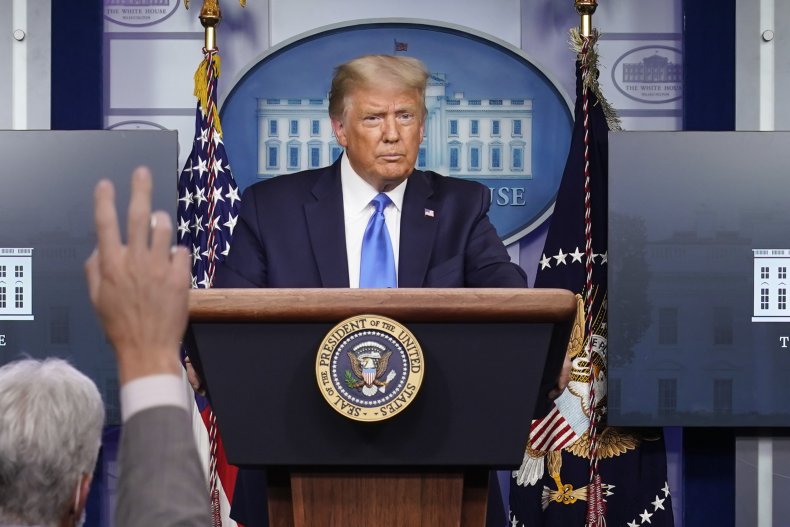 Trump previously welcomed Beshear's decision to deploy the National Guard amid protests. He has called for such action to tackle unrest amid protests in the past.
Beshear said his reason for this decision was "to make sure that we can keep everybody safe."
Trump said: "I understand he's called up the National Guard which is a very good thing. That's a very positive thing and it will all work out."