Donald Trump Is Micromanaging Construction of Border Barrier, Confusing Project Engineers: Report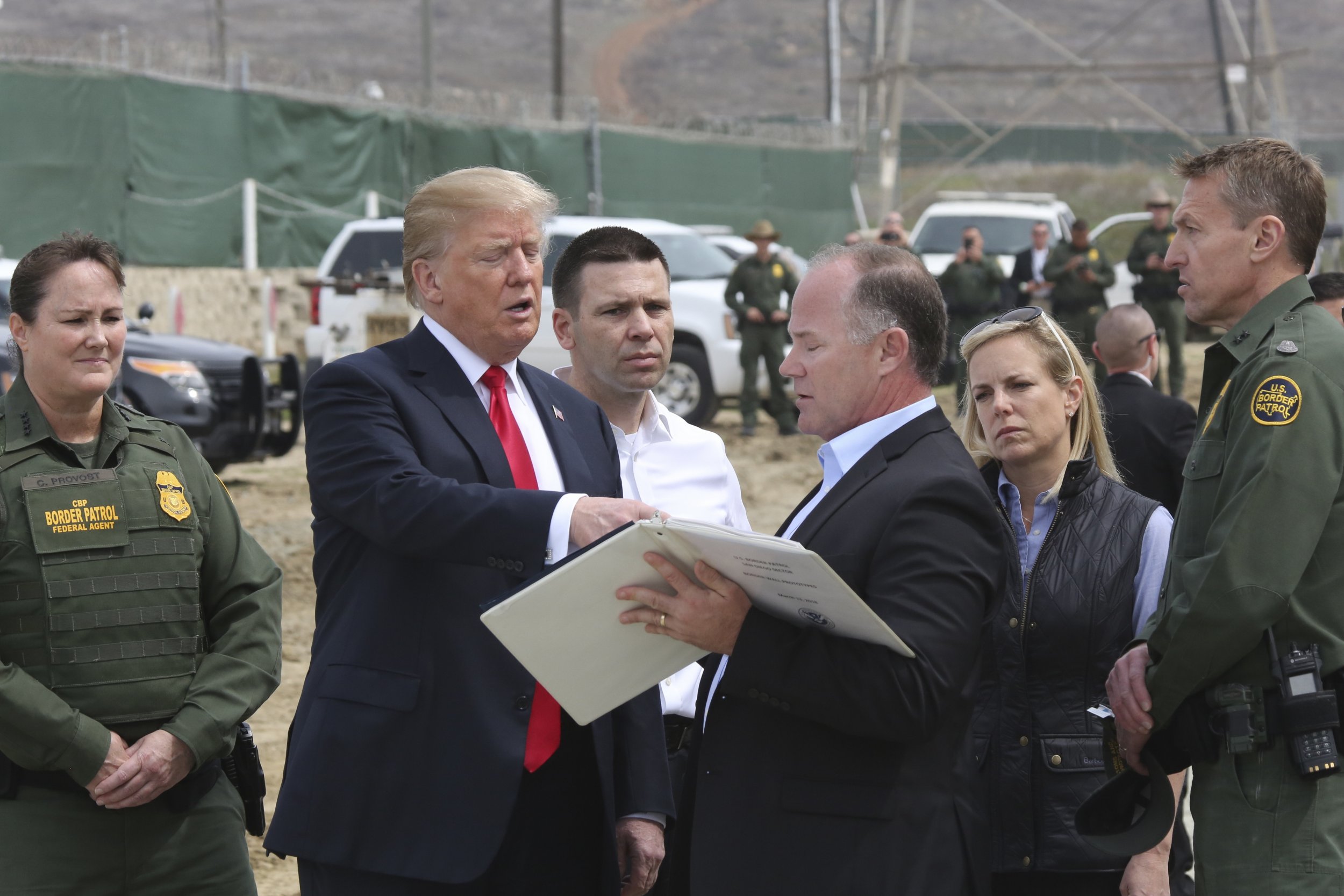 President Donald Trump has reportedly been micromanaging the construction of the barrier along the southern border with Mexico—now a steel bollard fence rather than concrete wall—down to the fine details, leaving his aides and the project's engineers confused.
Building the wall was Trump's flagship campaign promise. He argued it was essential to border security, and would halt drug traffic, gang crime, and undocumented migration. Trump declared a national emergency at the southern border to divert billions of dollars from military construction projects to build the wall after Congress refused to allocate money for it.
Democratics accused the president of creating a fake crisis, calling the wall an expensive political gimmick that would not improve border security. Instead, they argued, the money should be spent on new technology, better infrastructure and more personnel.
According to The Washington Post, among the changes Trump ordered were that the metal bollards be painted a particular hue of black that absorbed heat to make them too hot to climb; the tips should be pointed to cause injury; and there should be fewer and smaller gates.
Trump has met repeatedly with Lieutenant General Todd Semonite, head of the U.S. Army Corps of Engineers, to lay out his vision for the barrier, which he said should be "physically imposing but also aesthetically pleasing," reported the The Post.
A former Homeland Security official who worked on the border barrier prototypes told The Post that Trump saw himself as a builder because of his background in real estate.
"But building high-rises in New York City is not the same as putting up a barrier at the border," Lapan, now at the Bipartisan Policy Center in Washington, told the news outlet. "You're not looking for aesthetics; you're looking for functionality."
A spokesman for the U.S. Army Corps of Engineers confirmed to Newsweek that Semonite has met with the President several times, but directed inquiries as to the nature of those discussions to the White House, which did not respond to a request for comment.
Earlier in May, Trump visited Calexico, California, to inspect 2 miles of new fencing to replace the older structure that was already there. He commented on the barrier's pointed tops.
"If you want to climb that, it's pretty sharp up on top, too," said the president, according to CNN. "If you want to climb that then you deserve whatever you can get, but it's very, very hard. It's meant anti-climb. It's called anti-climb, so it's a great wall and… I think it looks fantastic—very see-through, so you're able to see the other side, which is a very important element."
A group of 19 former Republican members of Congress denounced in an amicus brief Trump's redirecting military funds to build his wall. The brief was filed in support of a lawsuit against the president's national emergency declaration brought by the nonprofit and nonpartisan organization Protect Democracy.
"The Constitution created three co-equal branches of government, with the power to make laws and spend funds placed squarely in the hands of Congress," Mickey Edwards, an Oklahoma Republican, who served in the House of Representatives from 1977 to 1993, had said in a previous statement emailed to Newsweek.
"President Trump's national emergency declaration, and his redirection of military funds to build a border wall, is a clear attempt to usurp that role for himself.
"As members of Congress, we took an oath to support and defend the Constitution—and we continue to live by that oath today. That's why we, and our Republican colleagues, must speak out against this contrived national 'emergency.'"
This article was updated with a comment by the U.S. Army Corps.