Donald Trump Mocked by Iran: 'Perhaps We're Also Responsible for California Fires Because We Didn't Help Rake the Forests'
Iran's Foreign Minister lashed out at Donald Trump on Tuesday, after the White House released a statement from the president attacking the Islamic Republic as an apparent excuse for maintaining support for Saudi Arabia, despite the murder of journalist Jamal Khashoggi and the ensuing international condemnation.
Javad Zarif tweeted that his country gets blamed for any problem Trump can think of. He then mocked the president, jokingly suggesting that Tehran should also be blamed for the recent deadly forest fires in California.
"Mr. Trump bizarrely devotes the FIRST paragraph of his shameful statement on Saudi atrocities to accuse IRAN of every sort of malfeasance he can think of," the foreign minister wrote. "Perhaps we're also responsible for the California fires, because we didn't help rake the forests," he quipped, "just like the Finns do?"
Trump suggested on Saturday that Finland doesn't have problems with forest fires like the U.S. because, as he claimed, the president of the European nation told him "they spent a lot of time on raking and cleaning." Finnish President Sauli Niinistö responded to Trump's unusual comment on Sunday, saying that he never mentioned the country's forest raking skills.
Many Finnish citizens jumped at the chance to mock Trump's remarks as well, posting photos of themselves "raking and cleaning" their country's forests. Some social media users also used the hashtag "#RakeAmericaGreatAgain."
In Trump's Tuesday remarks regarding Saudi Arabia, he opened his official statement by discussing Iran. "The world is a very dangerous place!" the president said.
"The country of Iran, as an example, is responsible for a bloody proxy war against Saudi Arabia in Yemen, trying to destabilize Iraq's fragile attempt at democracy, supporting the terror group Hezbollah in Lebanon, propping up dictator Bashar Assad in Syria (who has killed millions of his own citizens), and much more," he added.
He then explained his administration's reasons for maintaining support for Saudi Arabia despite the CIA's reported conclusion that Crown Prince Mohammed bin Salman was behind the murder of Khashoggi, who was a contributor to The Washington Post contributor and a U.S. resident.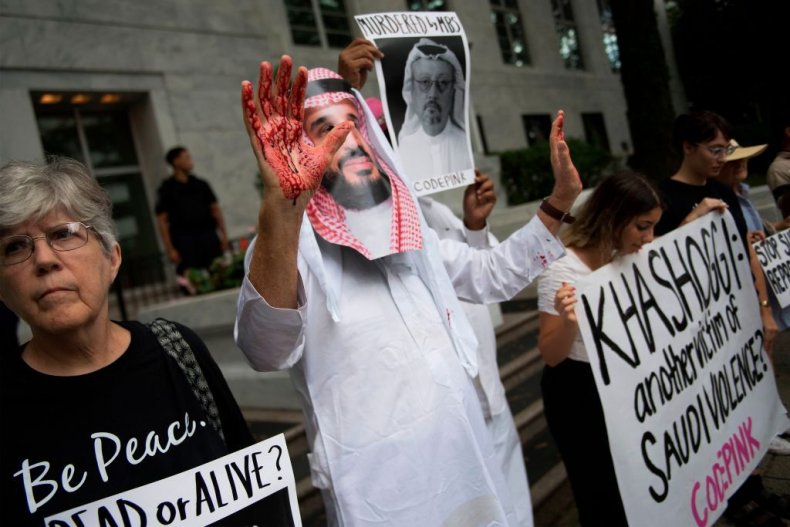 "It could very well be that the Crown Prince had knowledge of this tragic event—maybe he did and maybe he didn't!" Trump said. He also pointed out that the kingdom has "agreed to spend and invest $450 billion in the United States." He also called Saudi Arabia "a great ally."
Weeks after the crime, the kingdom admitted that Khashoggi had been killed. Riyadh's public prosecutor later announced that his death was believed to have been "premeditated."