Donald Trump Talks About the N-Word in Viral Video
Donald Trump said that "nuclear" is one of two n-words in the English language which shouldn't "ever be mentioned," adding "you know what the one is" in reference to the second, in a speech in West Palm Beach, Florida on Monday.
The former president was addressing a meeting of Club 45, which describes itself as an "independent club" formed to support Trump in January 2018.
During his address, the former president discussed the threat of nuclear war following the Russian invasion of Ukraine in February 2022.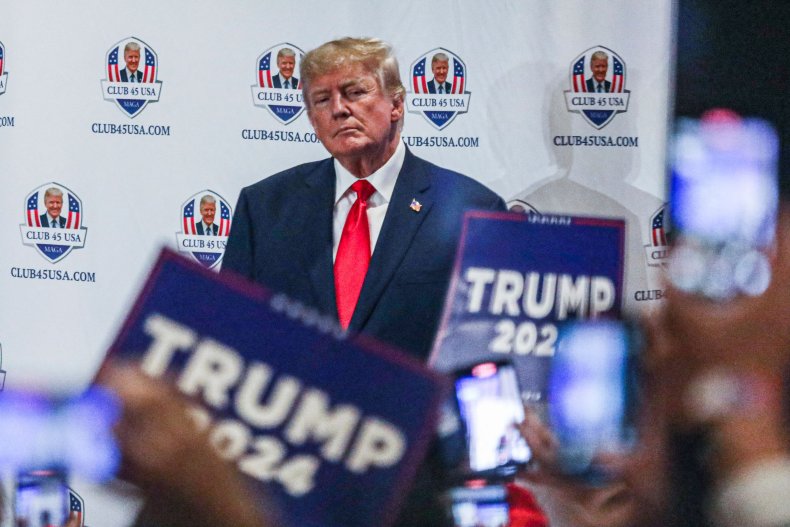 "Nuclear is so devastating that we don't even want to talk about it, and that was a word that was never supposed to be mentioned," Trump said. "We have two n-words, neither of which should ever be mentioned. I said that once and they said 'oh what a terrible thing to say,' no."
Appearing to allude to the racial slur, Trump added: "We have two n-words, you know what the one is but the other's the nuclear word, not supposed to ever be mentioned ever, ever, ever! It's mentioned every single day now."
Trump was critical of President Biden's surprise visit to Kyiv on Monday, which took place before the president has been to East Palestine, Ohio where a train carrying toxic chemicals derailed on February 3.
"Even now you have a president going to Ukraine and you have people in Ohio that are in desperate need of help," Trump said.
Trump also mentioned that he had a "very good relationship" with Russian President Vladimir Putin, who "never ever would have gone into Ukraine if I were president."
The Republican added that the question of whether he trusts the Russian president or the United States intelligence community more "could be the toughest question I've ever been asked as a politician."
Trump announced in November that he is seeking a second term in the White House during a speech at his Mar-a-Lago resort in Florida. On Monday, he also took aim at Florida Governor Ron DeSantis, who has yet to announce he is seeking the Republican presidential nomination but is widely regarded as Trump's most credible rival for the GOP primary.
Referring to a speech DeSantis made in New York earlier in the day, he said: "You know Ron DeSanctimonious had a crowd in Staten Island today, 139 people in Staten Island. We got 139 times about 30. We got a lot of people here."
Trump's comments sparked some groans from the audience in DeSantis's home state, after which he said: "I always say hit your enemy a little bit early, some people say don't but I say do."
Newsweek reached out to Donald Trump for comment.