Former U.N. Ambassador Nikki Haley finds herself in opposition to her former boss, ex-President Donald Trump, in Tuesday's GOP primary in South Carolina, with the two backing different candidates in a race for a U.S. House seat. Some political experts say it could be a sign of things to come as Haley might be eyeing a White House run on the Republican ticket in 2024.
Haley is supporting incumbent Representative Nancy Mace, who is currently polling ahead of challenger Katie Arrington. Trump endorsed Arrington—a former member of the South Carolina House of Representatives—in February and has criticized Mace, who denounced the former president for his alleged role in the January 6, 2021, attacks on the U.S. Capitol.
On Sunday, Trump made another push for Arrington in a statement released through his Save America PAC. He said her "policies are perfect" while adding Mace is "despised by almost everyone." Haley, who served as South Carolina's first female governor, has put her weight behind Mace, appearing in Mace TV ads and making an appearance Sunday night at a rally for the congresswoman.
"Haley is and has for some time been gearing up for a presidential campaign," Jay Townsend, a Republican political consultant who has worked on four presidential campaigns and a number of congressional races, told Newsweek.
Townsend added, "Time will tell the wisdom of her endorsement of Mace, but a Mace victory would suggest to the political class—and to Haley's contributors—that Trump's influence is beginning to wane."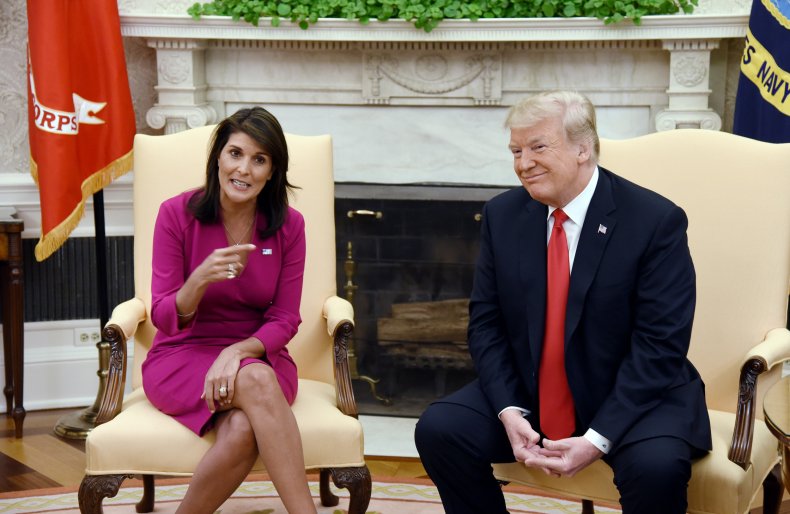 Haley has also spoken out against Trump in relation to the Capitol riots. According to Fox News, she said in a speech at a Republication National Committee dinner the day after the attacks that Trump was "badly wrong with his words" in the lead-up to the riots. Haley reportedly added, "His actions since Election Day will be judged harshly by history."
Mace condemned Trump the day after the riots as well. In an interview with CNN, Mace blamed the Trump administration for the January 6 violence and said he had misled Americans about the election results.
Trump's "entire legacy was wiped out yesterday," the congresswoman said to the news channel.
Trump has called Mace "nasty" and "disloyal," even though she ultimately decided to vote against impeaching the former leader. Politico said Trump has made a video that asked his donors to support Arrington, appeared onstage with her in March and reportedly helped fund anti-Mace ads.
Haley has since spoken positively of Trump since her initial comments following January 6. She told The Wall Street Journal in October that the Republican Party needs Trump and that he will leave behind a "strong legacy." But while she said in April 2021 that she would not seek the GOP nomination in 2024 if Trump runs, she told the Journal that if she saw a "place for me" in the beginning of 2023, she would reach out to Trump about his plans.
Politico reported that people close to the race in South Carolina said Haley supporting a different candidate than Trump was not done as a political move against the former president and that they were reportedly unaware he would endorse Arrington.
Republican strategist John Feehery told Newsweek it was only a matter of time before Haley faced off against Trump.
"She can't run away from confronting President Trump," Feehery said. "It's unlikely that she will get his support anyway, mostly because she has been all over the place on Trump."
He continued, "The Mace-Arrington match up is as good a place as any to start making that distinction."
Newsweek reached out to Haley's political action committee and Trump for comment.